Britain's electricity system 'greenest ever' over Easter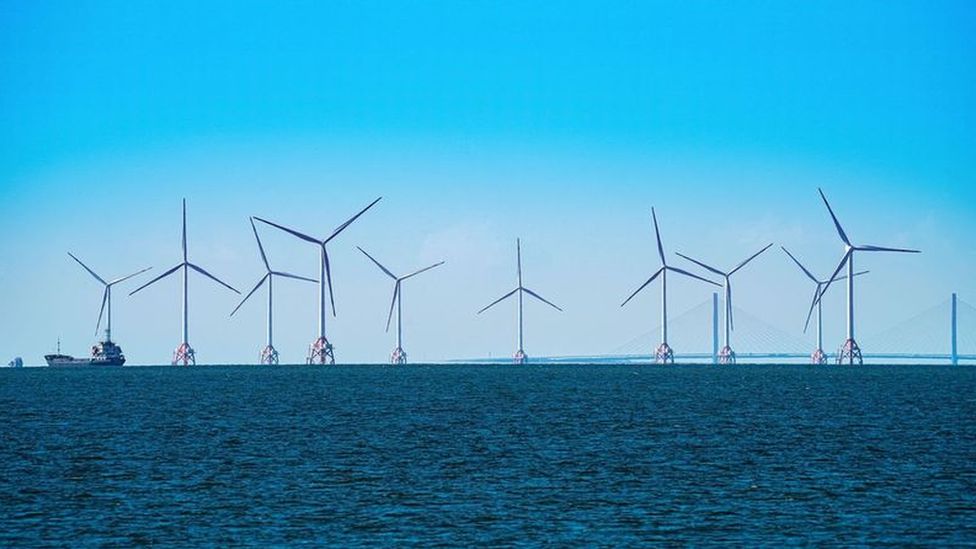 Great Britain's electricity system was the greenest it had ever been at lunchtime on Easter Bank Holiday Monday, its operator has said.
Sunny and windy weather, coupled with low demand for power, led to a surge in renewable sources of energy, National Grid Electricity System Operator said.
It meant low-carbon energy sources made up almost 80% of Britain's power.
There was no coal generation on the grid and just 10% of power was from gas plants, the operator added.
The National Grid Electricity System Operator (ESO) said levels of carbon pollution for each unit of electricity consumed dropped to just 39 grams of carbon dioxide - the lowest ever recorded for the grid - at 13:00 BST on Monday.
It said wind power made up 39% of the energy mix, with solar at 21% and nuclear accounting for 16%.
The burning of biomass accounted for around 4%. There is debate over the environmental costs of burning biomass, like wood, and the National Grid ESO categorises it separately from low-carbon sources and fossil fuels.
By comparison, on Tuesday, 24.8% of Britain's energy came from fossil fuels, most of which was gas (combined cycle), while 45.2% was renewable energy sources.
The previous record for Great Britain's greenest day was set during lockdown last year, on 24 May.
When Britain went into lockdown, electricity demand plummeted and the National Grid responded by taking power plants off the network and the four remaining coal-fired plants were among the first to be shut down.
The new record may be a cause for celebration as the UK strives for a near zero-carbon society - but it's far from a surprise.
Take the ingredients of a sunny, windy day on a bank holiday when factories are not working - coupled with a lockdown, and you're sure to cook up an impressive percentage of wind power.
But remember, as investment in renewables increases, these records will be happening regularly.
The real test for renewables comes when we face a cold, still, overcast February day when demand for heat and light soars and wind power is non-existent.
That will need much more energy storage than is currently available.
The government aims to have almost all electricity produced from low carbon sources by 2030 - and despite this week's impressive results, there's still a very long way to go.
Christmas 2020 was also the first ever coal-free Christmas Day.
Meanwhile, the highest ever amount of electricity generated by wind was on 13 February this year.
Fintan Slye, director at National Grid ESO, said: "This latest record is another example of how the grid continues to transform at an astonishing rate as we move away from fossil fuel generation and harness the growth of renewable power sources.
"It's an exciting time, and the progress we're seeing with these records underlines the significant strides we're taking towards our ambition of being able to operate the system carbon free by 2025."
The record comes ahead of COP26, a UN international climate change summit, due to be held in Glasgow this November.
Kate Blagojevic, head of climate at Greenpeace UK, praised the progress on taking fossil fuels out of the energy mix, but added that it was "no time for the UK government to rest on its laurels".
"Carbon emissions from our homes, farms and roads remain stubbornly high, and only a major government intervention can unblock the impasse," she said.
"As the Glasgow climate summit looms closer, ministers really need to up their game on tackling UK carbon emissions right across the board."