Hong Kong citizens to be given 'support' to come to UK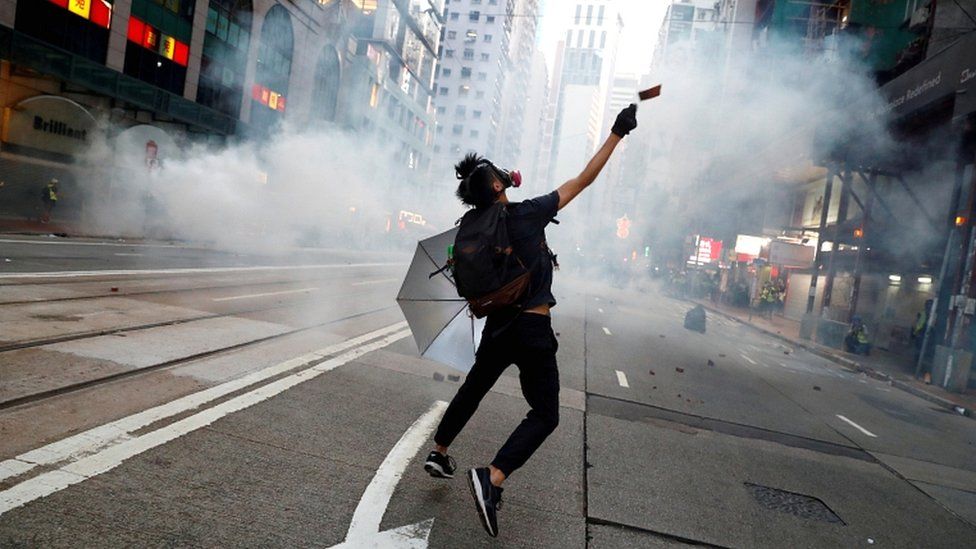 Hundreds of thousands of Hong Kong citizens expected to move to the UK under a new visa scheme will be helped to access housing, schools and jobs, the communities secretary has said.
Around 27,000 applications have been made for visas brought in after Beijing imposed a national security law in the former British colony.
The visas give Hong Kong citizens the right to live in the UK for five years.
Robert Jenrick told the BBC ministers wanted to provide "necessary" help.
"If they struggle, then we're here to support them," he said.
"That means local councils being there to provide them with housing, with the benefit system standing behind them, with all the support the state can offer to make sure that no-one gets into difficult times," he added.
Meanwhile, one of Hong Kong's leading pro-democracy activists, Nathan Law, has been granted asylum by the UK.
Mr Law said the Home Office had accepted he was "exposed to severe political persecution" if he returned to Hong Kong.
Foreign Secretary Dominic Raab said the UK has a "proud history of providing protection to those who need it".
Since 31 January, Hong Kong residents have been able to come to the UK for up to five years and apply for permanent residency.
The UK introduced the British National (Overseas), or BNO, visa after China passed a wide-ranging new security law for Hong Kong which makes it easier to punish protesters and reduces the city's autonomy.
The UK says the law is an erosion of freedoms and rights.
Government sources said school places for the new arrivals, many of whom will have young families, were "a pressure to be acknowledged".
If the number of applications for the visas continues to rise at the same rate, they will far outstrip the Home Office's prediction of 154,000 arrivals in the first year of the scheme.
Mr Jenrick said he expected the new arrivals to make a "real and important contribution" to the UK - and that many had qualifications in teaching, medicine or engineering.
Jabez Lam, the manager of one group, Hackney Chinese Community Services, said he thought around 7,000 people had arrived already.
Many have booked into hotels or Airbnbs while they look for rented accommodation, he said.
"We believe as the lockdown eases that rate will accelerate," said Mr Lam.
His charity has already raised concerns with the government about school admissions and the right to obtain tenancies.
It also urged police to step up action against UK-based supporters of the Chinese government who might target Hong Kongers.
Simon Cheng, the chairman of another charity, Hong Kongers in Britain, said the UK government should also offer to help people who had taken part in protests against Beijing but who were not eligible for BNO visas.
He said: "The BNO visa scheme is rather a life-boat scheme for rescuing people out of tyranny, and some of those may need actual help for resettlement, and to have a launch pad to contribute more to the UK economy and for sure, UK democracy."
Although the BNO visa states holders have no recourse to public funds in the UK, the government says those who become destitute may be offered assistance to access social housing and other benefits.
There will be 12 virtual "welcome hubs" in the nations and English regions to provide access to housing, education and employment.
Teaching material about the UK's historical links with Hong Kong will be given to schools.