Covid vaccine: Fasting during Ramadan 'should not stop Muslims getting jab'
By Harry Farley
BBC News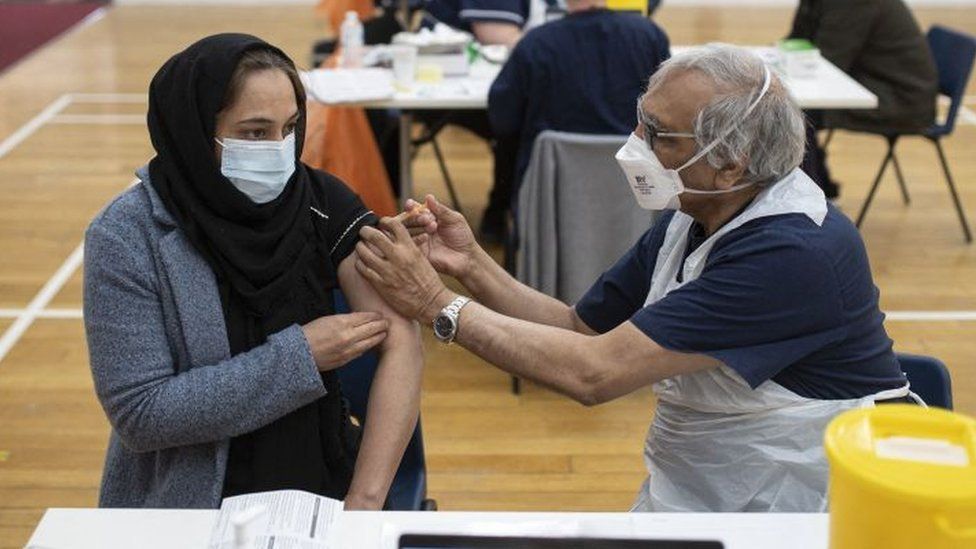 Islamic scholars and NHS leaders are urging Muslims not to let fasting over Ramadan stop them getting a Covid jab.
During Ramadan many Muslims abstain from food and drink in daylight hours.
Islamic teaching says Muslims should refrain "from anything entering the body" between sunrise and sunset.
But Qari Asim, an imam in Leeds, said that because the vaccine goes into the muscle rather than the bloodstream and is not nutritious, it does not amount to breaking the fast.
"The majority of the Islamic scholars are of the view that taking the vaccine during Ramadan will not invalidate the fast," Mr Asim, who chairs the Mosques and Imams National Advisory Board, told the BBC.
He said his message to the Muslim community was: "If you are eligible for the vaccine and have received your invite, you need to ask yourself: do you take the vaccine which has proven to be effective or do you risk catching Covid, which can make you quite ill, and you may potentially miss the whole of Ramadan and possibly end up in hospital?"
Some NHS vaccine sites in Nottingham and Brighton are extending their opening hours so Muslims can come after they have broken their fast.
But Dr Farzana Hussain, a senior GP from The Surgery Project in east London, said there was no need to avoid daylight hours.
"We know that a lot of Muslims are a bit concerned about having their Covid vaccination during Ramadan. Many people believe that having an injection actually breaks the fast," she said. "But it doesn't at all because it's not considered nutrition."
She added: "The Quran says saving your life is the most important thing: 'To save one life is to save the whole of humanity.' It's a responsibility of a practising Muslim to take their vaccine."
Some mosques are being used as vaccination centres in an effort to boost take up among minority communities.
Polling from Ipsos Mori suggests a dramatic increase in ethnic minority Britons who say they have had, or are likely to have, the vaccine - from 77% in January to 92% in March.
Ramadan, which is expected to begin on Monday evening after the sighting of the Moon over Mecca, is traditionally marked by regular communal prayers in mosques and shared meals - or Iftars - to break the fast after sunset.
Although communal worship is allowed across the UK, social distancing must be enforced and different households cannot mix indoors.
The British Islamic Medical Association (BIMA) has issued guidance for mosques during Ramadan. They recommend keeping Taraweeh - the main evening prayers - short, increasing ventilation, and say imams should wear "properly fitted double masks to protect congregants".
Dr Shehla Imtiaz-Umer, a GP in Derby and representative of the BIMA, told the BBC: "We've seen a lot of devastation in our communities because of the Covid pandemic and we want to try and make sure that our future Ramadans are not affected to this extent.
"Unfortunately it's been affected last year and this year. But if we carry on taking our vaccines and making sure that we're all protected, we can ensure that next Ramadan we do return to some normality."