Prince Philip tributes: 'I wanted my grandchildren to remember this day'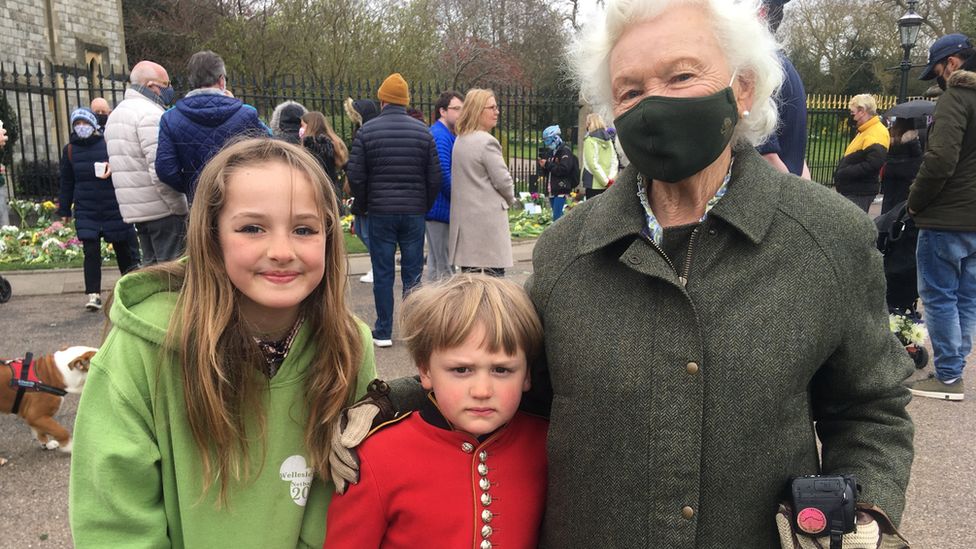 As well-wishers continue to pay tribute to the Duke of Edinburgh following his death, people from all generations have come to Windsor to honour his memory.
Six-year-old Sherlock Hudson-Yearsley is wearing military uniform for the occasion - passed down from his father, who used to wear it as a child watching the annual Trooping the Colour parade.
His grandmother Anne Yearsley, from Waltham St Lawrence in Berkshire, remembers leaving flowers outside Windsor Castle when Diana, Princess of Wales, died in 1997 and wanted her grandchildren - Sherlock and his 10-year-old sister Cordelia - to have a similar memory.
This time she hasn't brought flowers, after hearing the Royal Family had asked for people to instead consider making charity donations in memory of the duke, but the family still wanted to pay their respects.
Anne, 82, has followed the Queen and Prince Philip's lives since they married in 1947.
"He was a great support to the Queen and she obviously adored him," she says. "He did so much good in his life."
The children have been learning about Prince Philip's achievements from the news coverage since his death on Friday, and Cordelia is now excited to do the Duke of Edinburgh's Award when she's older.
"I didn't really know much about him before apart from that he was husband of the Queen," she says. "I didn't know he did all these amazing things."
Chi Kemp will also remember Prince Philip for the Duke of Edinburgh's Award, which all three of her children completed.
She has come to Windsor from Ashford in Surrey, with her husband, David, 70, and friend Elaine Ward, 59.
"It was a very good way of looking at a person holistically, not just academically - developing communication and leadership skills," the 57-year-old says.
Elaine's 14-year-old twin godchildren also completed the award, which involves volunteering, a physical challenge, developing a skill and taking part in an expedition.
"He's left such a big legacy," she adds.
Elaine was in Windsor three years ago for the Duke and Duchess of Sussex's wedding. "It was such a happy occasion," she says.
Crowds lined the Long Walk and spilled into the town, waving union jacks as Harry and Meghan rode past in their carriage in the sunshine.
Today, the crowds are far sparser and socially distant, with the public asked to stay away because of the pandemic. But a steady stream of visitors still arrive throughout the day. While the hundreds of bouquets that were left on Friday were taken inside the grounds of the castle overnight, more bunches have since replaced them.
In May 2018, the Two Brewers pub, just off the Long Walk, was decorated with bunting and pictures to celebrate the royal couple's marriage.
Now it carries pictures of the Duke of Edinburgh in a tribute to the man who used to drive past in his carriage several times a week.
"He would drive past with his grooms, no security, and would always say good morning," recalls the pub's manager Stuart O'Brien. "He would always say the flowers were looking nice."
The 42-year-old says the duke was hugely important to the town.
"I think a lot of people realise what he's done for Windsor and as ranger of the Great Park to make it an amazing place to visit," he says. "It was one of his big passions."
The pub had already planned a sold-out event to mark what would have been his 100th birthday on 10 June.
It will now become a day to pay tribute, with punters raising a glass every hour to remember his life.
Speaking to those who have come to pay their respects, the duke's commitment to his country and the Queen is a theme that comes up again and again.
Paul Taylor's dad is a retired lieutenant colonel, who received an MBE at Buckingham Palace in the 1970s and met Prince Philip himself as part of his role.
He felt it was his "duty" to lay flowers on behalf of his parents, who did the same when the Queen Mother died in 2002 but are too old to do so now.
"My parents would be proud of me doing this," the 62-year-old, from Richmond, south-west London, adds.
"My dad served his country," he says. "And Prince Philip represents duty to service, the Queen and the country."
The duke's sense of duty is also important to Qusai Arsiwala, 37, who brought his children - six-year-old Mariya and four-year-old Ruqaiya - to lay flowers.
The family live nearby in Iver and Qusai works as a doctor at Wexham Park Hospital in Slough. Going to school locally he says he "grew up seeing the monarchy" and is "proud to be British".
"Prince Philip and the Queen represent sacrifice, duty and most of all respect and I think that's really important for our children to understand," he says.
"They are examples of people that go above and beyond," he adds. "I hope we don't lose that respect and the sense of duty."
Sally Davis, 48 and from Shepperton, Surrey, says the duke will be "greatly missed" and also wanted her sons - 10-year-old Ryan and eight-year-old James - to remember "a dignified, loyal man".
"His is a generation that's disappearing. We liked his cheeky sense of humour," she laughs.
"I don't think we'll see another quite like him."