Matt Hancock 'had private drink' with David Cameron and Lex Greensill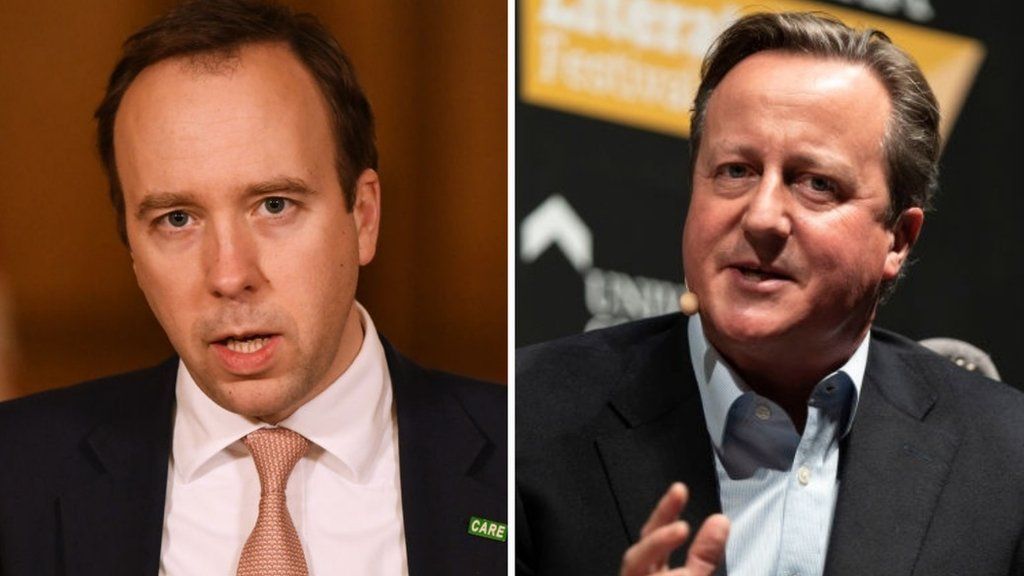 Health Secretary Matt Hancock met former PM David Cameron and financier Lex Greensill for a "private drink" in 2019 to discuss a new payment scheme for the NHS, it has been revealed.
Mr Greensill advised Mr Cameron's government, and the ex-PM went on to be employed by Greensill Capital.
An ally of Mr Hancock said he had "acted in entirely the correct way".
They told the BBC that Mr Hancock had "updated officials on the business that was discussed, as is appropriate".
Greensill Capital's scheme, which allowed staff to be paid early for hours they had already worked, went on to be used by some NHS trusts.
The development is the latest to be published by the Sunday Times detailing Mr Cameron's work for Greensill Capital after he left politics.
Mr Hancock is the fourth minister to have been lobbied by Mr Cameron on behalf of the company, which recently collapsed costing 440 jobs.
Mr Greensill worked as an unpaid adviser to Mr Cameron when he was prime minister.
The financier developed a policy designed to help small businesses get their bills paid faster, as part of a scheme that also benefited his own financial company, Greensill Capital.
Mr Cameron began working for Greensill Capital after leaving office, and tried unsuccessfully to lobby the government to increase the firm's access to government-backed loans during the first phase of the coronavirus pandemic.
Mr Cameron pressed Treasury officials - and sent text messages to Chancellor Rishi Sunak's personal phone - to access emergency funding for Greensill Capital.
The former Tory leader - who was PM between 2010 and 2016 - is reported to have told friends he was set to earn as much as £60m from share options in Greensill Capital, although this has since been disputed.
In the end, Mr Cameron's pleas to the Treasury for Covid emergency loans for Greensill Capital fell on deaf ears.
The "private drink" between Mr Hancock, Mr Cameron and Mr Greensill took place in October 2019.
In August 2019, Mr Greensill wrote to Mr Hancock to set out a proposal to allow the NHS access to an app Greensill Capital had devised, called Earnd, to pay doctors and nurses either daily or weekly in advance and free-of-charge to workers.
Having received the letter, the health secretary commissioned advice from civil servants to explore the idea.
The advice was that the "principle" of the idea was "good," but sources insisted he wanted other suppliers to be able to offer the same work and it would be up to local NHS managers to decide whether to sign up to it.
Some NHS trusts went on to use Greensill Capital's Earnd app during the pandemic.
Will David Cameron answer mounting questions?
This is the latest illustration of the web of connections between a former prime minister, a businessman and government ministers.
Remember, Lex Greensill worked in Downing Street when David Cameron was PM.
And then their relationship reversed when Mr Cameron left office: he went to work for Mr Greensill.
Individuals, businesses, charities and trade unions seek to influence the government all the time.
But how many people get to have a private drink with the health secretary?
Matt Hancock insists he behaved entirely correctly.
Neither Mr Cameron nor Mr Greensill have spoken publicly since headlines about the two of them started to appear several weeks ago now.
In the last few days, those close to them have begun to talk.
Will Mr Cameron eventually feel compelled to face a camera and address the many questions he now faces?
A source close to Mr Greensill said the scheme was offered free to both the NHS and its employees, while a source close to Mr Cameron said: "David Cameron was an enthusiastic champion of Greensill's pay product, Earnd, and met with various people to discuss its rollout across the NHS."
A Department of Health and Social Care spokesman said: "The wellbeing of NHS staff is the top priority of the department and health secretary.
"Our approach was and is that local NHS employers are best placed to decide how different pay flexibilities fit with their overall pay and reward offer for their staff."
Labour's Bridget Phillipson said "every day brings fresh revelations about the culture of cronyism" in government and called for a "full and thorough investigation into what happened".
There has been no comment from Mr Cameron or from Mr Greensill.