Prince Philip: William and Harry pay tribute to grandfather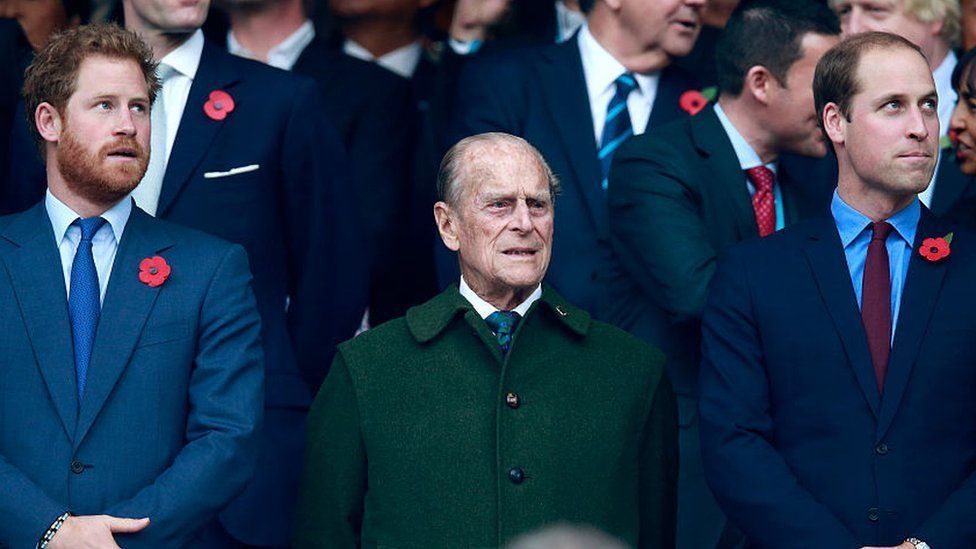 The Dukes of Cambridge and Sussex have paid tribute to their grandfather, the Duke of Edinburgh.
In separate statements, Prince William described him as an "extraordinary man", while Prince Harry said he was "a man of service, honour and great humour" and the "legend of banter".
"I will miss my Grandpa, but I know he would want us to get on with the job," Prince William added.
Prince Philip died at Windsor Castle on Friday aged 99.
"My grandfather's century of life was defined by service - to his country and Commonwealth, to his wife and Queen, and to our family," Prince William said in a statement.
"I feel lucky to have not just had his example to guide me, but his enduring presence well into my own adult life - both through good times and the hardest days.
"I will always be grateful that my wife had so many years to get to know my grandfather and for the kindness he showed her.
"I will never take for granted the special memories my children will always have of their great-grandpa coming to collect them in his carriage and seeing for themselves his infectious sense of adventure as well as his mischievous sense of humour!"
He added that he and his wife, Catherine, would "continue to do what he would have wanted and will support the Queen in the years ahead".
Paying tribute to his grandfather, Prince Harry said: "He was authentically himself, with a seriously sharp wit, and could hold the attention of any room due to his charm - and also because you never knew what he might say next.
"He will be remembered as the longest reigning consort to the monarch, a decorated serviceman, a prince and a duke.
"But to me, like many of you who have lost a loved one or grandparent over the pain of this past year, he was my grandpa: master of the barbecue, legend of banter, and cheeky right 'til the end."
There was clearly a lot of fun
By Jonny Dymond, Royal correspondent
He walked next to them on the hardest public day of their lives, in the public procession behind their mother's coffin. And now the brothers pay tribute in their own style, with tenderness and with love.
Harry, you may have noticed, now lives in California. His message is more informal, with memories of family outings, the back and forth of conversation, of a grandfather never short of a quip or an impatient snort.
William writes as a grandson who has lost a guide and support; but also as a father who saw the mutual delight of grandfather and son together.
Both men flesh out in the few words they write the man they, and the nation, have said farewell to. There was clearly a lot of laughter. There was clearly a lot of fun.
Once more the gruff caricature we were left with of the duke is re-drawn, and filled out.
Prince Harry described Prince Philip as "a rock" for the Queen "with unparalleled devotion".
"While I could go on, I know that right now he would say to all of us, beer in hand, 'Oh do get on with it!'" he said.
"So, on that note, Grandpa, thank you for your service, your dedication to Granny, and for always being yourself."
Prince Harry signed off his message with the words "Per Mare, Per Terram", meaning "By Sea, By Land" in Latin - the motto of the Royal Marines, of which Prince Philip and Prince Harry were both Captain General.
Philip held the role for 64 years before retiring in 2017. Harry succeeded him briefly before stepping down as a working royal last year when he moved to the US.
Meanwhile, MPs began proceedings in the House of Commons by observing a minute's silence to remember the duke's life.
Prime Minister Boris Johnson said Prince Philip had "touched the lives of millions", including through the Duke of Edinburgh's Award schemes.
"By his tireless, unstinting service to the Queen, the Commonwealth, the armed forces, the environment, to millions of young people and not-so-young people around the world, and to countless other causes, he gave us and he gives us all a model of selflessness and of putting others before ourselves," he said.
Labour leader Sir Keir Starmer said the duke's life "shaped modern Britain and provided much-needed stability to our national story".
And in the Northern Ireland Assembly, First Minister Arlene Foster described the duke as a "true intergenerational legacy to our youth, our United Kingdom and the world's environment".
Deputy First Minister Michelle O'Neill said there had been "significant interventions" by the Royal Family to "assist in the building of relationships between Britain and Ireland", which should be recognised.
In the Lords, former children's television presenter Baroness Benjamin said Prince Philip had made a "gigantic contribution" to Britain and the Commonwealth and they had kept up a correspondence over the years, including him writing to congratulate her on receiving her OBE and damehood.
A ceremonial royal funeral, which will be televised, will be held for the duke at St George's Chapel, in the grounds of Windsor Castle, at 15:00 BST on 17 April.
His children and grandchildren are expected to attend and Prince Harry has arrived in the UK from the US for the service. His wife, Meghan, who is pregnant, will remain at home in California on the advice of doctors.
A spokesman for the Duke of Sussex said he was at Frogmore Cottage in Windsor, his former residence, observing coronavirus regulations.
Over the weekend, Prince Philip's children - the Prince of Wales, the Princess Royal, the Duke of York and the Earl of Wessex - also paid tribute to their father, with Prince Andrew saying the Queen had described his death as "having left a huge void in her life".
Funeral preparations under way at Windsor
by Duncan Kennedy, BBC News
Windsor is now a town with twin-sided attentions: the crowd-less castle side, sealed-off and busy preparing for a royal funeral, alongside the energised shop side, resurfacing from lockdown.
At the entrance to the castle, the glistening steel barriers of the media enclosure are packed with cameras trained on the ancient grey walls. They look out on a scene of perpetual preparation: forklift trucks, catering vans and council vehicles enter, leave, turn and reverse.
Scaffolding, chairs, flowers and boxes are disgorged. And miles of cables are being unfurled from vast drums like never-ending electrical snakes by the television, radio and lighting professionals who will bring the funeral to the world.
Police have replaced pedestrians in this cordoned-off unit of determined workflows: on foot, on bicycles and in their cars, their blacked-out windows gliding past the castle's famous black-cloaked wardens, lined up across the entrance.
The paper plans of countless committees across endless decades are coming to a melancholy fruition, to give His Royal Highness, the Duke of Edinburgh, a fitting send-off.