Duke of Edinburgh's Award: 'Without DofE there would be no baby'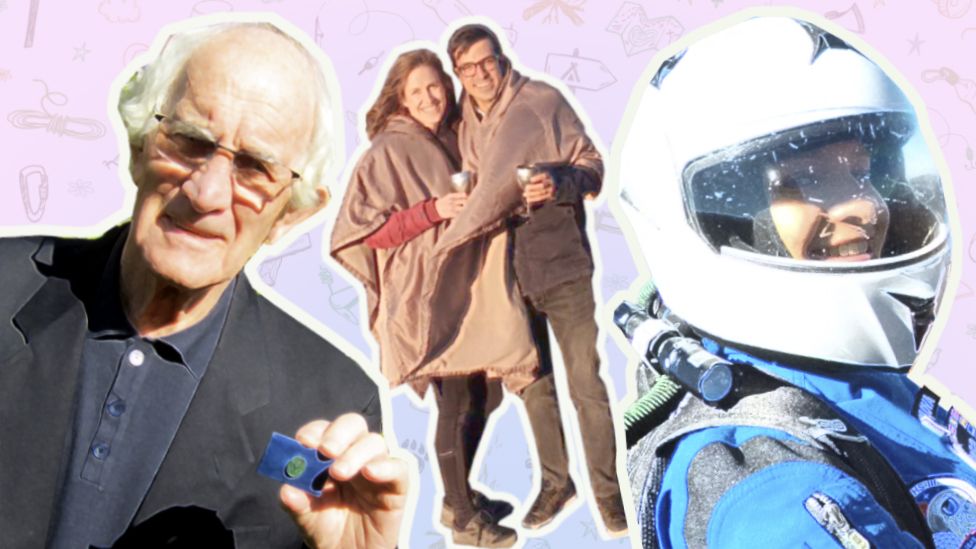 People around the world have been sharing their memories of taking part in the Duke of Edinburgh's Award programme for young people.
From the couple who fell in love after meeting on an expedition to the astrobiologist who learnt the skill of perseverance, award-holders explain how it has shaped their lives.
The Duke of Edinburgh, who died on 9 April, has left a huge legacy with his award scheme.
Bill Cosgrave, from Oxfordshire, believes he was about the sixth person ever to receive a silver Duke of Edinburgh's Award. He was a 17-year-old orphan and boy soldier in the Army's Junior Infantry Battalion in Plymouth when he was selected to take part in 1958.
As a war baby who had lived in orphanages until he was 14, Bill says the tasks - which included a visit to a nearby girls' school to be taught cookery - allowed him to spend useful time with the opposite sex.
"Being institutionalised within a male environment, I totally lacked any understanding of the female influences on life," he says. "With their helpful advice, coupled with the enjoyment of their company, this played quite an educational part my life.
"As an orphan, I have much to thank the duke for, giving me the opportunity at the right time."
Also in 1958 - just two years after Prince Philip first established the scheme - Jeff Bryson received his gold award - the highest and most challenging level - and he is convinced that it helped him later to get jobs with the Met Office and the Metropolitan Police.
Jeff's secondary school arranged the opportunity and among the array of tasks he completed was a fireman's course, a camping expedition along the Exmoor coast and applying ointment to an elephant's injured thigh at Whipsnade Zoo.
Meeting the duke was "one of the highlights of my life," says Jeff, 80, from near Crewe. He had just lost his father when he received the award, but his mother accompanied him to the Palace.
"When asked what was the best thing about the visit, I remember her saying, 'The ladies' toilets in Buckingham Palace - they were beautiful'," he recalls.
Within a couple of years of its launch, the award was widened to include girls. "There were separate awards for girls and boys in those days, with different options offered," says Susan Wilsdon, from Thurrock, in Essex, who began her award in 1962.
Susan achieved her gold by 1968 and later ran the awards scheme locally. Her love of it has been passed down through her family: both her daughter and granddaughter have achieved gold and another granddaughter is working on her bronze.
"I've met Prince Philip many times and he was a bit of a joker," she says.
Malcolm Wood has similarly fond memories of meeting Prince Philip, recalling that he was "a very easy person to talk to".
"You'd be as nervous as anything and as soon as he started talking, all your nerves would go away," says Malcolm, now 71, who completed his silver award as an air cadet in the late 1960s.
Malcolm, who did cycling and gliding as part of the scheme, credits the award for landing him his first job at a finance company at the age of 16. "At the interview they said, 'There's quite a few applicants. Tell us a bit more about the Duke of Edinburgh's Award'.
"I can't prove it, but I'm pretty convinced it was a factor in my getting the job," he adds. Malcolm went on to spend 40 years in the civil service and was appointed an MBE.
Another air cadet who completed the scheme, albeit two decades later, is Lyndon Davies, from Cardiff, who went on to achieve gold in 1989.
The duke was "a major influence on my life," says Lyndon. "The principles of that award have stayed with me throughout my life in so many ways and I would not be the person I am without that influence."
He adds: "I remember the pride when I attended St James's Palace to receive my award and met the duke."
For Rebecca and David Magee, the award changed the course of their lives immeasurably. They met as 16-year-olds on a silver Duke of Edinburgh's Award expedition to the Peak District in 2002. They married and are now expecting their first child.
"[We] would never have met if we hadn't shared an excitement and curiosity about the outdoors which was enabled by the DofE scheme," says Rebecca, now 34. "We became friends immediately and a couple 12 years later.
"We now have a baby girl on the way who would not have existed were it not for the DofE - a very strange thought.
"It turned out to be one of the most important moments of our lives, and that is why we have the date of that DofE expedition carved into our wedding rings."
Despite beginning in the UK, the award is now operating in more than 130 countries.
Dr Michaela Musilova, from Slovakia, is patron of the award scheme in her home country after completing gold as a university student in London in 2009.
She is now an astrobiologist, working on the slopes of a volcano in Hawaii, where she leads simulated space missions to the Moon and Mars.
She says the skills learnt doing the award help her every day - and she draws comparisons between the challenges and analog space missions. "You just have to persevere. Even when everything is breaking [and] people are arguing, you just have to keep going," she says.
Michaela, 32, also values the volunteering opportunity. "I always felt very grateful for all the support I had over the years. I felt a need to give back because I was helped in so many ways, especially by charities."
In Sri Lanka, marine conservation activist Shanjeevan Amalanathan, 20, is currently working towards his gold award through a community group. He loves adventure - he walked the entire length of the country in 12 days and is dreaming of doing the seven-summits challenge, which involves climbing the highest mountains on every continent.
"The award made me what I am today," he says.
When the pandemic hit, Shanjeevan volunteered to help the local government with its response. And he believes that if he had not learnt about marine conservation during award challenges, such as beach clean-ups, he would not have ended up as an environmental campaigner.
He says the award gives people "full freedom" to design their own programmes. "In Sri Lanka, most of the parents want their children to be a doctor, lawyer, engineer or businesspeople," he says. "We should think out of this box. There are so many things to be done. Do what you really are."
Eighteen-year-old Amy Scott, from Essex, is also one of this generation's award-holders. Over the last four years she has achieved her bronze and silver awards and is planning to complete her gold when the pandemic ends.
"Obviously [Covid] has really put a spanner in the works," she says. "I miss that community aspect. I have a part-time job and that's fun, but I miss being able to give back.
"The DofE award is a fantastic endeavour. If I'm going to do bronze and silver, I might as well go all the way. That's something bronze and silver taught me: what is the point of stopping at stage one?"
Related Internet Links
The BBC is not responsible for the content of external sites.