Prince Louis: New birthday photograph as he starts nursery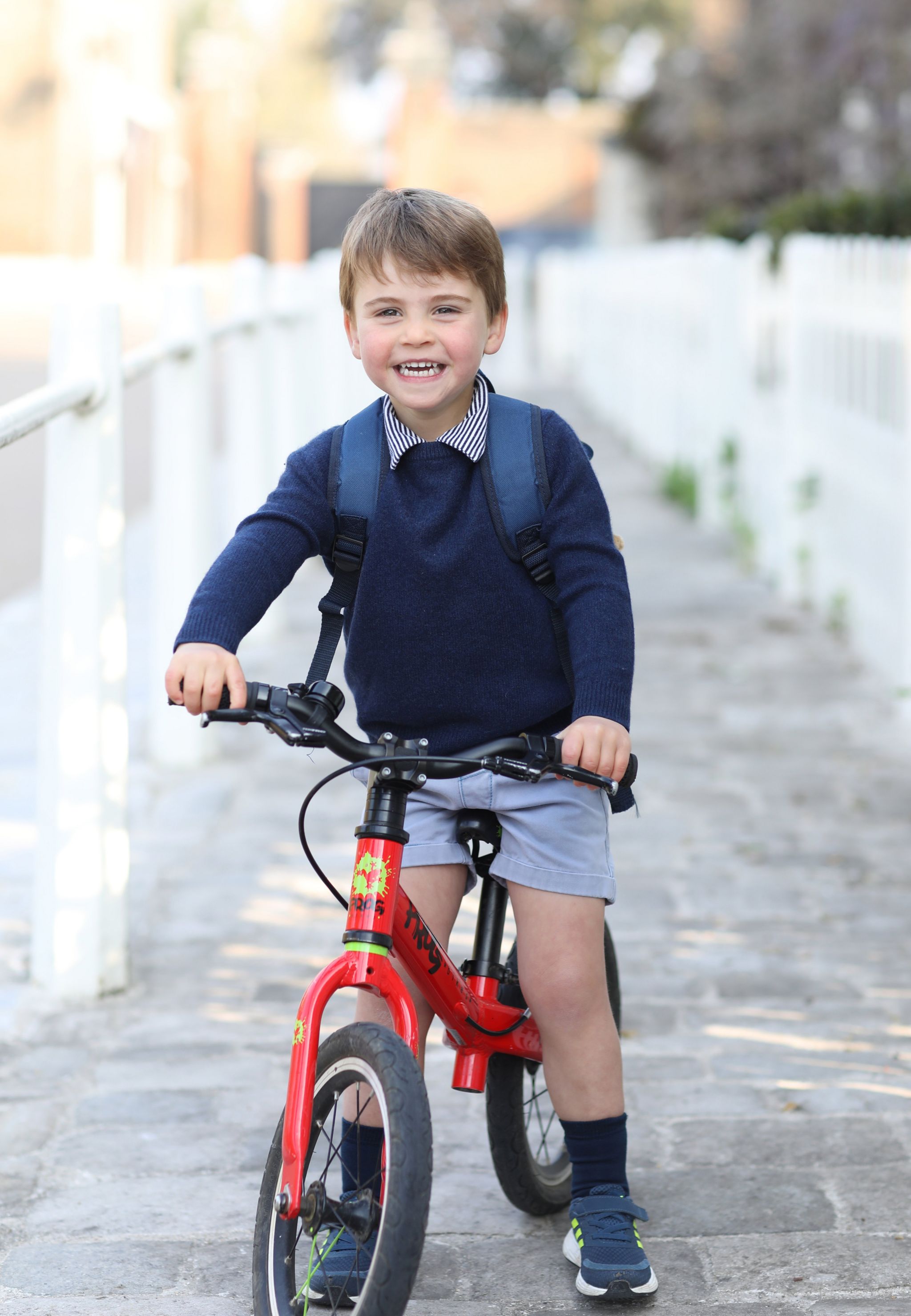 The Duke and Duchess of Cambridge have released a new picture of Prince Louis to celebrate his third birthday and mark his first day at nursery school.
The photograph was taken at Kensington Palace by the duchess, shortly before Louis set off for Willcocks Nursery School for the first time on Wednesday.
Smartly dressed in shorts, a shirt and a jumper, he sits on a red Frog bicycle with a rucksack on his back.
Prince William and Catherine were said to be "delighted" to share the update.
The Willcocks Nursery School was also attended by Louis' sister Princess Charlotte - and charges up to £3,400 per term, depending on a child's age and which sessions they attend.
The nursery, which is situated in the shadow of the Royal Albert Hall, has received positive praise from Ofsted when it was inspected in January 2020 and is rated outstanding.
His older brother Prince George attended the £33-a-day Westacre Montessori School Nursery in Norfolk, close to the Cambridges' country home at Anmer Hall, Sandringham.
Louis, who is fifth in line to the throne, is the latest member of the Royal Family to attend a private nursery school in a tradition that began with his father.
Prince William went to the Minors Nursery School, minutes from Kensington Palace in Notting Hill Gate, west London, in 1985.
He was the first prospective heir to the throne to attend a private nursery, in a move reported at the time to have been influenced by his mother, Diana, Princess of Wales, who worked at a nursery school before her marriage to the Prince of Wales.
The Queen was educated at home and relied on her nanny, Crawfie, to take her on educational trips - including a journey on the London tube.
Prince Charles did not go to nursery, instead he was taught by a governess in a palace room containing a blackboard and a desk.
Royal mourning in memory of the Duke of Edinburgh will end for the monarchy and its households on Friday.