G7: Rich states want to send 40m more girls to school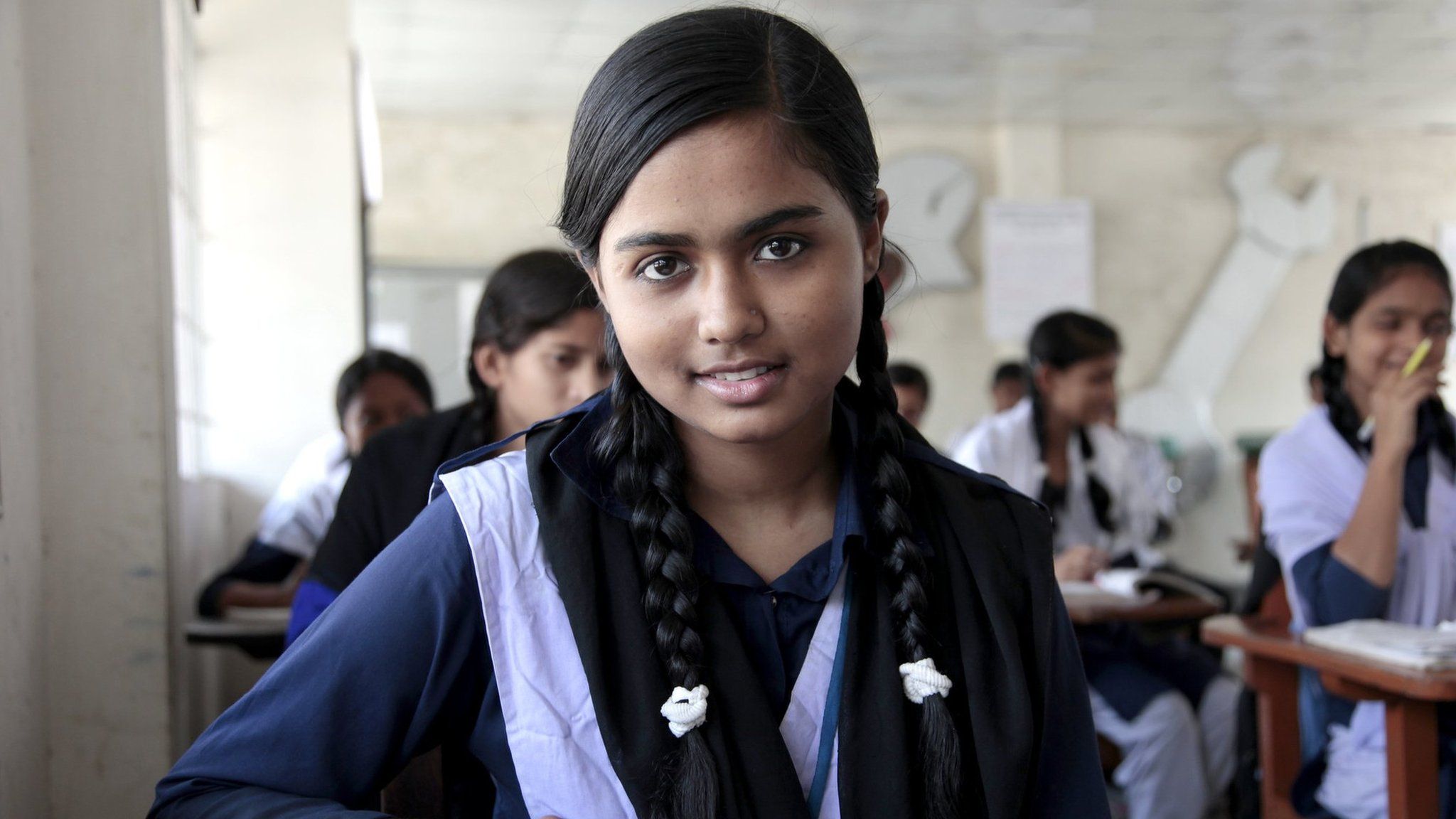 The G7 group of nations is to agree a new target of sending 40 million more girls from low and middle income countries to school within five years.
Foreign ministers will use a London summit to commit to helping women in developing countries with a $15bn (£10.8bn) two-year package of support.
At their first in-person meeting for two years, they will also agree to help 20 million more girls read by age 10.
UK Foreign Secretary Dominic Raab said educating girls was a smart investment.
He added that the new targets would help ensure 12 years of continuous education for young women and transform "the fortunes not just of individuals, but whole communities and nations".
Charities have welcomed the pledge - but said it was at odds with the UK's decision to cut its overseas aid spending.
The UK government announced last year it would cut UK aid spending from 0.7% of national income to 0.5% - a reduction of more than £4bn. It has yet to confirm which programmes will be affected.
"We know the reality of these aid cuts," said Gwen Hines from Save the Children. "Life-changing, life-saving support [is] being pulled from families in the middle of a pandemic from schooling, medicine and food.
"I just don't see how that is global leadership at a time when the UK is hosting the G7 summit."
The UK holds the rotating presidency of the G7 group, which also includes the US, France, Germany, Canada, Japan and Italy, and will host a summit of leaders in Cornwall next month.
Mr Raab will meet US Secretary of State Antony Blinken later to discuss trade, Iran and China, as part of a three-day meeting of G7 foreign ministers in London.
The collective agreement on girls' education, which will be formally signed on Wednesday and also includes the EU, aims to put "gender equality at the heart of global co-operation to build back better" from Covid, the government said.
Women make up more than two-thirds of the world's 796 million illiterate people, according to the United Nations.
The UN said 39% of girls in rural areas attend secondary school worldwide - fewer than rural boys (45%), urban girls (59%) and urban boys (60%).
It was estimated that, before the pandemic worsened education outcomes, 90% of children in low income countries were unable to read a simple text by age 10.
As part of the funding, there will be renewed support for women-led businesses, and for products or services that particularly benefit women and support their empowerment.
The government said the G7 nations would also "recommit to collective action to defend and protect sexual and reproductive health and rights for all" and "scale up gender-based violence prevention and elimination".
The G7 announcement comes amid criticism over the UK's cut to aid spending. The Foreign and Commonwealth Development Office (FCDO) has been accused of going back on a promise to continue funding for UN family planning projects aimed at helping women and girls.
The UN Population Fund - which helps provide contraceptives and maternal health care for millions of women - said the UK pledged £154m for its projects, but then said it would instead receive about £23m.
Annette Zera, who works for an education charity helping girls working as domestic servants in Bangladesh, said the aid authorities "have just let us down".
She told BBC Radio 4's Today programme that their project "is going to have to stop" because it will no longer receive the grant it expected.
Foreign Office minister James Cleverly said "there will always be, sadly, individual projects we are not able to support".
"We are experiencing a once in a 300-year - the worst in 300 years - economic contraction as a direct result of coronavirus," he told BBC Radio 4's Today programme as he defended the cuts. "We have to make the decisions in keeping with those economic circumstances."
He said the UK remained one of the world's leading aid donors and that the reduction in aid spending to 0.5% of national income would be "temporary".