Nazanin Zaghari-Ratcliffe: UK and Iran in talks over debt but 'unlinked' to case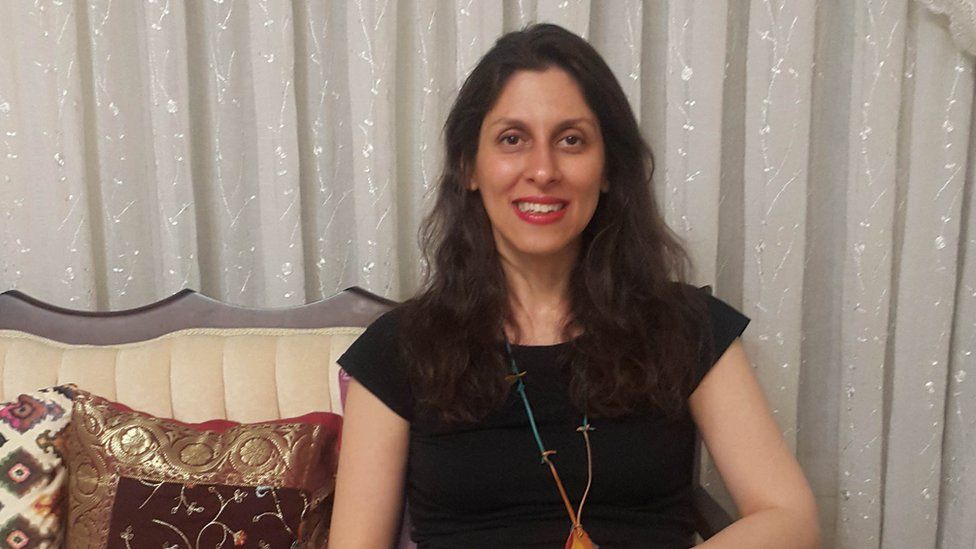 The UK and Iran are in discussions over a £400m debt that the UK owes, foreign office minister James Cleverly has said - but the talks are not linked to the detention of Nazanin Zaghari-Ratcliffe.
The UK owes the money for failing to deliver tanks Iran bought in the 1970s.
British-Iranian national Mrs Zaghari-Ratcliffe, who is in jail in Iran, believes she has been imprisoned as leverage for the debt.
"There are two entirely separate issues," the prime minister said.
Speaking to reporters during a visit to Hartlepool, Boris Johnson said ministers were doing "everything we can to look after the interests of Nazanin and all the very difficult dual national cases we have in Tehran".
The case of Mrs Zaghari Ratcliffe made headlines again in recent weeks after she was sentenced to another year in prison, just weeks after she reached the end of a five-year sentence. She was first jailed in Tehran in 2016 on spying charges, which she has always denied.
Her husband, Richard, maintains she is being used as a bargaining chip in the dispute over the unpaid debt, as well as leverage in talks over the nuclear deal between Iran and world powers.
On Sunday, Iranian state TV suggested the UK had paid the £400m debt - but the UK government said nothing had changed.
Speaking to BBC Radio 4's Today programme on Monday, Foreign Office minister Mr Cleverly said: "The situation with regards to the... military contract from the 1970s which has dragged on for decades, those negotiations are ongoing. They have been for a long while, sadly, but they are ongoing."
Asked if the talks were getting anywhere, Mr Cleverly said: "There's a legal process tied up with this as well. Iran most recently stepped away from that legal process which has of course delayed things.
"We are looking at ways of resolving what has been a multi-decade long problem.
"The reports that we had over the weekend linking that work with the incarceration and the arbitrary detention of British dual nationals I think was completely inappropriate - they are separate issues, one massively predates the other."
He said the imprisonment of dual nationals in Iran "should be unlinked to the multi-decade long dispute with regard to the tanks".
By Caroline Hawley, BBC Diplomatic Correspondent
The decades-old debt and the imprisonment of British-Iranian nationals may be "separate issues" to the UK government. However, they are not in the eyes of Iran's powerful Islamic Revolutionary Guard Corps, which has been involved in the detention of both Nazanin Zaghari-Ratcliffe and Anoosheh Ashoori, a 67-year-old retired engineer now serving a 10-year sentence in Evin jail - where he has twice attempted suicide. Both of them have been told directly that their cases are connected to the military debt.
We don't know exactly what's happening behind the scenes to resolve the debt. British officials have said sanctions on Iran are an obstacle to repayment, but negotiations have been taking place in Vienna which would involve lifting US sanctions in return for Iran complying with the nuclear deal it signed in 2015.
As the nuclear deal came into force back in early 2016, the US paid back its own historic military debt and in return saw the release of four Americans detained in Tehran. Richard Ratcliffe believes Iran is now trying to engineer a "grand bargain" - involving frozen assets, Iranian prisoners and jailed dual nationals from several countries.
And this is against the backdrop of Iran's complex internal politics and elections in June pitting hardliners against moderates.
It's all extraordinarily complicated and, for the innocent families caught up in it, exceedingly fraught.
Meanwhile, Tulip Siddiq - who is the MP representing 42-year-old Mrs Zaghari-Ratcliffe, from West Hampstead in London - tweeted: "People seem to be being fed a false narrative that the £400m in Nazanin Zaghari-Ratcliffe's case is a ransom. It is not. It is a historic debt that the courts (and the government) have confirmed the UK owes Iran."
Speaking to the BBC's Andrew Marr show, Mr Raab said Tehran was using her in "a cat-and-mouse game" for diplomatic leverage.
"Nazanin is held unlawfully, in my view, as a matter of international law. I think she's being treated in the most abusive, tortuous way," he said.
Richard Ratcliffe - who has not seen his wife since 2016 - said the family had not been updated but welcomed the reports on Iranian state TV over the long-running dispute as "a good sign".
"My instinct is that it is actually a sign we are in the middle of negotiations rather than at the end of them," he told the BBC.
"But we will keep our fingers crossed - for ourselves, and all the other families caught up in this."