Four men arrested in anti-Semitism video investigation
By Francesca Gillett, Chris Bell & Dulcie Lee
BBC News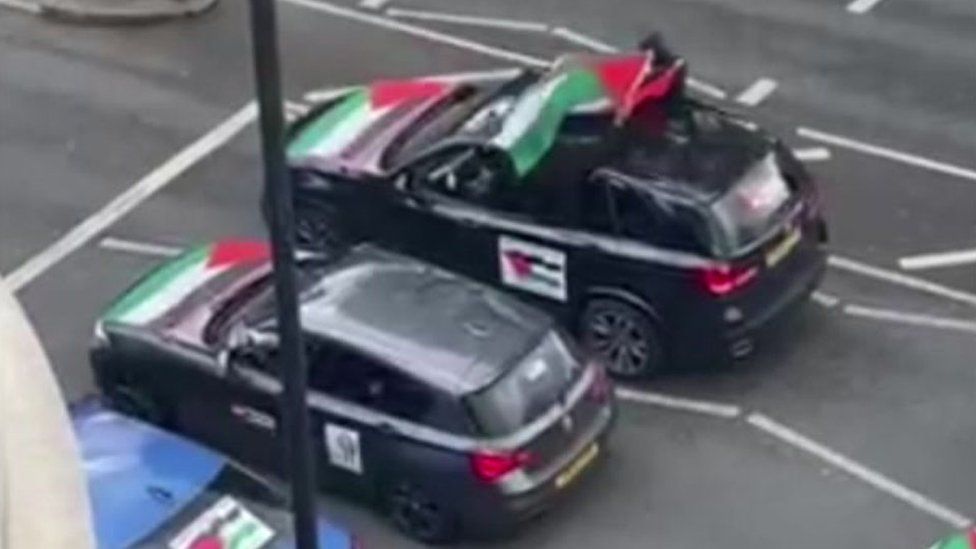 Police have arrested four men in connection with a video which appeared to show anti-Semitic abuse being shouted from a car in north London.
Boris Johnson earlier condemned the "shameful racism" aimed at British Jews, which had "no place" in society.
The person who filmed the video told the BBC they cried after witnessing the scene, adding: "I don't feel safe."
Labour leader Sir Keir Starmer said the incident was "utterly disgusting", adding: "There must be consequences".
On Sunday, a video was posted on social media appearing to show a convoy of cars with Palestinian flags driving down a street, with a man shouting anti-Semitic abuse from a megaphone.
The person who filmed the video - who wanted to remain anonymous - said they started filming when they heard "excessive hooting" outside their window in north London.
"They happened to stop at a set of traffic lights and I was able to capture what happened.
"I cried. How is this the world we live in today?"
They added: "I felt immediately frightened and appalled that this is happening in this country. What if I was walking alone wearing something that identified me as Jewish? What might have happened?
"I don't feel safe in my own home, and that's what terrifies me."
In a statement, the Metropolitan Police said it deployed one of its helicopters to help trace the vehicle and officers stopped the car at approximately 18:30 BST on Sunday.
Four men were arrested on suspicion of racially aggravated public order offences. They have been taken into custody at a west London police station where they remain.
The police said the video appeared to be filmed in the St John's Wood area. St John's Wood is an area in north London which is home to a Jewish community.
Superintendent Jo Edwards, in charge of the policing operation, said the behaviour was "utterly shocking" and added that extra police patrols will be in place in St John's Wood and Golders Green on Sunday evening.
Officers will be sent to key venues, police said, "to provide maximum reassurance to the local community, and deal robustly with anyone committing racially aggravated offences towards the Jewish community".
The prime minister was among many politicians to condemn the video on social media.
"There is no place for anti-Semitism in our society," Mr Johnson tweeted. "Ahead of Shavuot, I stand with Britain's Jews who should not have to endure the type of shameful racism we have seen today."
Shavuot is a Jewish festival beginning on Sunday that celebrates when the children of Israel received the Ten Commandments.
Sir Keir said: "Utterly disgusting. Anti-Semitism, misogyny and hate have no place on our streets or in our society. There must be consequences."
Mike Freer, the local MP for Finchley and Golders Green, said: "The scenes I've witnessed in my constituency today have left me sick to my stomach."
The Mayor of London Sadiq Khan said the police had his "full backing" for their zero-tolerance approach, and Londoners could expect to see "high visibility police patrols".
"Hate crimes are inexcusable and have no place in our city," he said.
"The vile anti-Semitism shouted today from a convoy of cars has no place in the Palestine solidarity movement," it said in a tweet. "We condemn it and all anti-Semitism, on it's own account and also as it serves to undermine the anti-racist struggle for Palestinian rights."
Thousands of people attended Saturday's protest, which called on the UK government to step in and "stop allowing Israel's brutal violence against and oppression of the Palestinian people to go unpunished".