Long Covid pay decision for key workers could take a year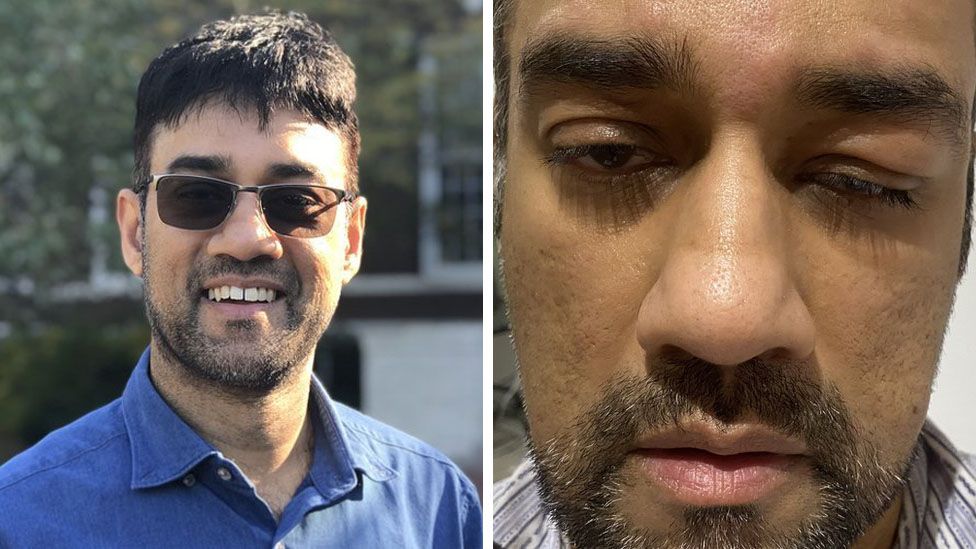 A decision about whether key workers with long Covid should get compensation could take more than a year, government advisers have told the BBC.
It comes after 65 MPs and peers wrote to Boris Johnson asking for the illness to be made an "occupational disease".
The government says it is committed to supporting people through the pandemic.
Frontline key workers who believe they caught long Covid through their jobs are becoming increasingly worried about what financial support is available to them if they cannot return to work.
Dr Asad Khan, a respiratory consultant in Manchester, was treating Covid patients every day using what he calls an "abysmal" level of personal protective equipment (PPE) because of "inadequate" government guidelines.
He caught Covid in November and has now been off work for nearly six months with a number of debilitating symptoms - including extreme fatigue, heart palpitations and an inability to control his bodily functions.
He is currently on full sick pay which he has been told will last a year but, given the severity of his condition, he is already worried what will happen after that.
"Theoretically I could lose my job. I could be retired sick, which is a scary prospect," he said.
He now wants the government to step in and provide financial support.
"There are tens of thousands of us who are living with the illness, unable to work, unable to function.
"We answered the call to action when we were needed, the decent thing to do now would be to ensure those of us who have acquired Covid as a result of increased exposure to the virus should be assured of some financial compensation."
While NHS staff with long Covid receive full pay for a year in England and Wales - and longer in Scotland and Northern Ireland - many in the private sector only get 28 weeks Statutory Sick Pay.
Claire* was working with Covid patients in a care home in the East of England during the first wave and caught the illness last May. She has been unable to work since.
When her six months Statutory Sick Pay ran out, she lost her job on capability grounds.
A year on since becoming sick, with no prospect of returning to work - and no financial support - she told File on 4 she faces losing her home, and feels "discarded" by the government.
"They've paid all this money for people to stay at home on furlough and I can't claim a penny, that is quite an insult. I'm not asking for a lot and I'm hoping it won't be forever, but to just constantly be turned down for any financial help takes its toll."
"We were 'heroes' for keeping the country going - all the key workers, shop workers and bus drivers - then I get ill, I can't work and they don't want to know, they don't care. I just need some help."
Liberal Democrat MP Layla Moran, who chairs the All Party Parliamentary Group on Coronavirus, said she wants long Covid to be classed as an 'occupational disease' which would allow sufferers to be awarded a benefit according to their degree of disability - called an Industrial Injuries Disablement Benefit (IIDB).
"These are the very people we should be supporting the most - they aren't just the people who went out and did the jobs that needed to be done, they are also the people that got sick from it.
"It is only right the government now looks after their lives if they've been affected by long Covid - that they are compensated and this would be according to their need at the time."
But the body which advises the government whether it should classify an illness as an 'occupational disease' has told File on 4 such a recommendation could take a year.
Dr Lesley Rushton, who chairs the Industrial Injuries Advisory Council (IIAC), says they are hampered by a lack of research and data and whilst they realise some occupations are more risky than others, a major issue is proving someone got Covid through their work.
"For some diseases it's very clear cut, you can only get the exposure at a particular workplace, doing a particular type of work" she said.
"But with coronavirus, it has the same effect whether or not the exposure has arisen at work or outside work."
Once a recommendation has been made to the government, it would then have to go through parliament to be become legislation.
Layla Moran believes the government now needs to step in whilst the IIAC gathers evidence.
A government spokesperson said: "This government is committed to supporting people throughout this pandemic and provides a strong financial safety net for those in need.
"Covid-19 is still a relatively new disease and to better understand the long-term effects we are providing over £50m for research funding and working with world-leading scientists to better understand the virus so we can ensure we have the best treatments available."
You can listen to File on 4: The Cost of Long Covid on Radio 4 on Tuesday 18 May at 20:00 BST and afterwards on BBC Sounds.