Covid-19: More variant hotspots to get surge tests and jabs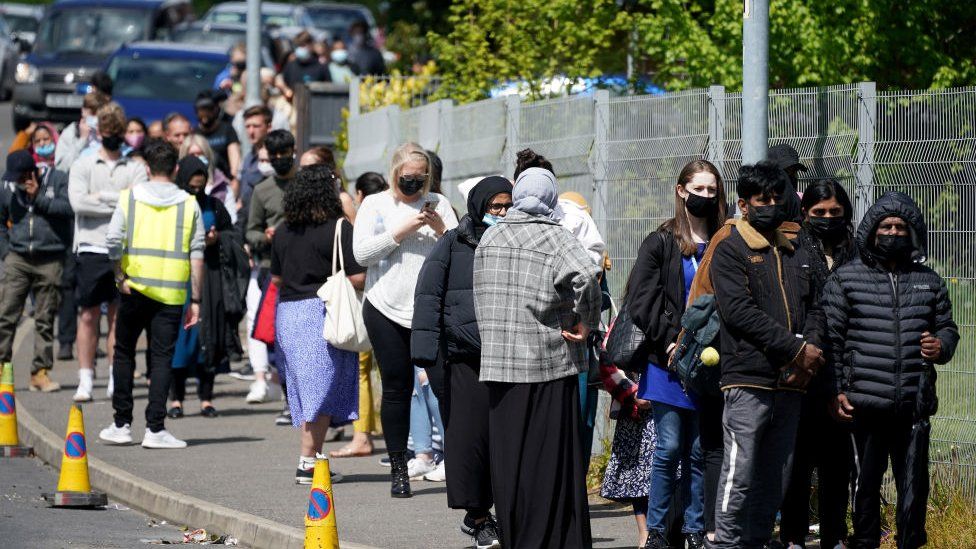 Surge testing and jabs will be expanded to six new areas of concern in England to combat the spread of the Indian Covid variant, Matt Hancock has said.
The areas were identified using new techniques, including analysing wastewater and travel patterns, he told a Downing Street briefing.
The government is also supporting Scotland in rolling out more tests and vaccinations in Glasgow and Moray.
Some 2,967 cases of the Indian variant have now been identified in the UK.
This is up from about 2,300 on Monday.
Mr Hancock said early evidence suggested that this variant - B.1.617.2 - passes on more easily from person to person than the one first discovered in Kent, adding that it was now "even more important that people get vaccinated".
But he said ministers were "determined to do all that we can to ensure this new variant doesn't put our recovery at risk".
Further surge testing and vaccinations will now be introduced in:
Bedford
Burnley
Hounslow
Kirklees
Leicester
and North Tyneside
The health secretary said these were selected via "an incredibly sensitive biosecurity surveillance system", which spotted cases in earlier variant hotspots Bolton and Blackburn.
Monitoring travel patterns, along with analysis of wastewater - or sewage - in 70% of the country had helped identify where variants were and also where they were at risk of spreading to, he said.
Outlining the spread of the Indian variant, he added: "The weekly case data in Bolton is now 283 per 100,000 and it doubled in the last week.
"There are now 25 people in Bolton Hospital with Covid - the majority are unvaccinated, nearly 90% have not yet had two vaccines.
"This shows the importance of getting vaccinated, not once but twice."
Scientists will know more about the transmissibility of the new Indian variant by "some time next week", England's deputy chief medical officer Prof Jonathan Van-Tam said.
Overall, a further three deaths within 28 days of a positive coronavirus test have been recorded in the UK, and there have been 2,696 more cases overall.
Another 174,100 people have been given a first dose of a vaccine, and 324,001 more have received their second dose.
The spread of the Indian variant has cast doubt on plans to ease remaining restrictions in England next month.
The number of cases of Indian variant is climbing, but what this means remains to be seen.
The variant should soon be dominant - it is clearly more infectious than the UK variant which emerged last year.
Scientists are busy studying it to work out just how much more transmissible it is.
That means unpicking to what extent the rise is being driven by the sudden importation of the variant from abroad and the environmental factors in the communities where it is spreading.
In densely-populated housing conditions it's easier for the virus to be passed on - rather than because of an inherent biological advantage.
Scientists believe it could be anything between 10% to 50% more infectious depending on what influence each of those factors have.
If it's nearer 50%, that could drive a surge in cases that could spill over into significant hospital admissions even with the vaccine rollout.
At the lower end, the impact will be more muted and the full lifting of restrictions on 21 June could still be on.
There are some early signs it could be at the lower end, but it will be a week or two before we know that with any confidence.
At the briefing, Mr Hancock praised the UK's development of the AstraZeneca vaccine made by Oxford University, highlighting the worldwide benefits it had brought. He said:
There have been 1.5bn vaccine doses injected around the world - and more than 400m have been the AstraZeneca vaccine
The AstraZeneca vaccine has been delivered in 160 countries
Worldwide, two-thirds of the AstraZeneca jabs have been in low and middle income countries, which includes 170m delivered in India
Of the 67m doses delivered through the WHO's Covax scheme, more than 65m have been the AstraZeneca vaccine
"It is something every British taxpayer has had a part supporting and everyone in this United Kingdom should be incredibly proud of it," Mr Hancock said.
Meanwhile, Prof Van-Tam told the news conference that scientists were sure the Indian variant was more transmissible but the "million dollar question" was how much more transmissible.
"We have a credible range that goes from a few per cent more transmissible through to 50% more transmissible - I think most people feel it is going to be somewhere in the middle... but it is just too early," he said.
However, he said transmission of the new variant was "not inevitable" and it could be slowed down through "cautious behaviour".
"I think I've said 'don't tear the pants out of it' once before from this or a similar podium, but frankly we're back to that again now," he said.
He urged those living in hotspots to think carefully about their new freedoms and try to stick to outdoor activities in small groups.
Earlier, at Prime Minister's Questions, Boris Johnson said there was "increasing confidence" that Covid-19 vaccines were effective against all variants, including the Indian one.
But his official spokesman said ministers would want to see more information before making decisions on the next steps toward lifting lockdown.
At PMQs, Mr Johnson also repeated his warning that people should not be holidaying in amber list countries. This includes France, Spain and Greece.
Visits to those countries should only be made in "extreme" circumstances such as a family illness, he said.
A decision on whether the UK will be included on a so-called "white list" will be made on Friday.
Portugal, Italy and Greece have already dropped quarantine restrictions for British travellers and Spain is expected to make an announcement in the coming days.
Portugal is the only EU country currently on the UK's own green list, allowing travellers to return without going into quarantine.