Arundel Castle: Mary Queen of Scots rosary beads stolen in raid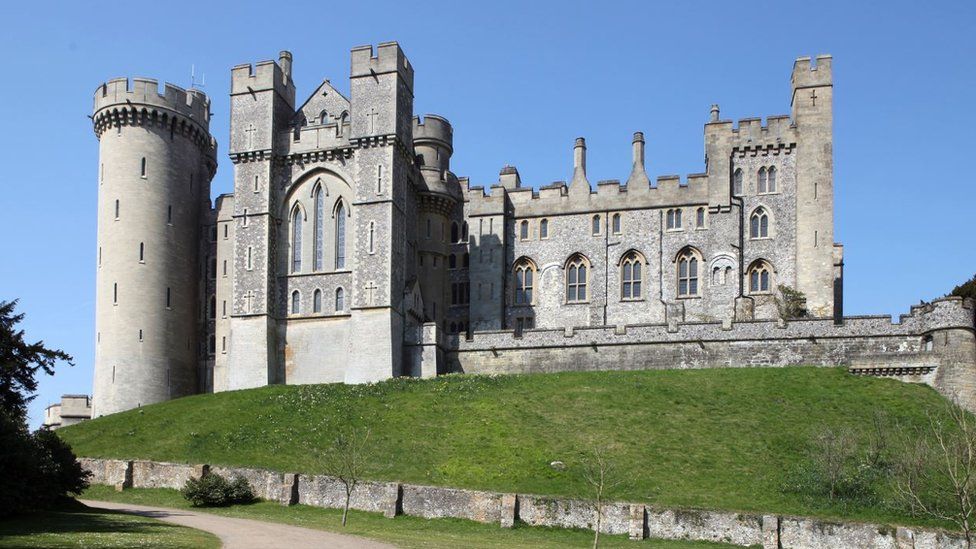 A set of gold rosary beads carried by Mary Queen of Scots at her execution in 1587 was among items worth more than £1m stolen in a raid on Arundel Castle.
The gold and silver artefacts were snatched from the West Sussex castle on Friday night.
Other pieces taken during the raid include coronation cups given by Mary to the Earl Marshal.
An Arundel Castle spokesman said the stolen items were of "priceless historical importance".
The castle only reopened to the public on Tuesday.
'Rosary is irreplaceable'
Staff were alerted to the break-in at 22:30 BST on Friday after a burglar alarm went off.
Sussex Police told the BBC the thieves entered through a window and smashed a glass cabinet to grab the items.
Det Con Molly O'Malley said the force thinks a 4x4 saloon found abandoned and on fire in nearby Barlavington "was linked" to the raid.
The castle spokesman said the rosary had "little intrinsic value as metal" but was "irreplaceable".
A spokesman for Arundel Castle Trustees said: "The stolen items have significant monetary value, but as unique artefacts of the Duke of Norfolk's collection have immeasurably greater and priceless historical importance.
"We therefore urge anyone with information to come forward to the police to assist them in returning these treasures back where they belong."
Peter Squires, professor of criminology at the University of Brighton, said there was a "surprising amount" of thefts of "antiquities or cultural artefacts".
He said items were often stolen to order and end up in the private collections of very rich people.
He told BBC Radio Sussex: "In war zones in the Middle East, there is a lot of evidence of museums being looted and the stolen items quickly finding themselves on to the dark web where they are bid on by dealers.
"Gold of course may just be melted down, which massively reduces its value, so to find someone who wants the items rather than just the bullion value is the thieves' objective here."
Professor Kate Williams of Reading University said: "When [Mary] fled Scotland into England most of her belongings were despoiled and shared out.
"Then after she was executed, nearly everything she had was taken and burned because people were concerned she would turn into a Catholic martyr.
"So we had one tiny memorial of Mary Queen of Scots - and now it has gone."
Det Con O'Malley urged people who were in Arundel on Friday evening and saw any suspicious activity around the area of the castle to contact the force either online or by calling 101, quoting Operation Deuce.
"The castle only re-opened to visitors on Tuesday 18 May, so if you were visiting during the past few days do you on reflection recall anyone behaving at all suspiciously?" he said.
Who was Mary, Queen of Scots?
Mary was born at Linlithgow Palace in 1542 and became queen when her father died soon after her birth
However, Mary was taken to France in 1548 and Scotland was ruled by regents
She returned in 1561 to begin her reign as Queen of Scots but was forced to abdicate at the age of 24 after six tumultuous years
After an unsuccessful attempt to regain the throne, Mary fled to England seeking the protection of her cousin, Elizabeth I
Mary had once claimed Elizabeth's throne as her own and was considered the legitimate sovereign by many English Catholics
The Scots queen was held in captivity for 18 years before she was executed at Fotheringhay Castle in 1587, at the age of 44
Her son James became king of Scotland and England