British Jews' fear and defiance amid record monthly anti-Semitism reports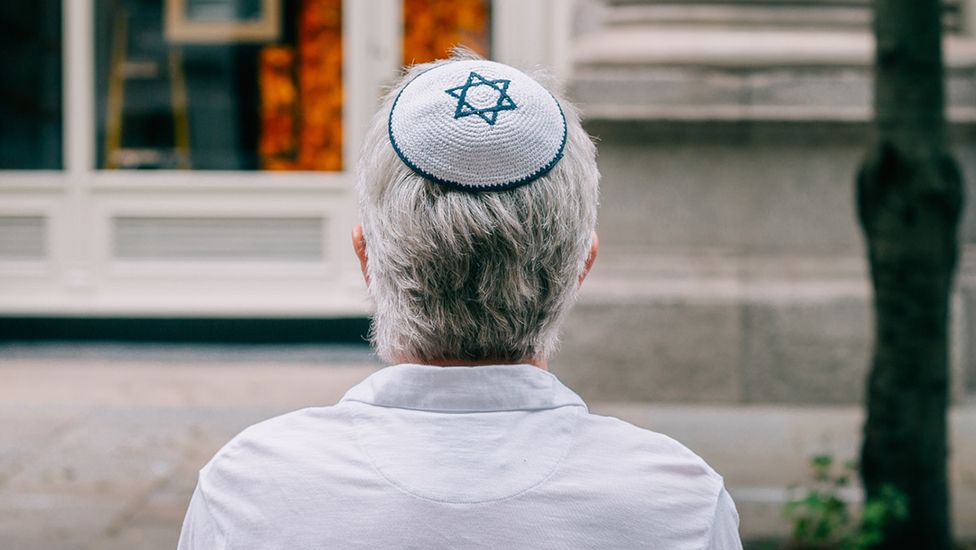 A monthly record number of reports of anti-Semitic incidents were recorded following the 11-day conflict between Israel and the Palestinians in May, a charity says. So how does it feel to be Jewish in the UK?
Rabbi Nicky Liss had been preparing to give a midnight talk at a north London synagogue last month, when he began to feel nervous.
A rabbi of 13 years, he was used to giving speeches. This one, to mark the start of the Jewish festival of Shavuot on 16 May, should not, on the face of it, have been any different.
But that afternoon, events built to what he describes as a "crescendo".
Over the next few hours, worried phone calls and messages buzzed through Mr Liss's community. Some feared the situation in north London could become "very threatening" by the evening.
Orthodox Jews do not use cars on religious holidays or the Sabbath, so Mr Liss had planned to walk the 25 minutes from his home on-site at Highgate synagogue to the synagogue in Hampstead Garden Suburb.
But the day's events left Mr Liss with an agonising dilemma over whether he should go ahead with his talk - and what, as chair of United Synagogue's rabbinical council, he should advise concerned colleagues to do.
Advice was sought from the Community Security Trust (CST), a Jewish charity that provides security support and monitors reports of anti-Semitic incidents.
Mr Liss says the advice was to go ahead with the events - but with increased vigilance and precautions, including local patrols being stepped up.
"This is the first time I've felt physically threatened," he tells the BBC.
"I can't believe that in 2021, I was thinking, was it safe for me to go on the street and walk to another synagogue to give a talk. It was incredibly worrying."
A record number of anti-Semitic incidents have been recorded in the UK since the start of last month's violence between Israel and the Palestinians, the CST says.
From 8 May to 7 June, 460 incidents were reported to the charity - the highest monthly total since records began in 1984 - with 316 happening offline and 144 online.
The previous record was 317 in July 2014 - coinciding with the last major eruption of violence between Israel and the Palestinians as part of a decades-long conflict.
In the month before 8 May, 119 anti-Semitic incidents were reported to the CST.
Police forces in London, Greater Manchester and Hertfordshire did not have readily available data on the number of anti-Semitic incidents reported to them in May.
Dave Rich, CST's head of policy, says 416 of the 460 incidents "used language or some other evidence" related to Israel. He adds that generally, most incidents involve verbal abuse, with a "relatively small" number involving violence.
"Every time Israel is at war… 2014, 2009, 2006 being the main ones, we've seen record totals each year, each time, [that are] always higher than the last," he tells the BBC.
Mr Rich says the current trends that have "stood out" are the car convoys that have driven through areas where Jewish people live - as well as the "disproportionate impact" on school pupils, teachers, and university students - with 30% of all reports recorded linked to the educational sector.
The conflict between Israel and the Palestinians is not the only global event to spark a backlash against minority groups in the UK.
Tell Mama UK, which monitors anti-Muslim hate incidents, says it received a "rise in reports both online and offline" after last month's violence between Israel and the Palestinians.
From 8 May to 31 May, it says it recorded 131 incidents - up from 59 in April. Of the 131, Tell Mama says 93 were directly linked to the conflict.
Iman Atta, the organisation's director, says the majority of cases involved "abusive behaviour" - with some including threatening behaviour, and others mentioning assault.
"Although the political conflict in the region can stir up a lot of emotions, there is absolutely no room for anti-Muslim or anti-Semitic rhetoric," she says.
"We fear that such behaviour threatens to harm social cohesions between Muslim and Jewish communities here in the UK."
From 8 May to 15 June, around 50 anti-Semitic incidents were reported that were related to university campuses, according to the Union of Jewish Students.
Rebecca Lyons, vice-president of the UCL Jewish Society, says "threats of death and physical violence" have been sent to the social media accounts of the Jewish and Israel societies.
In one private message, an Instagram user told the student-run Jewish society: "See you on campus. We'll be waiting to say hello to you, Arab style."
Rebecca, 21, says initially she feared the online threats and comments "might be actualised," adding that the abuse had left her feeling a "loss of identity" as a British Jew.
"I was born and raised in London, I worked hard to achieve highly in a British academic curriculum and yet I've been made startlingly aware of how clearly unwelcome I am in my own university space."
She says the "memory of how intense and bloodthirsty" those weeks were was "embedded" in her mind - and has added to her uncertainty over her future in London.
Despite the abuse, Rebecca adds that "we as a Jewish student community remain very much Jewish and proud... and no amount of harassment will deter that".
Jonny Eintracht, a 26-year-old PhD student from London, says there are always going to be pockets of anti-Semitism - and the best way to tackle them is by staying true to your own values.
"As long as I can behave in a way that... if people looked at me, or my friends and family, and think 'my experience of observant Jews, or Jews is general, is different to what I thought,' or 'that's someone that I would like to emulate one day' - I think that's the best way to combat anti-Semitism.
"It's a kind of responsibility that I feel. We stay proud, and we stay true to what we believe in and we continue to contribute to the world however we can."
Jonny, who wears a kippah, the head covering traditionally worn by male Jews, says since moving to London from Australia three years ago he has never felt unsafe or that he needs to change his behaviour - even after facing recent verbal anti-Semitic abuse in the street.
He says when events have become more volatile, he has felt a "large sense of unity" as Jewish people around the world come together - adding that he's also had support from people who aren't Jewish.
"I've had non-Jewish colleagues ask me if I'm OK or if I want to talk about the situation… I think when you're able to sit down and talk about it in a calm way, and out of concern for one another, then that's the first step to having any sort of constructive way forward.
"It gives me hope for the future."
Jenny Tamari, a mother-of-three from north-west London, says she is reconsidering her family's future in the UK, as she feels it has become "open season on the British Jews".
The former marketing consultant says she has "been feeling anti-Semitism for a while" in Britain, but with every "flare-up" of tensions in the Middle East, "people always see how far they can go... to let out their hatred for the Jews".
After watching the widely-circulated video of the car convoy that travelled through north London, Jenny thought of her six-year-old daughter.
"At the time, I heard cars beeping and I didn't actually know what was happening. But then I saw the video and went to my kitchen away from my kids and just cried."
Jenny, 40, admits recent events have left her increasingly scared for her family's safety.
She says she even took off her son's kippah as they walked to a friend's house for a recent Sabbath lunch.
"I told my son he had to take his kippah off. And he said, 'why Mummy, I don't want to', and I got really frustrated and said, 'you can't wear it in the streets'. I got really scared and he felt that, as a four-and-a-half-year-old child, and just said 'It's OK Mummy, I'll take it off'.
"I just feel so disappointed in myself, so sad for him, so sad for my grandfather who came from Vienna and escaped the Holocaust, so that he could be actively, outwardly Jewish in Britain - the country that took him in."
Jenny has recently started a podcast called Jewish in the City, which despite being "born out of" anti-Semitism, is designed to "uplift, inspire and encourage" Jews; and to highlight their "positive contributions" to communities.
In Essex, Lindsay Shure, the chair of the Chigwell and Hainault synagogue, is "determined that something good" will follow the attack on their own Rabbi Goodwin.
Lindsay, 70, says the Jewish community and the residents of Chigwell's Limes Farm estate - where the synagogue sits - had never had "terribly much to do with each other", but the support from non-Jewish people has been "incredible".
He says people have left flowers and cards outside the synagogue and others have left kind messages on social media, including one which said: "Your community is our community".
For him, the outpouring of support "emphasises that it's the people on the extremes who show the hatred… generally, people are very supportive and treat each person on their merits".
He says he is meeting the local residents' committee soon to discuss how they and the Jewish community can work together on future social projects. They are hoping to do some work in a care home later this year.
"If we get closer, we get a better understanding of people as human beings… I hope this will lay the foundations for something even more important and longer-lasting."