Covid travel rules: Portugal removed from UK green list as seven others join red list
By Dulcie Lee
BBC News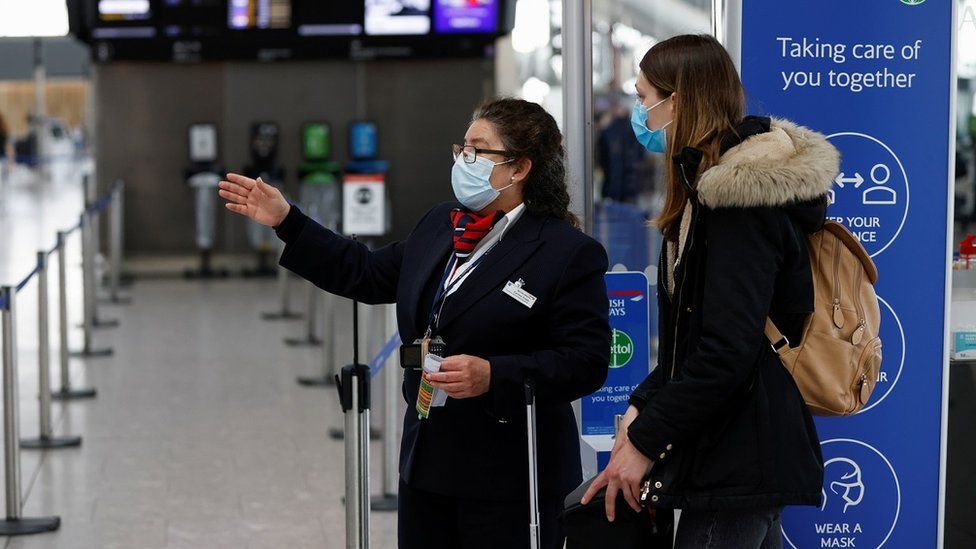 Portugal will be removed from the UK's green travel list from Tuesday, amid rising coronavirus cases and concern over a "Nepal mutation of the so-called Indian variant".
It will join the amber list, meaning holidaymakers should not visit and returnees must isolate for 10 days.
Seven nations - including Egypt, Costa Rica and Sri Lanka - will join the red list, with the toughest travel rules.
Transport Secretary Grant Shapps said the move was a "safety-first approach".
Scotland, Wales and Northern Ireland have confirmed they will adopt the same changes.
Countries have their own rules about allowing visitors, so being on the UK's green list does not guarantee travellers can visit.
The red list will expand to include Afghanistan, Bahrain, Costa Rica, Egypt, Sri Lanka, Sudan and Trinidad and Tobago. People arriving in the UK from these destinations will be required to stay in a quarantine hotel for 10 days at a fixed cost of £1,750 per adult.
The changes come into effect at 04:00 BST on Tuesday.
No new countries will be added to the green list, Mr Shapps said.
The removal of Portugal means the green list will, from Tuesday, consist of: Australia, Brunei, the Falkland Islands, the Faroe Islands, Gibraltar, Iceland, Israel, New Zealand, Singapore, South Georgia and South Sandwich Islands and St Helena, Ascension and Tristan da Cunha.
The transport secretary said two factors had led to the decision to downgrade Portugal, along with the islands of Madeira and the Azores.
"One is the positivity rate has nearly doubled since the last review in Portugal," he said.
"And the other is there's a sort of Nepal mutation of the so-called Indian variant [now known as Delta] which has been detected and we just don't know the potential for that to be a vaccine-defeating mutation."
On the so-called "Nepal mutation", Public Health England told the BBC it was "aware of reports linking Nepal to Delta (VOC-21APR-02) with the additional mutation K417N".
"This variant is present in multiple countries including a small number of cases in the UK, detected through rapid testing and whole genome sequencing," PHE said. "We are investigating K417N to better understand its significance."
On 2 June, Portugal had 5.4 new cases per 100,000 people per day, which was only a little higher than the UK at 5.1 - but differences in the amount of testing being done make direct comparisons difficult.
'This holiday was everything for us'
Kerry, a photographer from the Wirral, says her family - like many others - have had "the year from hell".
Her partner has been shielding for over a year due to an auto-immune disease, Kerry has had to nurse her mother through Covid-19 and a stroke, and her 18-month old son has hardly known a world without a pandemic.
She was just about to book a trip to Portugal when the rules changed. "This holiday was everything for us our first with our baby who has had no experiences in his first 18 months on this planet," she says.
But others say they are likely to make the trip anyway.
One man told the BBC: "Unless they say, you must not go, you will be fined if you go, we might well still go and just have to bear the additional costs of an extra PCR test and the fact that we have to quarantine."
Labour said downgrading Portugal was "not the answer" and called for the amber list to be scrapped altogether.
The travel and tourism industry also voiced dismay, as shares fell in airlines and travel companies after the BBC first reported plans to lower Portugal's rating.
EasyJet's chief executive accused the government of having "torn up its own rule book", saying the decision "essentially cuts the UK off from the rest of the world".
The chief executive of Heathrow Airport said: "Ministers spent last month hailing the restart of international travel, only to close it down three weeks later."
The debate over travel rules comes after it was announced that more than half of the UK's adult population has now been vaccinated.
A total of 26,422,303 second doses have been given out since the vaccine rollout began nearly six months ago.
Meanwhile, cases continue to rise in the UK with another 5,274 infections reported on Thursday, and another 18 deaths recorded within 28 days of a positive test.