Probation services return to public control in England and Wales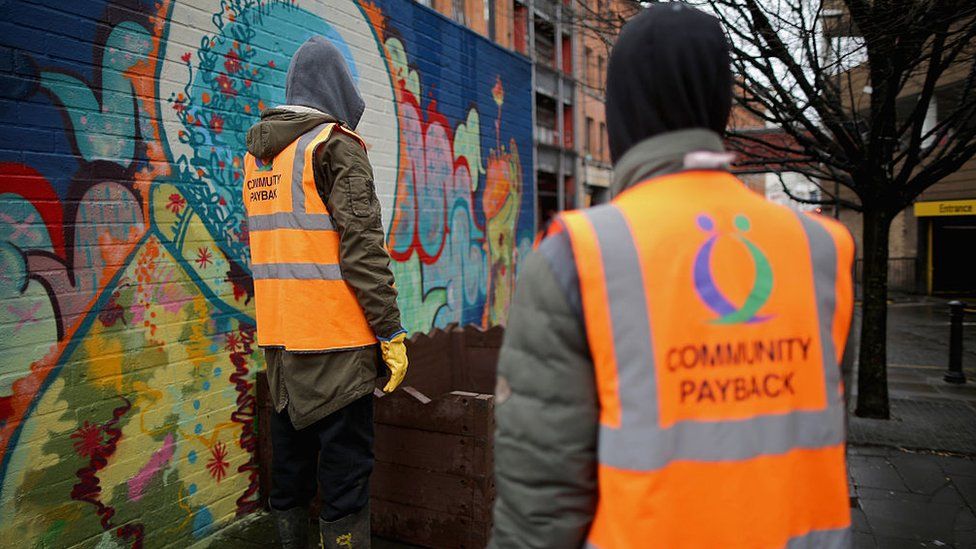 Probation services in England and Wales will return to public control, seven years after Chris Grayling's changes that were later labelled as "flawed".
The former justice secretary's 2014 reforms saw the management of low-risk and medium-risk offenders contracted out to private companies.
It led to what was assessed as "poor quality supervision" of many offenders.
Labour has previously welcomed the "U-turn", calling the involvement of private firms a "mistake".
Ministers say they want to see more offenders doing community punishments like scrubbing off graffiti, while wearing high-visibility tabards emblazoned with phrases like "community payback".
They also want to introduce more electronic monitoring, including tags linked to the GPS system for better tracking of some offenders, as well as sobriety tags that test offenders' sweat to ensure they are not drinking alcohol.
Mr Grayling's reforms saw the 35 probation trusts in England and Wales previously running the sector being dismantled.
Under the system of 21 contracts, private companies, voluntary groups or charities had to bid to win million-pound contracts to run the Community Rehabilitation Companies (CRCs).
Opponents warned at the time of the reforms that the public could be put at risk, and many probation staff resigned over fears the new system would become too fragmented.
The House of Commons justice committee also expressed "considerable concern" that companies supervising low and medium risk offenders would not be required to have professionally qualified staff - although Mr Grayling promised employees would have the right skills to manage offenders.
Dame Glenys Stacey, chief inspector of probation in 2019, said at the time that the system was "fundamentally flawed".
She told BBC Radio 4's Today: "Much more needs to be done to protect the public... much more is needed to be done by these private companies. But even if that is done it will not be enough, the system is not able to deliver as well as it could."
Her successor, Justin Russell, echoed her sentiments and has welcomed the rollback of reforms.
He said that the recent injection of hundreds of millions of pounds into the probation service would need to continue, adding the quality of supervision will not improve by just "shifting large volumes of cases from the private sector into the public sector".