UK bans fifth neo-Nazi group under terror laws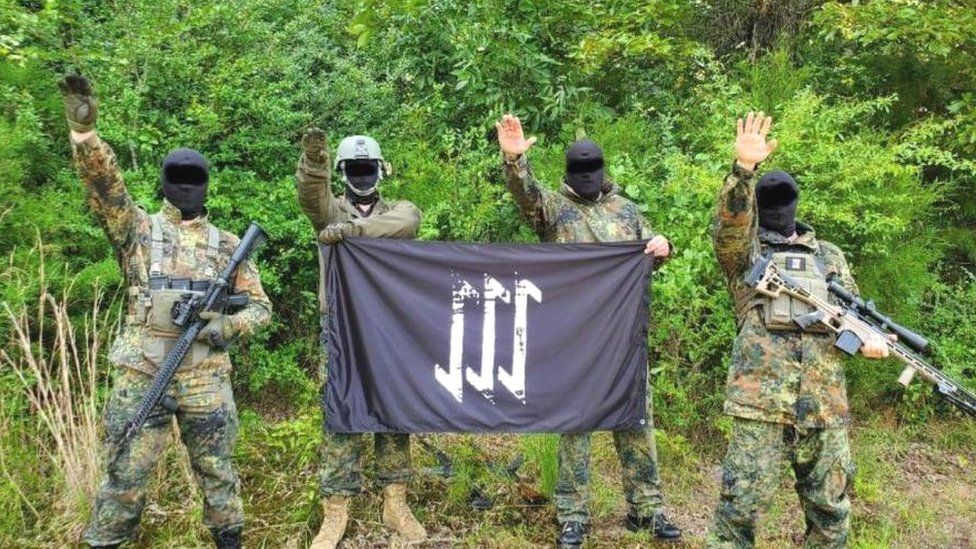 An American neo-Nazi group which is led from Russia is to be banned as a terrorist organisation, the Home Secretary has said.
Priti Patel condemned "evil white supremacist groups, who target vulnerable people across the world".
The Base will be the fifth extreme right-wing group to be proscribed in the UK under anti-terror laws.
The Base, formed in 2018, seeks to create terrorist cells in the US and other countries in an attempt to establish fascist, white ethno-states through a "race war".
Members have engaged in training with weapons and explosives. Several men linked to the group are being prosecuted in the US for offences including conspiracy to murder.
The group has been heavily disrupted, although leading figures like Nazzaro remain active.
A formal ban in the UK, which will come into force this week if approved by MPs, will make membership or support for the group a terrorism offence with a maximum sentence of 14 years in prison.
The Panorama investigation into The Base exposed how Nazzaro and other men interviewed and groomed young recruits from Britain and other countries.
The investigation showed how another leading group member, Matthew Baccari, ran a notorious neo-Nazi online forum linked to multiple terrorism prosecutions in UK courts.
Nazzaro, who used to work for the FBI and the Pentagon, moved to Russia around the time he created The Base.
In November a feature-length interview with Nazzaro was broadcast on Russian state television.