Covid: Fully jabbed arrivals from France must still quarantine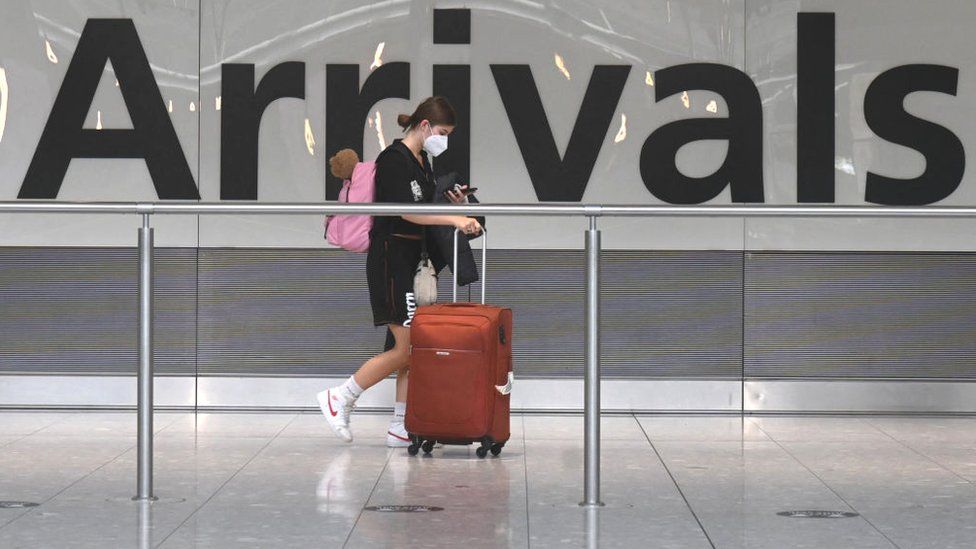 Fully jabbed travellers returning to England and Wales from France will still have to quarantine from Monday.
From 19 July, adults who have been double jabbed in the UK arriving from amber list countries will not need to isolate for 10 days.
But the government said the easing would not apply to France due to "persistent" cases of the Beta variant, first identified in South Africa.
There are concerns vaccines may not work as well against the Beta variant.
The Beta variant accounts for about 10% of new infections in France, but that includes the Indian Ocean territories of Reunion and Mayotte, where the variant is near-universal.
The more infectious Delta variant - first identified in India - accounts for almost all new cases in the UK.
Health Secretary Sajid Javid said: "We have always been clear that we will not hesitate to take rapid action at our borders to stop the spread of Covid-19 and protect the gains made by our successful vaccination programme.
"With restrictions lifting on Monday across the country, we will do everything we can to ensure international travel is conducted as safely as possible, and protect our borders from the threat of variants."
Travel firms have criticised the move, accusing the government of causing confusion.
Willie Walsh, the director-general of the International Air Transport Association said "the UK has no coherent policy on international travel" and is "destroying its own travel sector and the thousands of jobs that rely on it".
The government announcement means that anyone who has been in France in the previous 10 days will need to quarantine on arrival to England in their own accommodation and will need a day two and day eight test, regardless of their vaccination status.
This includes any fully vaccinated individual who transits through France from either a green or another amber country.
But ministers indicated that Eurostar passengers on services travelling through France would not need to quarantine if their train did not stop in the country.
Existing amber list exemptions for key workers such as hauliers will remain in place.
'Difficult to understand'
Meanwhile, France has tightened its rules for UK travellers who are not fully vaccinated, requiring a negative test in the 24 hours before arrival from Sunday, rather than the 48 hours allowed previously.
But anyone fully vaccinated with a jab from Pfizer/BioNTech, Moderna, AstraZeneca or Johnson & Johnson will be exempt from providing a negative test.
French MEP Veronique Trillet-Lenoir told BBC Radio 4's Today programme that it was "difficult to understand" the UK rules, as the Beta variant is "not present at all" in mainland France, with France's cases mainly being found in its overseas territories.
BBC Paris correspondent Hugh Schofield said there had been no official response from the French government yet, but it would be pushing for an explanation from its London counterpart for the toughened policy.
Travellers to the UK from France will still have the option of shortening their quarantine period through the Test to Release scheme - if they pay for a test on day five and are negative.
For arrivals from other amber list countries, the requirement to quarantine is being scrapped for the fully vaccinated and under-18s from Monday in all parts of the UK.
Each UK nation sets its own travel rules.
A Scottish government spokesperson said ministers were "considering the best approach" for arrivals from France "as we look to adopt a four nation approach on international travel, where possible".
Wales said it would be following the change set by England, while Northern Ireland is yet to announce its intention.
Prof John Edmunds, an epidemiologist from the London School of Hygiene and Tropical Medicine and a government adviser on the Sage committee, said the Beta variant was at low levels in the UK but, as immunity from vaccines increases, "conditions are right" for it to gain an advantage.
He told the Today programme that the Beta variant is probably less infectious than the dominant Delta variant, but it appears to be better able to evade the immune response from vaccines - particularly from the Oxford-AstraZeneca vaccine.
The UK is currently facing a "long and drawn out" wave of infections from the Delta variant, he said, as it will not be brought down by lockdowns as previous peaks were.
He said cases are on course to hit 100,000 a day in about two weeks, although school closures may help to bring down the surge or cause it to level off. But high levels of infection were likely throughout the rest of the summer and autumn, he said.
Travel trade body Abta said the changes to travel to France will delay "any meaningful recovery for the industry", adding that financial support needed to be given to the sector.
Tim Alderslade, chief executive of industry group Airlines UK, said: "These random rule changes make it almost impossible for travellers and industry to plan ahead, and can only further undermine consumer trust at the very peak of the summer season."
Johan Lundgren, chief executive of EasyJet, said the government was "making it up as they go along and causing confusion and uncertainty".
Labour said the move had created "complete chaos".
Shadow home secretary Nick Thomas-Symonds said: "In effect the government has announced yet another category for travel and they've done it on a Friday evening... It is travellers and the travelling industry that is paying the price."
'It doesn't appear logical'
Georgina Thomas, a nurse from Buckinghamshire, is one of those affected by the change.
The 32-year-old has been visiting her parents in the countryside between La Rochelle and Bordeaux for the last three weeks with her baby daughter.
"I'm frustrated with the inconsistent approach the government are taking, it doesn't all appear logical," she told the PA news agency.
"If a quarantine is necessary then so be it but I'm confident that my risk will be higher when I return to the UK."
Ms Thomas, who is still on maternity leave, added: "It will be a long 10 days but we are the fortunate ones, I understand that, plenty will think we shouldn't be travelling anyway."
James Miles from West Sussex said the quarantine requirement had put his plans to visit his girlfriend in France for the first time since 1 January in jeopardy.
"This is really affecting people's lives," he said. "Seven months is a long time not to see your partner. I can't even see the light at the end of the tunnel. Where do we go from here?"
Anne, a British citizen living in Paris who did not wish to give her second name, has not seen her family in 18 months, with her parents yet to meet their granddaughter, who was born in Paris last autumn.
The 31-year-old told the BBC she had booked their trip to London for late August on Friday morning - just hours before the announcement was made.
She also suggested most of the Beta variant cases were not found in mainland France.
"How can the government encourage non vaccinated people in the UK to stop wearing masks and start going clubbing, yet oblige fully vaccinated travellers from France to quarantine?" Anne added.
Transport Secretary Grant Shapps said: "Whilst we are committed to continuing to open up international travel safely, our absolute priority is to protect public health here in the UK."
There had been reports the government was considering adding France to the red list for travel.
Only UK or Irish nationals or UK residents are allowed to travel from red list countries and they must then quarantine in a government-approved hotel for 10 days, at a cost of £1,750 for one adult.
Chairman of the Commons health select committee Jeremy Hunt warned that Covid restrictions may have to be reintroduced if cases are still rising when schools return in September. He also said the "warning light on the NHS dashboard... is flashing red" with hospital admissions expected to rise to 10,000 by the end of August
The Trades Union Congress has called on the government to "fix sick pay" amid rising numbers of people being asked to self-isolate. Deputy general secretary Paul Nowak said many people cannot afford the time off work
Bulgaria has announced a ban on UK travellers entering the country amid rising cases