19 July: England Covid restrictions ease as PM urges caution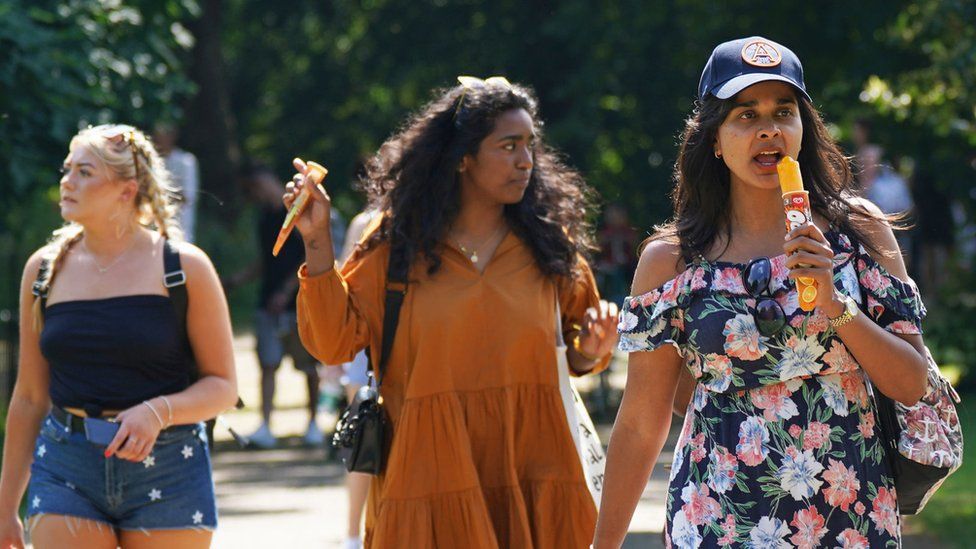 Prime Minister Boris Johnson has urged caution as most legal restrictions on social contact are lifted in England.
There are now no limits on how many people can meet or attend events; nightclubs reopened at midnight; and table service will not be necessary in pubs and restaurants.
Face coverings will be recommended in some spaces, but not required by law.
Vaccines Minister Nadhim Zahawi said government experts had recommended that only some under-18s be vaccinated.
The prime minister is due to hold a news conference at 17:00 BST via video link as he, the chancellor and the health secretary are self-isolating - amid warnings that cases of Covid will surge.
On BBC Radio 4's Today programme, Mr Zahawi defended the U-turn which saw the prime minister and chancellor self-isolating, after initially saying they would take part in a pilot programme to take daily tests instead.
Mr Zahawi insisted that Mr Johnson only "considered" joining the pilot scheme, adding: "No one is taking anyone for fools."
Labour leader Sir Keir Starmer accused the government of "chaos, confusion and cronyism", with the prime minister and chancellor undermining the self-isolation rules at a critical moment.
Some scientists are predicting that UK infections - currently at about 50,000 a day - could reach 200,000 a day later in the summer.
But with more than 68% of UK adults fully vaccinated, modelling suggests hospital admissions, serious illness and deaths from Covid-19 will be at a lower level than in earlier peaks.
"If we don't do it now we've got to ask ourselves, when will we ever do it?" he said, adding that the virus would have the "advantage of the cold weather" in autumn and winter.
"But we've got to do it cautiously. We've got to remember that this virus is sadly still out there. Cases are rising, we can see the extreme contagiousness of the Delta variant."
Nadhim Zahawi said 90% of the most vulnerable had been vaccinated and it was right for people to take "personal and corporate responsibility" over measures such as wearing masks.
"We're doing the right thing to get as close to normal as possible, as quickly as possible," he told BBC Breakfast, saying that the end of the school term would reduce the spread of the virus.
He also said he had received the recommendation from the Joint Committee on Vaccination and Immunisation about vaccinating children aged 12 to 17 and would make a statement to Parliament on Monday afternoon.
As restrictions ease in England, businesses such as nightclubs - and large events - will be encouraged to use the NHS Covid Pass to check people are fully vaccinated, have natural immunity from infection or have a recent negative test.
At Fibre in Leeds, owner Terry George said several customers were unvaccinated or had only had one jab so far. He added the government had not provided the tools to scan for vaccination status.
While some clubgoers said they were a little nervous, most were overjoyed. "It's been literally the best night of our lives. We've been waiting for this since we turned 18. This has been like life has come back to normal all of a sudden," said Mollie, 20.
'They just wanted to dance'
By Hannah Morrison, BBC Newsbeat at Fibre nightclub in Leeds
The countdown began, midnight struck, confetti cannons went off and the queue erupted into cheers and screams of joy.
Then the doors opened and hundreds of people poured into Fibre - a nightclub in the centre of Leeds. No proof of a negative test required, no Covid passports needed here, just the option of hand sanitiser on the door.
It was straight onto the dance floor for most people; arms in the air singing along to the DJ's carefully selected first track - Ultra Nate's Free.
No-one was wearing masks and it felt like everything was normal again. No-one wanted to talk about rising cases of coronavirus or the risks - they just wanted to dance. And for the first time in 16 months they could.
As the legal requirement for masks ended, signs at Manchester Piccadilly station urged travellers to continue wearing them, but several people declined.
Mark Dawson, on his way to Scunthorpe for work, said: "I'll do what the government tells me to do but if they say I don't have to, I won't."
Transport for London said it was seeing 85% of passengers wearing masks across its network and there had been no surge in commuters returning to the office.
Passengers confused over mask rules
by Harry Low at Farringdon station
Around three quarters of people were wearing masks but although face coverings are mandatory on TfL services, they're not on Thameslink trains which serve the station.
As passengers make the short journey across the platform, the advice changes meaning they can either remove or apply their face coverings depending on which direction they are travelling.
Christopher McCready, who lives in Scotland but works in London, said he would continue wearing a mask despite having contracted the virus a month ago but, like many, he called for greater clarity.
"The whole island should be under the same rules," he said.
According to a survey by the Office for National Statistics, almost two-thirds of adults across Great Britain intend to continue wearing masks in shops and on public transport, following England's lifting of legal restrictions.
Restrictions are set to be relaxed in Wales on 7 August and in Northern Ireland on 26 July.
Meanwhile, the surge in infections - with 48,161 cases reported on Sunday and more than 50,000 on Saturday - has raised concerns about health impacts and the number of people self-isolating.
Contact tracing and self-isolation requirements remain in place.
Recent figures show that more than half a million alerts were sent out in the first week of July, while absences from school have also surged.
No 10 initially said they would not have to isolate as they were taking part in a pilot scheme that involves daily testing - sparking a backlash from opposition parties and businesses affected by staff quarantining.
On Monday, Mr Zahawi said Downing Street and the Cabinet Office would no longer be part of the pilot scheme.
But he said he was "very much briefed" that Transport for London, Network Rail and Heathrow had been part of the pilot, despite TfL saying they had been waiting to hear more about it from the government.