Covid vaccine will not be compulsory for university lectures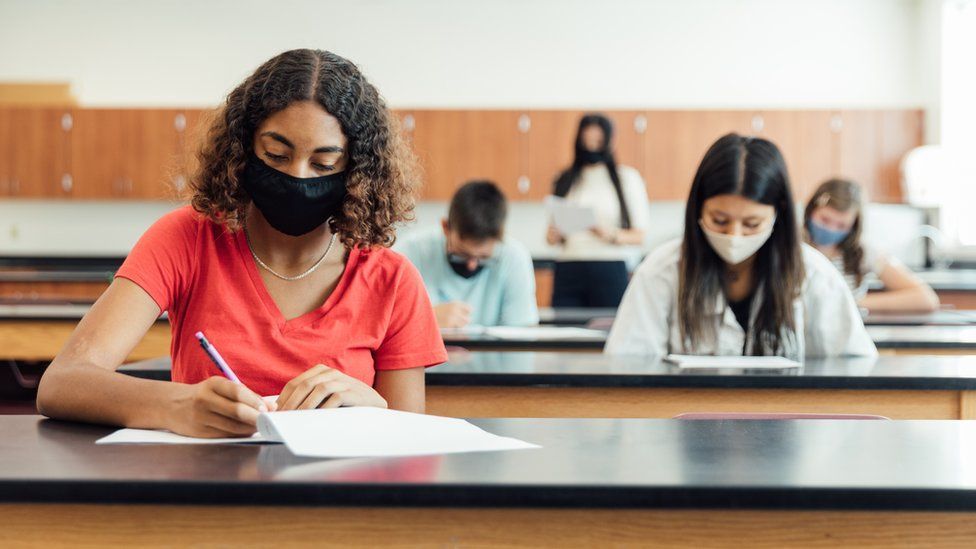 Ministers are no longer considering making it compulsory for university students to be fully vaccinated against Covid to attend lectures in England, the BBC has been told.
The foreign secretary previously said students would get "advance warning" if they needed to be double jabbed.
The government plans to require two jabs to go to nightclubs and other crowded venues from September.
More than 72% of UK adults have had two doses so far, while 88.5% have had one.
The idea of making vaccines compulsory for university students - either to attend lectures or to live in halls of residence - was not ruled out by either education minister Vicky Ford or Downing Street when asked about it earlier this week.
And asked whether vaccination would be mandatory for students returning to halls of residence, Foreign Secretary Dominic Raab said a decision would be taken in September.
But now the idea of requiring students in England to show proof of vaccination to attend lectures or stay in halls of residence has been shelved, the BBC has been told.
BBC political correspondent Peter Saull said he believed there were two key reasons why the government had rowed back on this.
"The first is logistics - how on earth could universities police this? And there were potentially some legal questions too because when you get an offer of a university place, that is considered to be legally binding," our correspondent said.
"But also I think ministers are keenly aware that unease is growing in the Conservative backbenches about this wider issue of vaccine passports."
The governments of Scotland, Wales and Northern Ireland are in charge of their own coronavirus rules and education policy.
Unions have been critical of making vaccines mandatory for university students.
The University and College Union previously said this would be wrong and "hugely discriminatory against those who are unable to be vaccinated" as well as for international students.
And the National Union of Students had called the idea "appalling", accusing the government of "lining students up as scapegoats".
Both Labour and leading universities have called for vaccination centres to be set up on campuses so that students are jabbed before the winter.
The Russell Group - made up of the UK's top universities - has offered its own spaces and facilities to be used as pop-up centres.
All over-18s in the UK have now been offered a first dose of a Covid vaccine - and people can get their second dose eight weeks later.
This means the government expects all adults to have had the opportunity to have both jabs by the end of September.
However, 32% of 18 to 29-year-olds in England had not had their first dose by 25 July, according to the latest data from NHS England.
From the end of September, ministers have said people will need proof of full vaccination to attend nightclubs and other crowded venues in England.
The full details of the plan are yet to be seen but an NHS Covid Pass - which you can obtain electronically or as a letter - will be used as proof.
Meanwhile, a letter sent to GPs last week by NHS England said those who were three months away from turning 18 could get their first jab immediately.
But families have criticised the guidance, which also warns doctors not to begin vaccinating some clinically vulnerable children against Covid-19 - because they may not be covered by insurance.
Some GPs have said it has created mixed messages and confusion.
The document said more information would be provided soon.
Earlier this month, the government's vaccine advisers recommended offering the Pfizer jab to children in England, which includes about 150,000 12-15 year olds most at risk.
In response, the NHS said there was "no delay" to vaccinating children in this age group and they would be offered a first dose before the start of the school year. It said the letter to GPs made clear a national indemnity contract will be set out shortly.
Elsewhere, the Equalities and Human Rights Commission has warned companies that rules requiring staff to be fully vaccinated must not be disproportionate and discriminatory.
The rights watchdog said it understood that firms will want to protect their staff and customers by requiring employees to be vaccinated but advised that they consider other factors.
Transport Secretary Grant Shapps has previously suggested it is a good idea for people to be double-jabbed before returning to the office, but legislation would not require it.
Guidance from the CIPD, the trade body for human resources professionals, says that while employers do have a duty of care to employees they cannot force them to have the vaccine.
A further 26,144 coronavirus cases have been recorded in the UK and another 71 deaths within 28 days of a positive test, according to Saturday's government figures.