Covid: UK hits 85m jab milestone amid discount push for young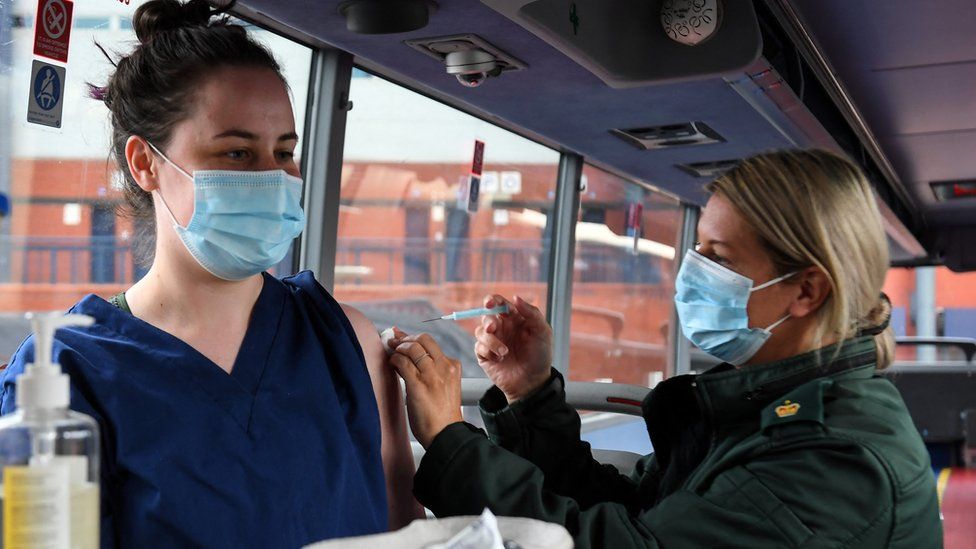 Young people will be offered discounted takeaways and car travel to get their Covid jabs in a bid to boost vaccine uptake, the government has said.
Food delivery and ride-hailing firms including Uber, Bolt and Deliveroo will offer incentives to people to get vaccinated.
More than 68% of 18 to 29-year-olds in England have had a first jab, while 88.6% of all UK adults have had one.
In total, over 85 million doses have now been administered across the UK.
More than 72.5% of UK adults have received two doses so far.
Health Secretary Sajid Javid described delivering 85 million doses as a "phenomenal achievement", while vaccines minister Nadhim Zahawi urged people to get both jabs "so we can carry on doing the things we've missed".
On Sunday the UK reported 24,470 new Covid cases as well as a further 65 deaths within 28 days of a positive test.
Ride-hailing firm Uber will send reminders to all users in August urging them to get vaccinated - and will offer discounted rides and meals on its Uber Eats platform for young people who have the vaccine.
Deliveroo will also offer vouchers, while Bolt, another taxi app firm, will offer "free ride credit" to vaccination centres.
The Department of Health said details on more partnerships would be released "in due course".
Some local councils and charities have already been offering free taxis to help people get to vaccination centres.
The Department of Health said other incentives could include "vouchers or discount codes for people attending pop-up vaccine sites and booking through the NHS, social media competitions and promotional offers for restaurants".
It added that firms would not request or store any health data for the incentive scheme.
It is not clear at this stage what age group the incentives will be available to and whether those who have already had the jab will be eligible.
The government said discussions were ongoing with companies and further details would be published in due course.
Mr Javid thanked companies for "stepping up" to help the vaccine drive, and urged people to "take advantage of the discounts".
A four-day festival with live music and free food, and walk-in vaccine clinics, is taking place in Poplar, in east London, until Monday.
Everyone over 18 has been able to sign up for a Covid jab in England since mid-June.
So far, two-thirds of 18 to 29-year-olds have come forward.
That's much lower than the population as a whole and ministers are desperate to increase uptake before the end of summer.
We've already seen the stick; the prime minister warning Covid passports could stop the unvaccinated getting into nightclubs and other venues.
Now for the carrot; giving people discounts and other incentives to get a jab.
Downing Street hasn't said exactly what the incentives will be.
But ministers are in talks with other firms - and discounts in cafes, restaurants and cinemas could follow soon.
The announcement was met with some criticism, with Kate Nicholls, the boss of UK Hospitality calling the announcement "a hammer blow" for a struggling industry trying to rebuild.
Mark Harper, who chairs the Covid Recovery Group of Conservative backbenchers, said the government was "effectively moving to compulsory vaccination".
In an interview with LBC, fellow Tory MP Andrew Bridgen called for Parliament to be recalled if ministers were "serious" about people being asked to show proof of their vaccine status to gain access to domestic venues and events.
He described such a move as a "very serious infringement on people's liberties".