Prosecutor Nazir Afzal: I couldn't defend a rapist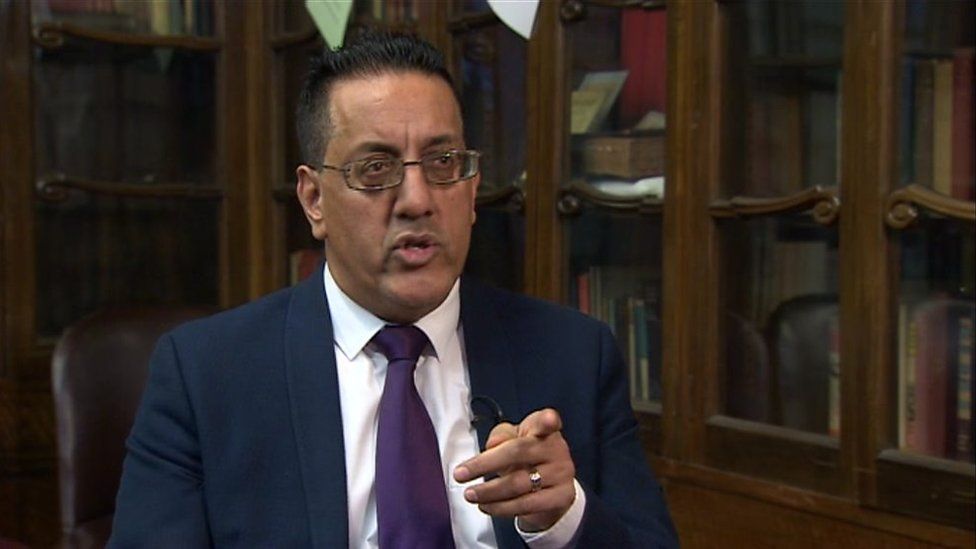 The prosecutor of some of the UK's most notorious sex offenders has told of how he quit as a defence lawyer after not wanting to represent an alleged rapist.
Nazir Afzal went on to become the chief crown prosecutor in the Rochdale grooming gang cases in 2012.
He said those guilty were mostly men who wanted to restrict women's choices.
Mr Afzal started his career as a defence lawyer but told BBC presenter Lauren Laverne of the moment he realised he "just couldn't do it".
He was advising a rape suspect before a police interview and had given his client a copy of the victim's statement.
He could see the man was getting pleasure from "re-hearing and rehearsing what he had done allegedly to that woman", Mr Afzal explained.
"And his reaction to reading what she had said just was the icing on the cake in my mind.
"I couldn't say to him 'plead guilty' because he wasn't going to. He was going to drag her through the courtroom... and that's his right absolutely, but why should I be party to that? I wasn't going to be party to that.
"So I walked out the door, literally, and I handed my notice in almost immediately afterwards. I'm not doing this anymore. I can't do this. Good for people who can and we do need people who can do that, but it wasn't for me."
Mr Afzal joined the Crown Prosecution Service in 1991 and went on to become director of prosecutions for London where he brought perpetrators of so-called honour-based violence to justice.
In 2011, as chief crown prosecutor for north-west England, he began investigating sex grooming gangs in Rochdale, overturning a previous CPS decision not to bring charges against suspects.
Mr Afzal also prosecuted Stuart Hall, the former television presenter who in 2014 was convicted of multiple sex offences against children.
In a wide-ranging interview, he told Lauren Laverne there was "nobody more important in his life than the victims and survivors" that he kept in touch with.
He spoke of visiting one alleged victim of Hall whose case did not lead to a conviction.
"I went to see her and I said, 'I'm really sorry that I couldn't give you closure'. She looked me in the eyes and said, 'You gave me closure the moment that you believed me. My recovery started the moment you believed me.'
"That has never left me."
Choosing the track Women in Chains by Tears For Fears, he said: "People can read whatever they want into it but for me it's the fact that women have been put in chains that we men - and it's men all the time sadly - that want to restrict the choices that women make."
Nazir Afzal's Desert Island Disc choices
Jump Around - House of Pain
This Woman's Work - Kate Bush
Why Should I Cry For You? - Sting
One In Ten - UB40
Set You Free - N-Trance
Woman in Chains - Tears For Fears
One - U2 with Mary J Blige on vocals
Talkin' Bout a Revolution - Tracy Chapman
Mr Afzal said his quest for justice was in part shaped by the racist bullying he experienced as the child of Pakistani parents growing up in Birmingham.
"I was beaten so often, on one occasion I was beaten by three guys who used my head as a football," he said.
But his father did not call the police, instead telling the then 13-year-old: "There's no justice. Nobody is prepared to listen to us."
He said: "And so I was taken by what he wanted to do which was to provide a voice to those who were unheard, and in many respects that's how I built my career doing the same thing."
Mr Afzal retired from the Crown Prosecution Service in 2015. He currently chairs the Catholic Church's new safeguarding body and advises the Welsh government on issues of gender-based violence.
He also told of how aged eight he cradled the body of his seven-year-old cousin Yasmin after she died of dehydration while travelling back from Pakistan.
It was during the 30-day journey in a Transit van across Asia and Europe that Yasmin fell ill as they reached Germany, he said.
"We didn't know and my father was desperate for us to get home, he had his whole family in this van and she got so ill that a day or so later, just coming into Belgium she died.
"[She died of] dehydration, which these days, a couple of pills [would have helped], but you couldn't Google that back then could you?"
He added: "We are going on a ferry to get back to England and my mother hands me my cousin and puts her in my arms and says look after her, she's sleeping.
"And I'm carrying her body without knowing that - across the channel and arriving in Dover until the authorities take her.
"I looked at her face, I stroked her hair. Lauren, nobody is going to die on my watch again, that's the way I felt and that's the way I've always felt."
Guests share the soundtrack of their lives on Desert Island Discs on BBC Radio 4 on Sundays at 11:00 BST and it is also available on BBC Sounds.
Related Internet Links
The BBC is not responsible for the content of external sites.