Extinction Rebellion: Third protester conviction quashed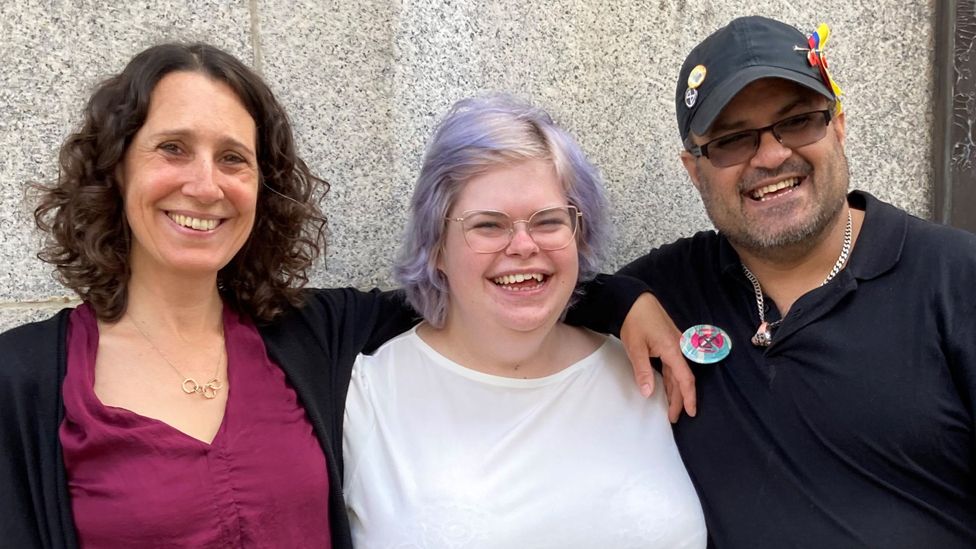 A third Extinction Rebellion protester has had their conviction quashed at the Old Bailey in as many days.
Amelia Halls, 23, was told she should not have been given a criminal record for peacefully obstructing a road during a 2019 demonstration.
Her win comes amid mounting questions for the Crown Prosecution Service over cases brought against the protesters.
A judge at the Old Bailey pressed prosecutors to explain whether they stand by a string of XR convictions.
Since 2019, XR says that hundreds of its followers have been convicted of blocking roads.
At least seven more XR-related appeals are due before courts in the coming weeks.
In October 2019, Amelia Halls sat down in the road outside London City Airport along with other XR protesters.
She did not threaten violence, but was arrested as police removed her from the scene.
She was later convicted by magistrates of obstructing the road and received a conditional discharge - a form of warning from a court that leads to a criminal record - and ordered to pay £400 prosecution costs.
On Thursday, counsel for the Crown Prosecution Service (CPS) Alex Slater told Judge Mark Dennis QC that it would not fight Ms Halls' appeal.
Mr Slater said the decision came in light of the Supreme Court's ruling in June that a peaceful and brief occupation of a road was part of the right to publicly protest.
Judge Dennis quashed Ms Hall's conviction, ordered the CPS to pay her £30 train fare, and told its lawyers to declare next Wednesday what it would do with other cases in the appeals queue.
Ms Halls told BBC News she was delighted with the outcome.
"I feel really relieved that it has been quashed and it's encouraging for future appeals," she said.
"It seems that the courts are taking seriously the Supreme Court's verdict that obstruction of the highway is a proportionate response to the ecological emergency.
"Being sat in the road for 10 minutes is not a reason to give me a criminal conviction."
While hundreds of XR protesters have been convicted for the same offence, it is not clear how many have appealed.
Mike Schwarz, a solicitor acting in XR cases and an expert on protest laws, said: "The police, prosecution and lower courts must take the right to protest seriously, particularly in the light of the recent Supreme Court judgement. They must not give way to any countervailing political pressure they may experience.
"But, frankly, it was the responsibility of the police and prosecution to get it right in the first place. It is pretty clear they have not.
"The only question is the degree of their failures. The burden on them is even greater to identify and correct any errors now and to account for themselves publicly."
The Crown Prosecution Service has confirmed that it is looking "closely" at XR-related convictions in light of the Supreme Court's ruling and Judge Dennis' request for a review - but has not confirmed how many cases may be affected.
A spokesman said: "We have a duty of continuous review of our cases which includes cases which have already been charged or are at the appeal stage. This enables us to take account of any change in circumstances or legal rulings. Each case is decided on its own merits".