Afghanistan: 'I feel lucky to leave but we must not forget those left behind'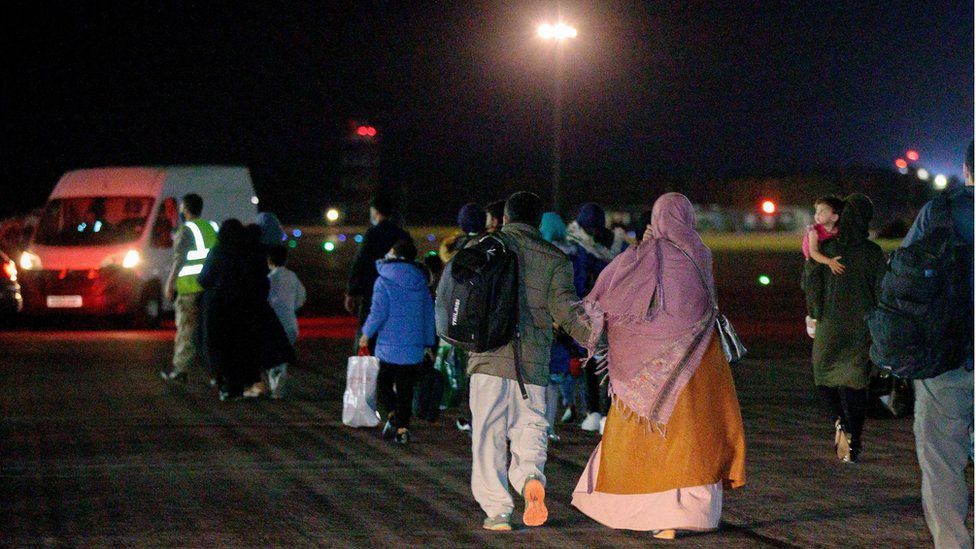 People who have fled Afghanistan for the UK after the Taliban takeover have spoken of their relief to have escaped the country.
UK troops are continuing to evacuate British nationals and eligible Afghans after insurgents seized control of the capital Kabul.
No 10 says 306 UK nationals and 2,052 Afghans have been evacuated so far.
One British aid worker said she felt "lucky" to escape, but that we "must not forget Afghanistan".
Kitty Chevallier, a 24-year-old charity worker from Basingstoke in Hampshire, left Kabul via a UK evacuation flight on Monday morning.
She said she was aware of how "immensely lucky" she was to have been helped out of Afghanistan, when others, including friends and colleagues, remained stranded.
"As we drove there at 04:00, the runways were crowded with hundreds of Afghan families hoping to get out somehow," she told the PA Media news agency.
"One of the strangest moments was getting on the plane, not knowing when we'd be able to come back or what the city would look and feel like when we did."
Ms Chevallier had worked in Kabul since last September with Afghanaid, a UK-registered charity that promotes women's rights and provides clean water and sanitation for Afghans.
She said it felt "bizarre" to be out of the country, but that "the real tragedy" was speaking to friends and colleagues "for whom the chances of leaving the country are far, far smaller, and who have so much more to lose".
"I've been doing what I can to help arrange their departure, where that has been possible, and I've been encouraged to see that most of them have now been given the opportunity to leave on a UN flight tomorrow," she added.
There have been fears that Afghans who worked with Western authorities or groups could be at higher risk of reprisals from the Taliban, though the group has denied this will happen.
Ms Chevallier said while the messages from the Taliban have made it sound as though there will be no "danger" from them, she had heard several examples of "scared" aid workers getting "threatening messages, even death threats".
She called on the UK to "increase, not cut" aid going to Afghanistan and said the criteria allowing people to return to the UK need to be urgently expanded "to include aid workers and civil society activists, especially women".
In addition to those who have already been evacuated to the UK, Downing Street said a further 2,000 Afghan applications had been completed - with "many more being processed".
The Refugee Council - a UK-based charity helping refugees - welcomed the government's new scheme as a "positive first step".
But the charity wants the government to go further to resettle at least 10,000 people a year, and also to expand the eligibility for families so that Afghans living in the UK can be reunited with their loved ones.
The Home Office says 2,000 Afghan former staff and their families have already come to the UK via this scheme this year - with a target of 5,000 by the end of 2021.
"Everyone, I think, has been surprised by the scale and the pace at which the Taliban have taken over in Afghanistan, and that's a lesson that we've all got to learn from," Foreign Secretary Dominic Raab said on Monday.
The PM's official spokesman said on Wednesday that UK humanitarian aid to Afghanistan had "effectively... doubled to £286m" as ministers sought to ensure it does not fund the Taliban.
Challenged on the impact of recent cuts to overseas aid, the PM's spokesman said: "I think people will accept that when the situation changes on the ground, we need to react accordingly, that's what we've done."
'Emotional rescue flight'
Hassina Syed, an Afghan businesswoman and activist, said she felt great "relief" as the evacuation flight she was on took off from Afghanistan.
She said she fled the country "quickly" because the situation was "very unpredictable".
Asked about the atmosphere on the flight, she told BBC Two's Newsnight: "Everybody got very emotional, most of us began to cry a lot."
Ms Syed said UK troops gave passengers bottled water and food, and that it was "really touching" to see them help soothe crying children.
Women back in Afghanistan are "worrying" and "want to get out" she says, because they fear that the Taliban will "capture them".
She said that during the Taliban's news conference on Tuesday - their first since seizing control of Kabul - there appeared to be a "bit of changes [sic] that make us a little bit hopeful".
'Strange and frightening'
Jack, from Birmingham, whose name has been changed to protect his family still in Afghanistan, left the country on a UK evacuation flight this week.
Speaking to PA Media, the 27-year-old said it was "strange and frightening".
"(Most) of those fleeing had to sit on the plane's rough floor but overall it was worth it - I am extremely thankful," he said.
"Family and friends are (still) there. It was tough not being able to say goodbye."
Half a dozen more flights are due to arrive in the UK in the next 24 hours, according to the Ministry of Defence.
Amid continued chaos at Kabul's airport, Labour leader Sir Keir Starmer on Wednesday accused Prime Minister Boris Johnson of "staggering complacency" and "betraying" the Afghan people.
He also cited reports from NGOs that an evacuation plane left "almost empty" because people couldn't get through the airport.
Downing Street did not deny the reports, and acknowledged there was a "difficult situation" on the ground.
Dozens of planes from around 15 countries have reportedly been sent to Kabul to help with evacuations of foreign citizens and Afghan colleagues - including those from the US, France, the Netherlands, Germany, Spain and the UK.
Taliban fighters controlling access to the airport are reportedly not permitting Afghans without documents or passports to enter and have fired shots into the air to disperse approaching crowds.