Afghanistan: The local people helping refugees in the UK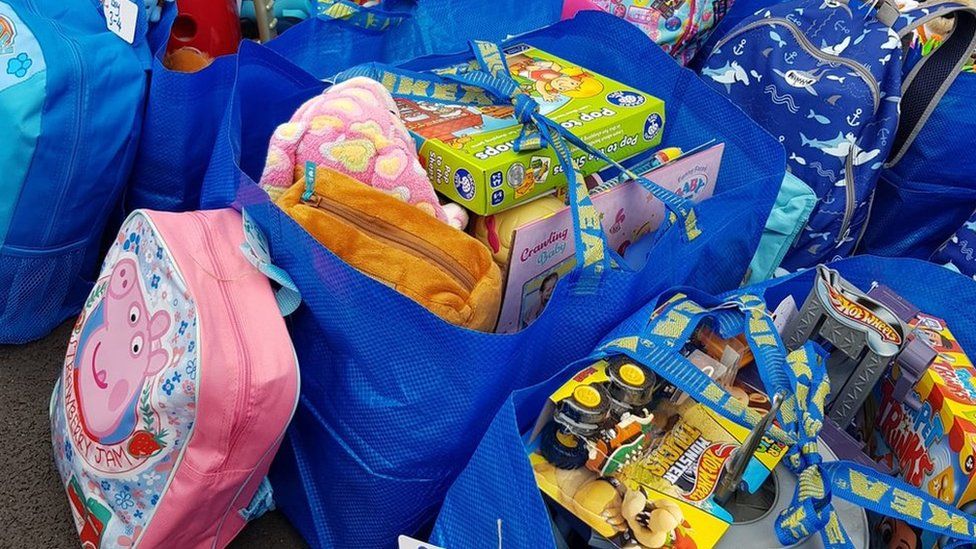 Lucie Dennis's doorbell has hardly stopped ringing. "About 50 Amazon boxes have just turned up," she says. "It's been completely overwhelming."
The parcels aren't the result of a lavish spending spree. Instead, they contain just some of the donations paid for by members of the public who have been moved to help after the Taliban seized control of Afghanistan's capital, Kabul - prompting thousands of people to flee the country.
Lucie, who runs a campaign group called Help to Make Tummies Full that helps feed children in her part of the UK - and who has three children herself - decided to take action after seeing images of Afghanistan on the news this month.
More than £2,000 worth of goods have been delivered to her doorstep in Walsall so far - enough to create 48 jam-packed rucksacks for Afghan children due to be resettled in the local area.
With a list of ages and genders in hand, Lucie set about tailor-making each bag - all of which include new socks, underwear, and things like colouring books, pencils, toiletries, shower gel and toothpaste.
"Every bag is different," she says. An appeal on Facebook supercharged the operation. "Some people have been making up their own backpacks, others have buying things in bulk for us, and others are on the Amazon wish list. Every time I check the list it's all been bought."
Fahim Zazai, who is also organising donations in Walsall, is ecstatic with the response to his appeal for help. "It's been really good. It's been really positive. Lots of people have responded really quickly and really positively," he says.
Fahim runs the Afghan Community and Welfare Centre in the West Midlands town. He arrived in the UK from Afghanistan more than 20 years ago having fled the Taliban - completely on his own and not speaking a word of English. Now the 42-year-old is helping others make the same journey.
"I came here with nothing. I know how hard it is to come here not knowing the language, having no friends, having no support," he says. "I'm stepping up to support these newly arrived families."
Now married with four children, Fahim is appealing for donations of things like clothing, household items such as cutlery and plates, and toys. "What they receive is not enough," he explains. "We're asking for certain items because often they only come with their own clothes."
Jayne Moorby, 44, has been volunteering with Furness Refugee Support, a volunteer group in Cumbria, for some time. As the Taliban gained ground in Afghanistan, she was moved to donate to another organisation, Care4Calais, which is collecting items for refugees who have recently arrived in Manchester.
She shared a picture of her donations - including felt tip pens, soap and toothpaste - on Twitter, writing: "No-one chooses to be a refugee, if any of us were in that position I hope we would get kindness and support in building a new life."
Skip twitter post by Jayne Moorby
Allow Twitter content?
This article contains content provided by Twitter. We ask for your permission before anything is loaded, as they may be using cookies and other technologies. You may want to read Twitter's cookie policy, external and privacy policy, external before accepting. To view this content choose 'accept and continue'.
The BBC is not responsible for the content of external sites.
End of twitter post by Jayne Moorby
The marketing manager tells the BBC she believes first impressions matter and that the UK should put out a "message of welcome".
"It's been really nice actually, on social media - and since I tweeted that picture - how many people have said they want to donate clothes, or donate money," she says. "I just want to let refugees know there are people here to welcome them and support them."
Retired social worker Annie Mellor has been renting out a room in the Plymouth home she shares with her husband Pete on Airbnb for a while. As events in Afghanistan unfolded, she began exploring ways she could use it to help.
The 65-year-old initially looked into letting out the room to an Afghan student at the local university, but, after finding out there were no Afghans in need there, she changed tack. Airbnb has offered to pay for accommodation for 20,000 Afghan refugees, with applications now open worldwide to anyone with a spare room.
She explains her motivation: "My son worked for an [non-governmental organisation] in Afghanistan - working to empower women there. I watched while he worked there and had bombs going off outside his house and I realised what a terrible time Afghan women were having."
"We've got an Airbnb that is in our house - so they would eat and share with us - but they would have their own entrance, and en suite," she says. "If we don't get someone from Afghanistan we have to start looking at other places - Syria is in the same situation."
Louisa Whitehead works for the Charity Aid Recycling Enterprise - or Care UK - in the North West, assisting refugees and asylum seekers housed in temporary accommodation.
Those arriving from Afghanistan at the moment are often part of a formal resettlement scheme. "For them, work and housing will be found almost immediately," the 53-year-old says, adding that whole families have been arriving together.
Louisa has just got back from visiting Afghans who arrived here last week. She was joined by a volunteer - a local man who fled the Taliban more than 20 years ago - who speaks fluent Farsi.
"He was so insistent about going, and it was because he wanted to tell them: 'It's OK you don't have to fear them anymore'. To see the look on their faces when he started speaking their language," she says.
She says the Afghans she met are all keen to work, learn and contribute. "The women are saying they want to learn to drive, one woman wants to work in a nursery because that is what she was trained to do," she adds.
Nora Carlin, Care UK's chief executive, says "everyone leaps forward" when a crisis occurs, and Afghanistan is no different.
She says the charity has been "bombarded in the last few days with offers of aid, help, money". "The British people are stepping up again - and it's moments like this I'm proud to be British," she adds.
Lisa Doyle, the director of advocacy at the Refugee Council, says the response from the public in recent days has been "amazing".
"Communities up and down the country are coming together to support people who have lost everything," she says. "It shows we are a caring nation who can reach out to those in need."