Afghanistan: British nationals killed in Kabul airport attack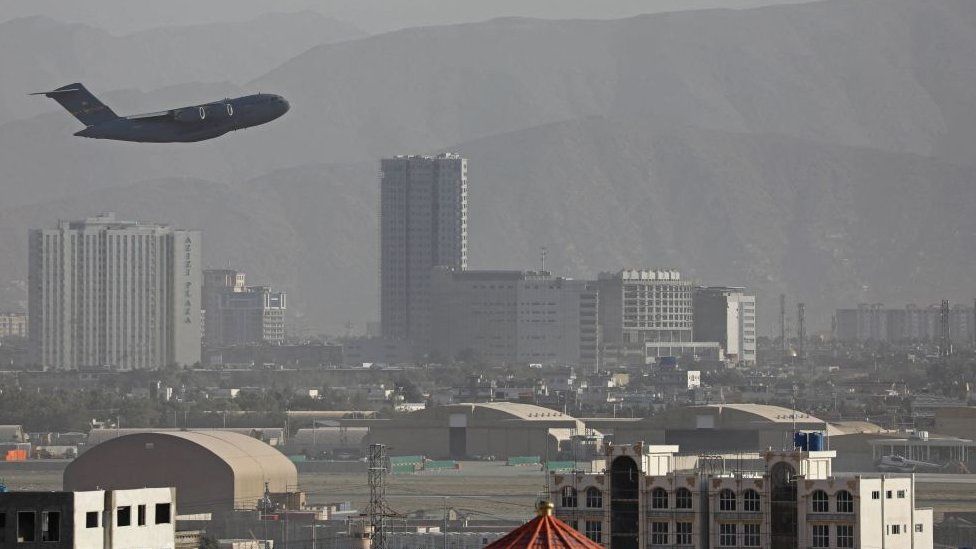 Two British nationals, and the child of another British national, died in the explosion at Kabul airport, the foreign secretary has said.
Dominic Raab said two others were also injured in the suicide bomb attack on Thursday.
"It is a tragedy that as they sought to bring their loved ones to safety in the UK they were murdered by cowardly terrorists," he said.
At least 95 people were killed in the attack.
Mr Raab said he was "deeply saddened" by the deaths.
He added: "Yesterday's despicable attack underlines the dangers facing those in Afghanistan and reinforces why we are doing all we can to get people out. We are offering consular support to their families.
"We will not turn our backs on those who look to us in their hour of need, and we will never be cowed by terrorists."
Prime Minister Boris Johnson said his thoughts were "very much with their families and their loved ones", adding that "what their loss really underlines is the urgency of getting on and concluding" the evacuation effort.
The US, which is running the airport, is withdrawing its troops by 31 August.
More than 150 people were wounded in the attack, which the group known as Islamic State Khorasan (IS-K) says it was behind. The Pentagon said 13 US service personnel were also among those killed.
It had earlier been thought there were two explosions, but the Pentagon said on Friday that there had been no second explosion at, or near, the Baron Hotel, which is close to the airport.
News of the deaths comes as the UK entered the final stage of its evacuations from Kabul and ceased calls for people to come to the airport to leave.
The Ministry of Defence said processing facilities at the Baron Hotel had been closed.
Following news of the British deaths, the SNP's Westminster leader Ian Blackford said the UK "must not abandon those we have a responsibility to protect".
He said: "My heart goes out to the victims, their families, our personnel on the ground, and to the vulnerable Afghan people stuck in this nightmare situation."
Defence Secretary Ben Wallace expressed his "deep regret" that not everyone eligible had been evacuated, including around 800 to 1,100 Afghans and 100 to 150 Britons.
He said the withdrawal had not been hastened by the airport attack.
On Friday morning, the MoD said 13,708 people had been evacuated by the UK from Kabul under Operation Pitting, which began on 13 August.
Mr Wallace said this included nearly 8,000 Afghans eligible under the UK's relocation scheme for those who worked for the UK government and other vulnerable individuals, as well as 4,000 British passport holders.
Others evacuated include embassy staff and nationals from partner nations.
The defence secretary said the operation was "a remarkable achievement" in a "very hostile environment".
But he told LBC Radio around 800 to 1,100 eligible Afghans would be left behind, as well as approximately 100 to 150 British nationals, some of whom he said were staying willingly.