Afghanistan: UK sceptical of Taliban safe passage pledge, says minister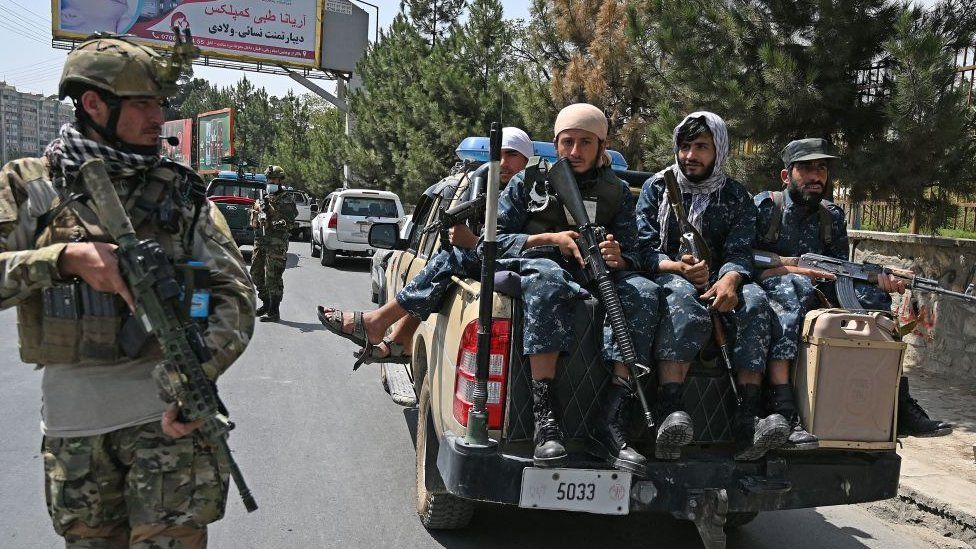 The UK government says it is "sceptical" of promises made by the Taliban that it will allow safe passage of eligible people out of the country.
Foreign Office minister James Cleverly told BBC Breakfast the UK was "willing to engage" with the Taliban.
But he said he could not give "absolute assurances" to those left behind.
"If [the Taliban] start acting like a government, if they start facilitating both internal travel and exiting from Afghanistan, then we will engage with them on that basis," he said.
"But of course what we are not able to do, what no country is ever really able to do, is give an absolute cast-iron guarantee."
The UK is seeking international agreement to ensure the Taliban sticks to its commitment.
A series of diplomatic meetings will be held this week with Foreign Secretary Dominic Raab set to start that process by holding talks with Turkish and Qatari officials.
While more than 15,000 people have been evacuated by the UK since 14 August, hundreds of people who are entitled to come to the country have been left behind.
It is feared that about 800 to 1,100 eligible Afghans, including those who worked for the UK government, and 100 to 150 British people were unable to get on evacuation flights.
The BBC's Lyse Doucet, in Kabul, said she and her colleagues were still receiving urgent SOS messages from Afghans who feel threatened by the Taliban - including musicians, university students and female politicians.
Mr Cleverly added it was "impossible" to get a specific number of people who had been left behind, after Labour suggested it could be around 5,000.
Asked what those people should do, Mr Cleverly said: "As soon as we are able to give clear advice... we will circulate that."
Afzali has been trying to get through to her MP and the Foreign Office to help family members she is worried about in Afghanistan, but says she is "not getting anywhere".
"I've been emailing whoever we can email - any contact details that we've been getting. We need help," she told the BBC.
"My family is in danger at the moment. Every day I get a call from them, I don't know what to tell them next. I don't know what the next solution is."
Mr Cleverly was asked on BBC Radio 4's Today programme about a former interpreter for the British embassy who said he had been barred from the airport by the Taliban, and responded: "I can assure you, and I can assure him, that we will not stop working to get people like him out of the country."
He said any UN or diplomatic presence would require troops on the ground, which would be "very, very hard to achieve", and that support for people trying to leave Afghanistan would "rely, of course, on neighbouring countries" - although no agreements have been reached.
Asked about reports that Mr Raab did not speak to his counterpart in Pakistan until 22 August, a week after the Taliban took control of Kabul, Mr Cleverly said the minister responsible for the UK's relationship with Pakistan "speaks to them very regularly".
Labour's shadow foreign affairs minister, Stephen Kinnock, said the government had been "asleep at the wheel" when it came to getting people out of Afghanistan.
"We have to now face the reality, unpalatable as it is, that some cooperation is going be required. What that means is cooperation with conditions," he said.
The Foreign Office says the UK and many other countries had been given assurances by the Taliban that foreign nationals and Afghan citizens with proper documentation will be allowed to leave the country.
Even if the Taliban is true to its word there is still uncertainty for those who are able to get to its borders as processing centres have yet to be set up in neighbouring countries.
During a series of meetings to be held with other nations, British officials will try to rally the international community to make sure the Taliban keeps its promises.
Mr Raab will use a US-chaired virtual meeting to talk to representatives from Turkey and Qatar, who are considered to have more influence over the militant group than Western nations.
During the discussions, which will also include G7 counterparts and Nato, the foreign secretary is expected to underline that Afghanistan must not become a haven for terrorists, with stability in the region a priority, and will underline the need to hold the Taliban to account over human rights promises.
A meeting of the ambassadors from the five permanent members of the UN Security Council - the US, France, China, Russia and the UK - will also take place.
On Sunday, Boris Johnson said the UK and its allies would "engage with the Taliban not on the basis of what they say but what they do".
"If the new regime in Kabul wants diplomatic recognition, or to unlock the billions that are currently frozen, they will have to ensure safe passage for those who wish to leave the country, to respect the rights of women and girls, to prevent Afghanistan from, again, becoming an incubator for global terror, because that would be disastrous for Afghanistan," he said.
What happens to Afghan refugees coming to the UK?
Arrivals on official flights enter a 10-day Covid quarantine in a hotel
Government officials and local authorities are trying to find them permanent homes
A shortage of suitable accommodation means many will be placed in hotels
Some will get refugee status and can live in the UK permanently
Others will get a five-year visa to live and work in the UK - and can then apply for permanent residence
Afghans arriving independently will enter the normal system for asylum claims - which has a backlog of 70,000 people
These people cannot settle, or work, while their claims are considered