Covid jab rollout for 12 to 15-year-olds to start in UK schools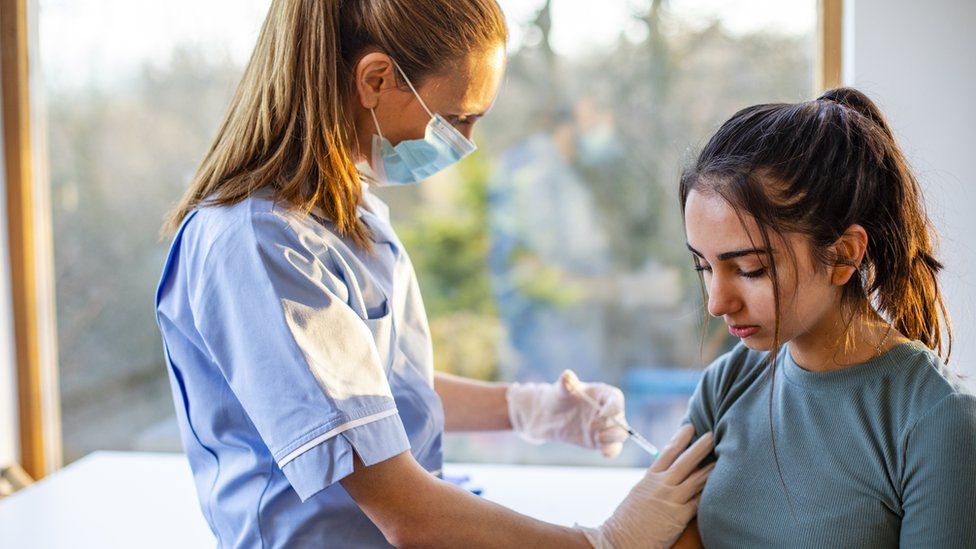 All children aged 12 to 15 across the UK will be offered one dose of the Pfizer-BioNTech Covid jab.
Invitations for jabs will begin soon - parental consent will be sought for the schools-based vaccination programme.
It follows advice from the UK's chief medical officers, who say the jab will help reduce disruption to education.
It is hoped the first jabs in England would take place by 22 September, Vaccines Minister Nadhim Zahawi said.
She said that drop-in clinics would open for any 12 to 15-year-old who had read information and, in discussion with parents and carers were able to make an informed decision, from next week.
On Monday, the UK's four chief medical officers recommended the single dose for 12 to 15-year-olds - who are deemed at very low risk from the disease - saying factors such as disruption to education tipped the balance.
Prof Chris Whitty, the lead CMO for the UK, said it was a "difficult decision" and should not be seen as a "silver bullet".
But he said it could be an "important and useful tool" in reducing school disruption in the coming months - and when combined with the marginal health benefit identified by vaccine advisory body the JCVI, it meant offering a Covid vaccine to all children was appropriate.
Mr Zahawi said the School Age Immunisation Service would deliver the "bulk" of the programme, with separate vaccination sites used for schools where this was not possible.
He said clinicians would share information on the vaccine with parents and if there was a difference in opinion between a parent and child, a clinician would bring them together to try and reach a consensus.
Paul Whiteman, general secretary of the National Association of Head Teachers, said some of the union's members had already received letters from pressure groups threatening legal action if vaccination took place in schools.
He told BBC Radio 4's Today programme any advice to parents and children on the vaccine should come from health professionals rather than teachers to avoid any "unpleasantness" in schools.
There's a reason this decision-making process has been so long and, at times, seemingly painful - it's such a finely-balanced call.
Healthy children aged 12 to 15 are at such low risk from Covid, that the benefit of vaccination on health grounds is only marginal - and not enough to warrant going ahead with a mass vaccination programme.
And add in the benefit from limiting school disruption and you only just get there.
The emergence of the Delta variant means the vaccines are less effective at preventing infection than they once were.
What is more, more than half of secondary school age children may have natural immunity after having been infected.
The assessment released by the CMOs suggests it may stop 30,000 infections between October and March in England.
This is based on a number of assumptions on uptake and spread of the virus in the coming months which could be wrong.
But if that is the case that would prevent 110,000 missed days of in-person schooling - or one day for every 20 children. The attention given to this issue is, perhaps, rather disproportionate.
Health and Social Care Secretary Sajid Javid said he accepted the recommendation from the chief medical officers aimed at protecting young people from catching Covid, reducing transmission in schools and keeping pupils in the classroom.
"Our outstanding NHS stands ready to move forward with rolling out the vaccine to this group with the same sense of urgency we've had at every point in our vaccination programme," he said.
Children with health conditions and those living with clinically vulnerable people have already been told they can have the vaccine - and are being offered two doses.
This accounts for around one in eight of the three million children in this age group.
Or use this form to get in touch:
If you are reading this page and can't see the form you will need to visit the mobile version of the BBC website to submit your comment or send it via email to HaveYourSay@bbc.co.uk. Please include your name, age and location with any comment you send in.