Ruling limiting under-16s puberty blockers overturned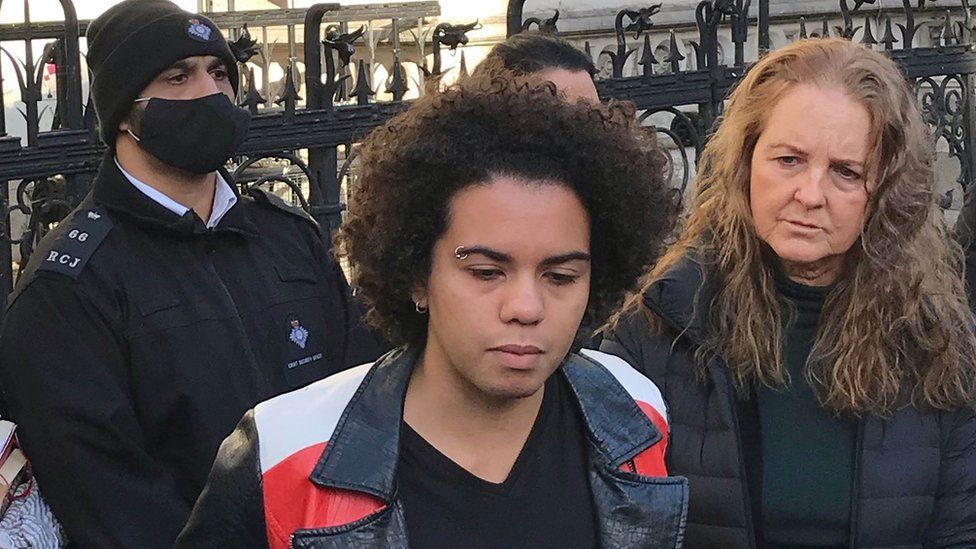 The appeal was brought by the Tavistock Trust, which runs the UK's only youth gender identity clinic.
The decision reverses a 2020 ruling that under-16s lacked capacity to give informed consent to the treatment, which delays the onset of puberty.
The original case was brought by Keira Bell, who says the clinic should have challenged her more over transitioning.
She said she was disappointed by the decision, and will seek permission to appeal to the Supreme Court.
Court of Appeal judges said they recognised "the difficulties and complexities" of the issue, but that "it is for the clinicians to exercise their judgement knowing how important it is that consent is properly obtained according to the particular individual circumstances".
Puberty blockers are drugs used to "pause" puberty by suppressing the release of hormones.
They are prescribed to some children who are experiencing gender dysphoria, which the NHS describes as "a sense of unease that a person may have because of a mismatch between their biological sex and their gender identity".
The Tavistock clinic said it welcomed the decision.
"The judgement upholds established legal principles which respect the ability of our clinicians to engage actively and thoughtfully with our patients in decisions about their care and futures," a spokesperson said.
"It affirms that it is for doctors, not judges, to decide on the capacity of under-16s to consent to medical treatment."
The Tavistock's Gender Identity Development Service (Gids) said that hormone treatment "allows a young person time to consider their options and to continue to explore their developing gender identity before making decisions about irreversible forms of treatment".
In December 2020, the High Court ruled under-13s were "highly unlikely" to be able to give informed consent to what it described as "experimental" treatment and it was "very doubtful" those aged 14 and 15 would have the sufficient understanding of the implications.
Keira Bell, one of the claimants in the case, started taking puberty blockers at the age of 16 after being referred to Gids.
She was later prescribed the male hormone testosterone and had surgery to remove her breasts.
Now in her mid-20s, she regrets the decision to transition to a male, and feels there wasn't enough investigation or therapy before she reached that stage.
She said she had "no regrets" about bringing the case, which she said "shone a light into the dark corners of a medical scandal that is harming children and harmed me.
"I am obviously disappointed with the ruling of the court today, and especially that it did not grapple with the significant risk of harm that children are exposed to by being given powerful experimental drugs."
This a complex, controversial area, yet the Court of Appeal's ruling is very clear.
It is for doctors working with families and the children themselves to decide whether that young person can truly understand the implications of taking drugs that could change the course of their life.
Effectively this ruling has removed the courts from the decision-making process in all but the most difficult cases.
This will be welcomed by many young people struggling with their gender identity, who believe the long wait for treatment that they already face is causing huge distress and harm.
But for those like Keira Bell, who believe they weren't challenged enough when they made decisions that shaped their futures, there will be real disappointment.
However, the court cases have led to more discussion of the issues - and many will hope that they will also lead to greater understanding.
In March, a separate judgement from the court's Family Division had ruled parents could give consent for under-16s to access puberty blockers, with other safeguarding measures considered.
The Tavistock temporarily paused new referrals to its endocrinology service following the rulings.
Eligible under-16s who had already been referred for treatment, and have parental consent, are having their cases reviewed by Gids, with decisions overseen by an independent NHS England review group.
The review was announced in September 2020, when it was said it would take "12 months or possibly longer".
"The NHS commissioned Dr Hilary Cass to review gender identity services prior to the original High Court ruling to ensure the best model of safe and effective care is delivered - this will set out wide-ranging recommendations including on the use of puberty blockers and the many contested clinical issues identified by the court," a spokesperson said.
"An independent multi-professional review group will continue to confirm whether clinical decision making has followed a robust consent process now that the endocrine pathway has been reopened by the Tavistock."