Only Fools and Horses: Boycie actor John Challis remembered as 'Peckham pal' after death at 79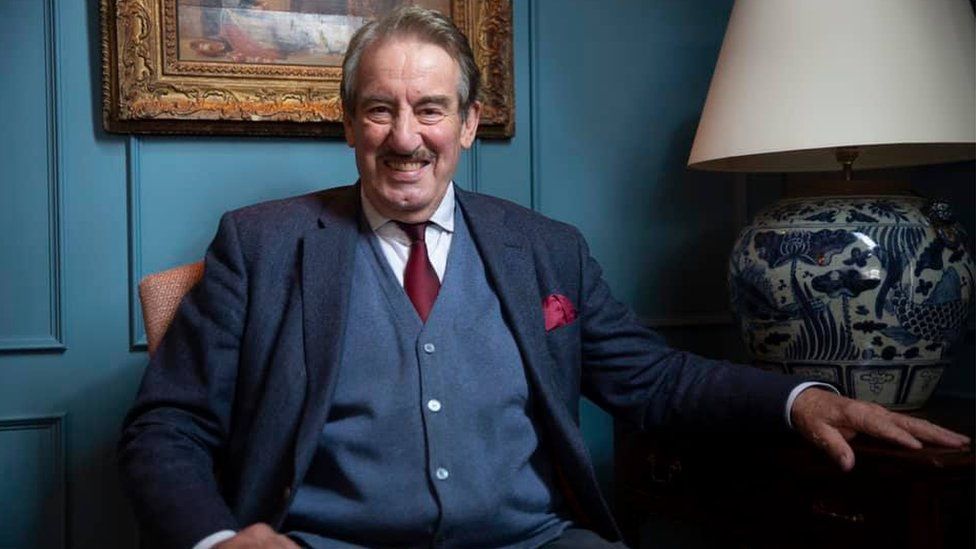 Tributes have been paid to John Challis, best known for playing Boycie in BBC sitcom Only Fools and Horses, who has died at the age of 79.
His family said he died "peacefully in his sleep, after a long battle with cancer".
Co-star Sir David Jason said he was "a wonderful actor" and "a gentleman in the true sense of the word".
Challis's character - unscrupulous second-hand car dealer Terrance Aubrey Boyce - was a firm favourite with fans.
Challis starred in the show, alongside Sir David and Nicholas Lyndhurst, throughout its time on air from 1981 right through to the final show in 2003.
The character - who was both a long-time former schoolmate and devious rival of Sir David's character Del Boy - was initially due to appear in just one scene, but the part grew in prominence as the series progressed.
In fact he was so popular with viewers that, when Only Fools and Horses ended its long run, the BBC developed a spin-off show following the continuing adventures of Boycie and long-suffering wife Marlene. The Green Green Grass ran for four series.
Sue Holderness, who played Marlene, also paid tribute to Challis, describing him as her "beloved friend".
"Marlene without Boycie - it's unthinkable," she said. "John Challis was my partner on screen and stage for 36 years and my beloved friend. RIP darling John. I will miss you every day."
And Steven Woodcock, who played Jevon in the sitcom, said Challis was a "fantastic actor and wonderful person, amazing to work with. There is no Del Boy without Boycie. RIP my Peckham pal".
In a statement, Challis's family said: "He will always be loved for being 'Boycie' and leaves a great legacy of work that will continue to bring pleasure and smiles for many years to come.
"Be assured that in the future there will be an occasion to celebrate John's life - when everyone will be welcome to come along."
Jeff Nicholson, the actor playing Boycie in the Only Fools and Horses musical due to reopen next month, said Challis had told him to "carry the torch for us" shortly before his death.
He said Challis had been supportive of him when they met and given the cast his "seal of approval" when the show premiered at the Theatre Royal Haymarket in February, before closing soon after due to the pandemic.
Describing Challis as "a real stand-up actor", he said the pair had struck up a "nice relationship" in lockdown, with Challis always asking for updates on the theatre production.
The BBC's chief content officer Charlotte Moore said Challis was "a wonderful actor who will forever be remembered for playing Boycie in Only Fools and Horses - a character so well loved by millions".
Challis happily played Boycie on screen for decades - and even adopted the persona in appearances in other entertainment shows, fan conventions and even in a video message this year advocating the wearing of face-coverings in public places to help fight Covid.
But he also showed his range as a Shakespearean actor when he performed in open-air performances of Richard III and a Midsummer's Night Dream that were staged in Regents Park in London in 1995, right at the height of the popularity of Only Fools and Horses.
More recently he played Monty Staines in ITV show Benidorm.
Actress Crissy Rock, who appeared alongside Challis in the show, said she was heartbroken.
She tweeted: "John you were a true gentleman and always so loving and supportive towards me. I am thinking of your family and close friends at this hard time. Rest well. Crissy xx"
He was due to appear in 30 scheduled dates, billed as an "intimate evening with John Challis", but had to cancel the tour after one date.
"(He) used to say to me 'Franklyn my dear boy how the devil are you boxed anybody round the ears recently?' Loved all the TV he did."
Challis recently became an honorary citizen of Serbia, where Only Fools and Horses remains hugely popular.
He travelled to the Balkan country as part of a documentary, Boycie In Belgrade, which explored why the show was so well-loved there.
Although he was famed for his nasal south London twang as Boycie, he was actually born in Bristol and only moved to London as a young child. In a quirk of fate, much of his career as an on-screen Londoner was spent in Bristol where Only Fools and Horses was largely filmed.
Boycie's five best moments
Delivering his trademark sneering laugh when he tricks Del Boy and Rodney into bursting into a wake dressed as Batman and Robin, because he'd "forgotten" to tell them the man hosting the fancy dress party had in fact died.
Revealing his middle name as Aubrey in a séance held by Elsie Partridge, but dismissing her skills, saying: "If Elsie Partridge really could raise the dead, half the money lenders in Peckham would be employing her."
Demonstrating his "devotion" to Marlene by rejecting a suggestion that he had murdered her and hidden the body with the retort: "I have never been so insulted in my life. You know how much I spent on that garden. You think I'm going to dig a hole in it?"
Raising the stakes in a poker game with Del and revealing he has four kings ("un, deux, trois, quatre") to claim ownership of Del's flat. The smile is wiped off his face by Del's four aces, which he tells Boycie "came from the same place as your four kings".
Boycie's grudging commentary when helping Del and Rodney escape the Mafia in Miami: "We were having a lovely holiday and then they turn up. Within 15 seconds, some sod's shooting at us."