Pen Farthing: Charity Commission scrutinises Afghan animal rescue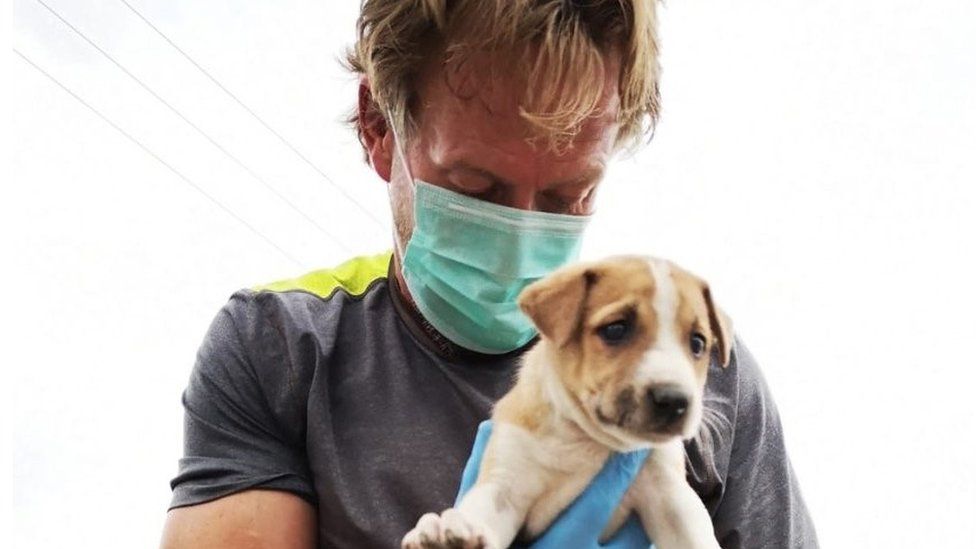 A former Marine's mission to bring rescue animals back to the UK as the Taliban took over Afghanistan is being examined by the Charity Commission.
The regulator has told the BBC it is looking into the funding arrangements of Operation Ark, which raised more than £200,000 from supporters in days.
Operation Ark was launched by Pen Farthing's charity Nowzad to evacuate staff members and their immediate families, plus the animals in its care.
The charity says it acted correctly.
Nowzad, which reported income of close to £1m last year, told the BBC: "The trustees are wholly confident that Nowzad's life-saving work in incredibly difficult circumstances was both the right and only thing to do and was absolutely in furtherance of the charity's purpose."
The Charity Commission has contacted Nowzad for further information after receiving reports around the governance and financial arrangements of Operation Ark.
It is examining the use of charity funds for the evacuation and whether it is in line with the charity's purpose.
"We will assess the information provided by the trustees to determine whether or not there is a role for the Commission," it said in a statement provided to the BBC.
Leading charities lawyer Edwina Turner at Anthony Collins solicitors says this can be "a crisis point" in the life of a charity.
"It's very serious if the regulator gathers information from you. The charity will want to clear up any concerns," Mrs Turner said.
"One question they [Nowzad] would need an answer to is have they spent money raised in furtherance of their objects? Secondly, have they spent the money in the best way possible to achieve their charitable purposes. Thirdly, has the money raised through Operation Ark been spent in accordance with the terms of the fundraising campaign?"
'Happy to provide information'
Nowzad operated an animal clinic, dog and cat shelter and donkey sanctuary in Afghanistan. It trained and employed local Afghans - including women - as vets.
As the Taliban takeover progressed last month it said its staff were in danger due to their work with foreign organisations, such as embassies, and "the animals were at risk because the Taliban considers companion animals, particularly dogs, unclean."
The charity says an "extremely fraught but ultimately successful" evacuation ensued.
Yes I managed to get the animals of @Nowzad on a flight to safety. I couldn't take my staff as the Taliban put an AK47 in my face & told me they were staying. Not much I could do. BUT that does not mean we have given up. It was always and will BE 'people & animals' #OperationArk pic.twitter.com/ARA7Th44dG

— Pen Farthing (@PenFarthing) August 31, 2021
It says "all staff and their families, including young children and two newborns, and 162 dogs and cats have been delivered to safety."
Nowzad confirmed the Charity Commission is asking for their trustees' comments on Operation Ark including, specifically, how it furthered the charity's purpose.
"The trustees of course recognise that it is entirely proper for the Commission to gather more information regarding this high-profile and unprecedented operation and are very happy to provide the information requested," it added.
Nowzad is a registered charity in England and Wales and is regulated by the Charity Commission.
At this stage, the Charity Commission has made clear they are gathering information and no findings have so far been made.
According to Mrs Turner, the Charity Commission has a range of powers, including "removing trustees, putting in an interim manager to run a charity or certain aspects of a charity" or, in extreme circumstances, "they can bring a charity to a close."
Mr Farthing, the founder of the animal shelter, who is originally from Dovercourt in Essex, is now working to find new homes in the UK for both his airlifted staff and rescued animals.
He is also considering expanding his charity's work abroad, in countries he deems safer than Afghanistan, though he does not rule out a return to Kabul if conditions one day improve.