Queen will not attend COP26 climate change summit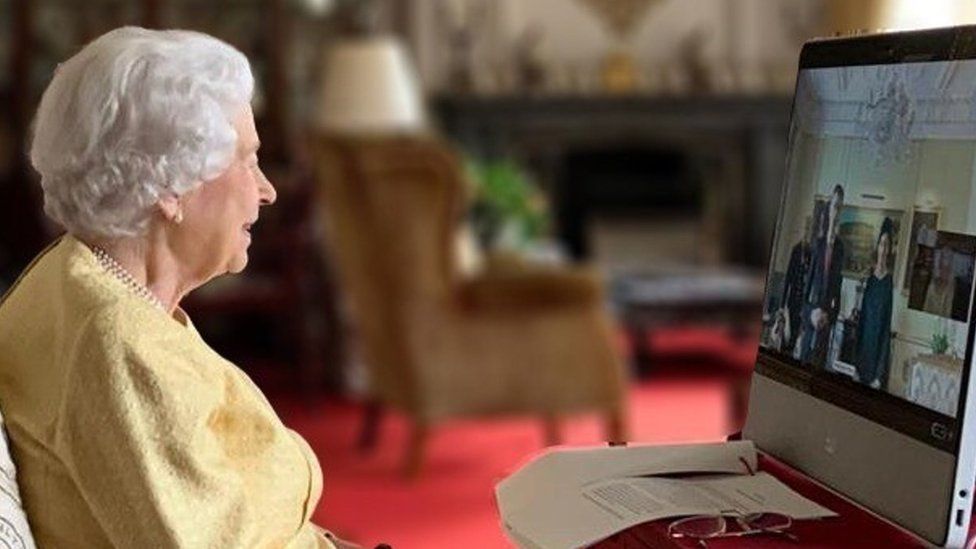 The Queen will not attend the COP26 climate change summit in Glasgow following medical advice to rest.
The 95-year-old monarch underwent preliminary medical checks in hospital last Wednesday after cancelling a visit to Northern Ireland.
She resumed public engagements on Tuesday by meeting ambassadors via video link from Windsor Castle.
Buckingham Palace said she "regretfully" decided not to attend a reception at the summit.
But the palace said she would deliver her address to delegates using a recorded video message instead.
The Queen was due to travel to Scotland as part of a string of COP26 engagements by senior members of the Royal Family including the Prince of Wales, the Duchess of Cornwall and the Duke and Duchess of Cambridge between 1-5 November.
The other royals will still attend the summit.
It is understood that the monarch very much wants COP26 to result in meaningful action on climate change from participating nations, and hopes her absence will not be used by others as a reason not to attend.
The Queen was overheard at the opening of the Welsh Parliament earlier this month saying it was "really irritating" when people talk but don't act on climate issues.
Sir Peter Westmacott, a former UK ambassador to the US, said the cancellation was a "blow" to the summit, but argued the substance of the talks should not be affected.
Speaking on BBC Radio 4's Today programme, he said the Queen's attendance would have been the "icing on the cake" but it was still a "very important opportunity" for Prince Charles to speak alongside other senior royals.
In photographs released on Tuesday, the Queen was seen smiling on camera as she greeted the South Korean and Swiss ambassadors, who were speaking to her from Buckingham Palace.
She also spoke to Chancellor Rishi Sunak by phone on Tuesday evening ahead of his Budget unveiling on Wednesday afternoon.
The photographed video calls were the first occasions she had been seen since she hosted an investment summit at Windsor Castle on the evening of 19 October.
The following day, Buckingham Palace said the monarch had "reluctantly accepted medical advice to rest for the next few days".
A decision not taken lightly
A cancelled trip to Northern Ireland and a night in hospital last week were followed by reassurances that this would only mean a rest and recharging of the royal batteries ahead of the COP26 summit.
That trip to Glasgow has now been cancelled too. It was a big moment in the royal calendar and it's a decision that would not have been taken lightly.
Only on Tuesday morning the 95-year-old Queen was shown back at work and sending a signal that all was well.
Her meetings on Tuesday were held on video - and a video message will be sent to the Glasgow summit - so perhaps this will be more of how we'll see the monarch in future.
She will be more online, while those in-line will take up more of the public responsibilities.
The Queen spent the night of 20 October in a London hospital before returning the next day to Windsor Castle, where she was said to be "in good spirits".
She did not attend a church service at Windsor on Sunday.
It has been a busy period of official engagements for the Queen.
An official record of her diary showed at least 16 formal events during October.
In its latest statement, the palace said: "Following advice to rest, The Queen has been undertaking light duties at Windsor Castle.
"Her Majesty has regretfully decided that she will no longer travel to Glasgow to attend the evening reception of COP26 on Monday, 1 November."
The statement concluded: "Her Majesty is disappointed not to attend the reception but will deliver an address to the assembled delegates via a recorded video message."
The COP26 global climate summit in Glasgow in November is seen as crucial if climate change is to be brought under control. Almost 200 countries are being asked for their plans to cut emissions, and it could lead to major changes to our everyday lives.