Wikileaks: US begins legal appeal to extradite Assange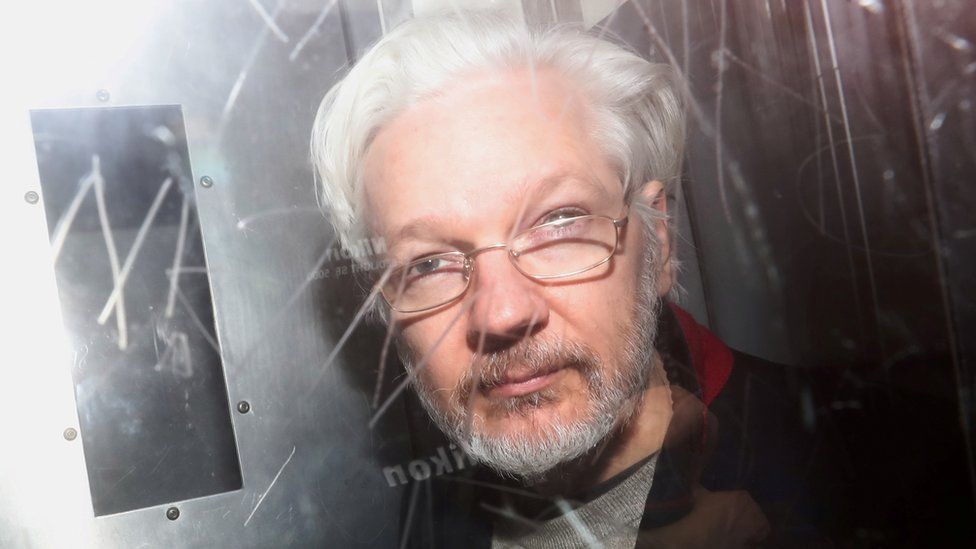 Lawyers for the US have told the High Court the judge who blocked Julian Assange's extradition was misled by his psychiatrist.
The United States government is starting a legal appeal to try to get the Wikileaks founder extradited.
In January, a court ruled Mr Assange could not be extradited to the US due to concerns over his mental health.
Mr Assange is wanted over the publication of thousands of classified documents in 2010 and 2011.
The documents revealed how the US military had killed hundreds of civilians in unreported incidents during the war in Afghanistan, while leaked Iraq war files showed the 66,000 civilians had been killed and prisoners tortured by Iraqi forces.
The US says the leaks broke the law and endangered lives, but Mr Assange says the case is politically motivated.
His lawyer told the court that the risk of suicide would be "imminent the moment extradition becomes likely".
In January, the district judge overseeing the US's extradition appeal, Vanessa Baraitser, said Mr Assange's publication of classified military and government documents arguably amounted to a crime. But he could not be transferred to the US because he was unwell and could take his own life.
On Wednesday, James Lewis QC, representing the US, told the Lord Chief Justice and Lord Justice Holroyde that conclusion was wrong.
He said Mr Assange's psychiatrist had misled the earlier judge and the US had not been given an opportunity to answer her concerns.
Mr Assange, 50, is wanted in the US on allegations of a conspiracy to obtain and disclose national defence information following Wikileaks' publication of hundreds of thousands of leaked documents relating to the Afghanistan and Iraq wars.
The publications include the release in April 2010 of footage showing US soldiers shooting and killing civilians from a helicopter in Iraq.
Mr Assange has been in Belmarsh Prison since 2019, when he was carried out of the Ecuadorian embassy in London by police and arrested for breaching his bail conditions.
He had been in the embassy since 2012, avoiding extradition to Sweden, where he faced sex offence allegations. He has always denied those and they were eventually dropped.
On Wednesday morning, Mr Assange's legal team initially told judges he would not attend because he was not well. He later attended via a video link from prison.
US lawyers said it had now given four binding assurances as to how Mr Assange would be treated:
It would not impose a highly restrictive form of solitary confinement on Mr Assange before or after trial - although it could do so if he committed a further offence
Mr Assange could apply to serve a sentence in Australia and the US would agree to that transfer
Prison authorities would ensure Mr Assange would receive "any clinical and psychological treatment" that prison doctors recommended
Mr Assange would also not be sent to ADX Florence, a US "supermax" prison, reserved for the worst offenders.
Mr Lewis said the assurances were binding on the United States.
He said the previous judge's approach "carries with it the risk of rewarding fugitives for their flight, and of creating an anomaly between the approach of the courts in domestic criminal proceedings, and in extradition".
Mr Lewis said that Mr Assange's psychiatrist, Prof Michael Kopelman, had misled the court about Mr Assange's psychiatric state by concealing his relationship with his partner, Stella Moris, and that they had two children together.
The lawyer for the US argued this meant the judge could not consider the true risks of Mr Assange taking his own life, because the need to protect children can be a factor that discourages people from suicide.
He also said that during cross-examination, Prof Kopelman would not accept that Mr Assange could be safe in the US - even if he received a short sentence and reasonable time with other inmates.
Mr Lewis called psychiatrist Prof Seena Fazel from the University of Oxford, who said he did not share the defence's view that Mr Assange would certainly take his own life in the US.
Mr Assange's lawyer, Edward Fitzgerald QC, said the risk of suicide is "not something in the future - it is something imminent the moment that extradition becomes likely".
He said Parliament had given district judges the power to protect "mentally disordered" people from extradition to countries where the UK has no control over their treatment.
He said that in January, the judge took the evidence fully into account and relied on the fact Mr Assange would be isolated and deprived of the protections he had in Belmarsh.
The US assurances were "caveated, vague or simply ineffective", he said, calling the suggestion that he could be detained in Australia "meaningless", as the country has not said it would accept him.
Supporters, family members and friends of Mr Assange outside court expressed their "outrage" after he did not attend his hearing in person.
They said they were concerned he was thin, he was not there to instruct his lawyers or clarify what was going on in court.
The High Court hearing is expected to end on Thursday with a decision at a later date.