Catford care home resident killed 93-year-old neighbour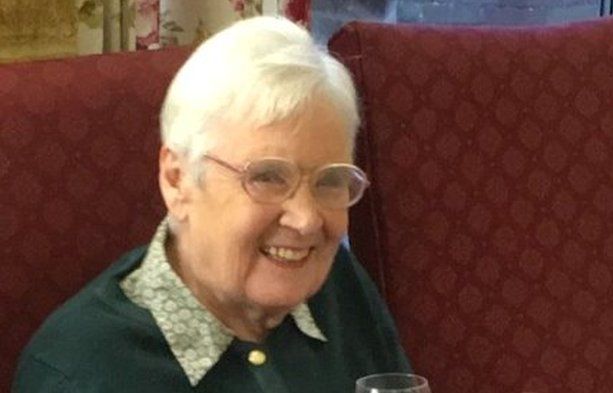 A 63-year-old man has been found responsible for killing a fellow resident at a care home in south-east London.
Alexander Rawson beat 93-year-old Eileen Dean with a metal walking stick.
It was decided that his mental health condition meant he could not enter a plea or stand trial at the Old Bailey.
Rawson was not present in court for any of the case and, instead, a jury listened to the evidence and found he attacked and killed Mrs Dean.
It was decided a year ago that Rawson should be moved into the care sector, after spending months in hospital, sectioned under the Mental Health Act.
He was placed at Fieldside care home in Catford, south-east London, where he was more than 20 years younger and much stronger physically than most of the residents.
In July 2020, Rawson had been admitted to nearby Lewisham hospital, following multiple falls.
There, he was diagnosed with two conditions, both the result of chronic alcohol abuse, which have combined symptoms including mental confusion, amnesia and disorientation.
During his hospital stay he became aggressive towards a ward sister and threatened her with a butter knife, saying the staff were out to harm him.
After being restrained, he grabbed a telephone and began hitting a computer.
A few weeks later he threatened staff with a pair of scissors. Later, he said he could not recollect these incidents.
His aggressive behaviour led to him being detained under the Mental Health Act in September 2020, and he was a patient at the Ladywell mental health unit which is at Lewisham hospital, but run by the South London and Maudsley NHS Trust.
Rawson claimed to a doctor that he had been attacked by people from outer space, and he would get a machine gun and kill them.
During an earlier stay at King's College hospital in south London, he was said to have assaulted a doctor.
Prosecutor Julian Evans told the Old Bailey that in late November 2020: "Mr Rawson was diagnosed with Covid-19, delaying efforts to get him re-housed in a care home."
The BBC has been told that a team of professionals had a meeting to decide where he should be placed.
At that meeting, run by the South London and Maudsley trust, were Rawson's social worker, a psychiatrist and a member of staff from Fieldside care home.
A risk assessment was said to have been done and it was decided to place him in Fieldside.
On 22 December he was moved into a second-floor room next door to Eileen Dean.
From the start of his time there he was distressed and cried a lot, and was believed to be suffering from depression and early-onset dementia.
Within a few days he frightened a female staff member by swearing and waving his walking stick at her.
He sent messages, many to his ex-partner, describing himself as scared and confused.
By the start of the new year he said he feared he was going to be killed in his sleep in "this OAP home".
He was still sending messages a few hours before he attacked Mrs Dean.
On the first Sunday of the new year, Rawson was caught on the home's CCTV at around half-past midnight carrying his walking stick.
Five minutes later he was seen without the stick in a distressed state.
He used his phone to call 999 and told the police operator: "I think somebody has been killed and I don't know what's happening...
"There's loads of people dead here and I don't know how it happened and I'm scared as hell because someone's killed them all... There's one person still alive."
A member of Fieldside's staff, Angela Pawelczyk, saw Rawson on the CCTV in the second-floor hallway, and went to investigate.
Rawson pointed at Mrs Dean's room and said: "She is dead."
But in spite of her appalling injuries, at that point, the 93-year-old was still alive and appeared to mouth the word "help".
Rawson's walking stick was on the bed, the handle was close to the back of Mrs Dean's head.
He told police: "I was on a mission or the world would die. I did what I had to do."
Det Ch Insp Chris Wood, who led the investigation, said Mrs Dean was known as a "calm, quiet and lovely woman", whose husband died almost 30 years ago.
"Eileen was a completely defenceless woman, whose life was suddenly taken away in a horrific manner," he said.
In the weeks after Mrs Dean's killing, the Care Quality Commission, which oversees care homes, carried out a new inspection of Fieldside.
It found its safety and leadership, both previously rated good, needed improvement.
Michael Holland, medical director at South London and Maudsley NHS Foundation Trust, said the trust offered its "sincere and heartfelt condolences" to Mrs Dean's family and friends.
He said the trust was conducting an investigation to identify areas where it can improve, in line with NHS policy.
The BBC has also asked Fieldside care home for a response.