Fishing row: Brexit minister in Paris for talks with French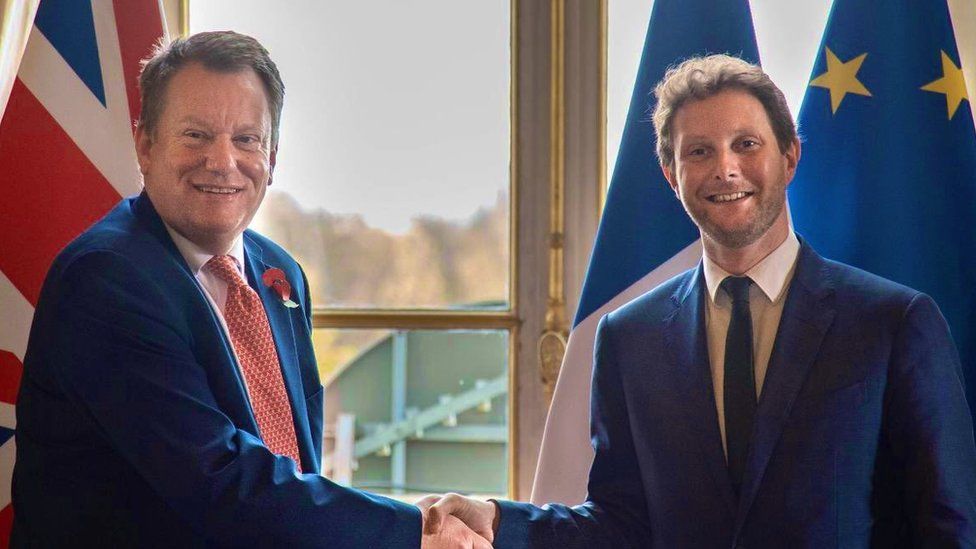 Brexit Minister Lord Frost has met France's Europe minister in Paris in an attempt to resolve a dispute over post-Brexit fishing rights.
Tensions flared up last month after the UK and Jersey denied fishing permits to several French boats.
France then threatened a series of measures against the UK unless more licences were granted by 2 November.
But President Emmanuel Macron suspended the threats at the 11th hour ahead of more talks between the two sides.
The French government has insisted that punitive measures - which could include a ban on British trawlers landing their catches in French ports and tighter customs checks on cross-Channel trade - remain "on the table" if a deal cannot be reached.
Following the meeting, a UK government statement said the pair had "discussed the range of difficulties arising from the application of the agreements between the UK and the EU".
It added that Lord Frost and Mr Beaune were expected to speak again early next week.
France's Europe Minister Clement Beaune tweeted he was "happy to receive" Lord Frost in Paris to "restart a necessary dialogue".
Lord Frost is now heading to Brussels on Friday to meet European Commission vice-president Maros Sefcovic to discuss problems of trading goods between mainland Britain and Northern Ireland following Brexit.
This may be a negotiation over post-Brexit fishing rights, but it's a test of post-Brexit relations.
Disputes over technical issues - such as how French boats must prove their right to fish in British waters - are framed by wider personal and political mistrust.
Both sides are playing down expectations for the meeting today between David Frost and Clement Beaune.
Paris says the UK is deliberately blocking applications and not respecting the deal it signed.
London - for once round the table with a major EU member state - is said to want to broaden the agenda to include other issues, like the Northern Ireland protocol.
Triggered by the fate of a few dozen fishermen, this is just as much about the future relationship between France and post-Brexit Britain.
It comes after a British trawler, which was detained last week after French authorities said it did not have a license, was released.
The Scottish-registered scallop dredger Cornelis Gert Jan arrived back in the UK in the early hours of Thursday morning, after leaving Le Havre the previous evening.
The trawler's skipper Jondy Ward still faces trial in France next August regardless of Wednesday's court ruling that the boat can be released.
He has been charged with illegal fishing without a licence in French waters - but the case could be dropped before it reaches trial.
Mr Ward said they had been "caught in the middle" of the political row.
What is the fishing row about?
In short, it's about how many French fishing boats can catch fish in UK waters.
Under the Brexit trade deal, the EU and UK agreed they would give licences to boats if they can show they have fished in each other's waters for years.
But there have been disagreements about how much evidence is needed.
Big trawlers will routinely collect this information automatically.
But smaller vessels that come from French harbours to fish around the Channel Islands, for example, can find it harder to provide the proof needed.