Fishing row: France-UK talks 'useful and positive'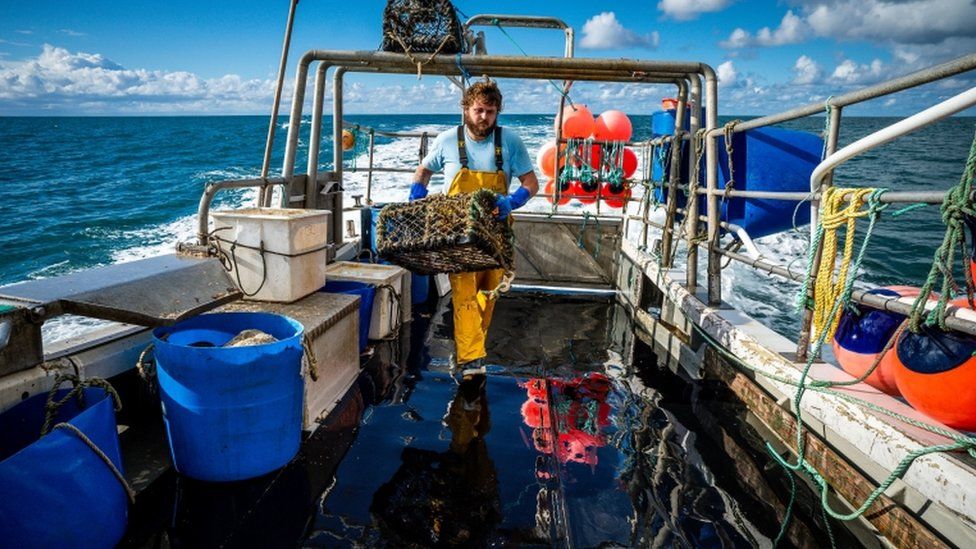 Talks to resolve the fishing row between the UK and France were "useful and positive", the French Europe minister has said.
But there was no breakthrough and there will be more talks next week.
Tensions flared last month after the UK and Jersey denied fishing permits to several French boats.
France has threatened to stop British trawlers from landing their catches at French ports unless more permits are granted in return covering UK waters.
France's Clement Beaune said his meeting in Paris with Brexit minister Lord Frost had been useful and positive, but significant differences remained.
"All options are still on the table," Mr Beaune said, adding that "as long as dialogue seems possible... we are giving it a chance".
"There is still a lot of work to do," he said, claiming that France should be entitled to about 200 more fishing licences.
The UK government has insisted the overwhelming majority of applications for licences have been granted.
Boris Johnson's official spokesman said the French government had given assurances that while the talks continued it would not immediately restore their threats.
"They've made it clear to us they're not planning to introduce them in the short-term. Both sides are keen to have further discussions," he said.
Lord Frost will meet European Commission vice-president Maros Sefcovic in Brussels on Friday.
On Wednesday, a British trawler, detained last week after French authorities said it did not have a licence, was released.
The Scottish-registered scallop dredger Cornelis Gert Jan arrived back in the UK in the early hours of Thursday morning, after leaving Le Havre the previous evening.
What is the fishing row about?
In short, it's about how many French fishing boats can catch fish in UK waters.
Under the Brexit trade deal, the EU and UK agreed they would give licences to boats if they can show they have fished in each other's waters for years.
But there have been disagreements about how much evidence is needed.
Big trawlers will routinely collect this information automatically.
But smaller vessels that come from French harbours to fish around the Channel Islands, for example, can find it harder to provide the proof needed.