Number of migrants crossing Channel to UK tops 1,000 in new daily record
By Joseph Lee
BBC News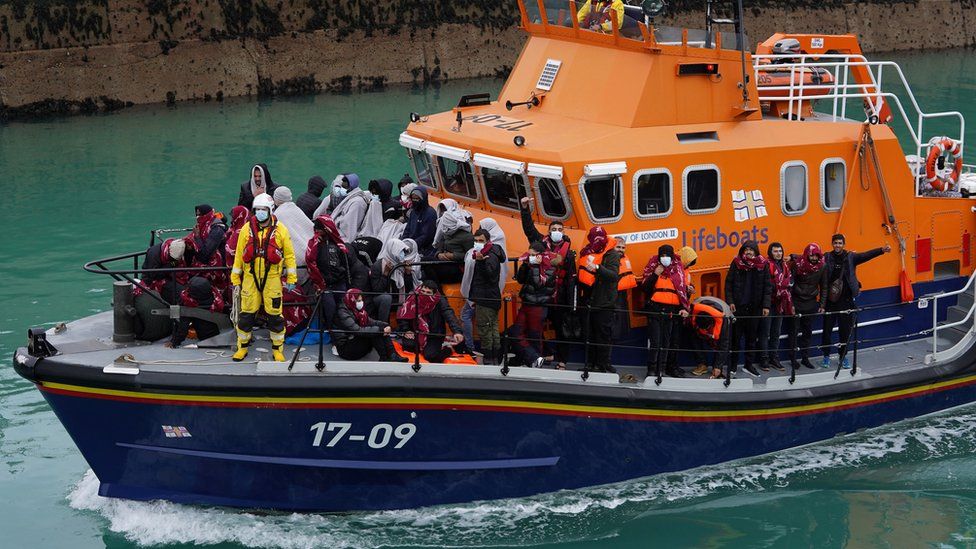 A further 1,185 people crossed the English Channel by boat to reach the UK on Thursday, a new record for migrant crossings in a single day - as mild weather made the journey less risky.
Four Border Force vessels intercepted boats that were spotted off the coast and escorted them into Dover.
Three people are feared lost at sea as two kayaks were found adrift near Calais, French authorities said.
A Whitehall source accused France of losing control of the situation.
More than 23,000 people have made the crossing from France to the UK by boat so far this year, a sharp rise on the 8,404 in 2020 - and far more than in years before the pandemic, when most asylum seekers arrived by plane, ferry or train.
On Friday the Home Office confirmed the exact numbers, saying 1,185 people were rescued - or intercepted and brought to shore - by the Border Force, while French authorities intercepted and prevented 99 people from reaching the UK.
According to authorities in France, the three people who are unaccounted for were reported missing by other migrants. Others have also been reported missing in recent weeks, and two people are confirmed to have died.
UK officials say they want to stop the Channel crossings - describing them as dangerous and unnecessary.
A Home Office spokesperson said the number of migrant crossings on Thursday was "unacceptable". The previous record was 853 people crossing on 3 November.
"The British public have had enough of seeing people die in the Channel while ruthless criminal gangs profit from their misery and our New Plan for Immigration will fix the broken system which encourages migrants to make this lethal journey," the spokesperson said.
In previous years, the onset of autumn has seen a big drop in the number of people making the perilous crossing. This year, though, that hasn't happened.
It's partly down to the recent mild and calm conditions. But it also suggests that the method of crossing the Channel by boat is seen as the most successful way of getting to the UK - and migrants in northern France are prepared to wait for the right weather to do that.
The British government has repeatedly promised to make the route unviable.
It has explored the idea of turning boats back at sea, but that tactic has yet to be used - and has been condemned by the French authorities.
The big hope now for ministers is their New Plan for Immigration - currently passing through the Commons - which would make it harder for anyone arriving by boat to claim asylum successfully.
But that is likely to face legal challenge - and refugee groups have condemned the idea as cruel.
The head of the Immigration Service Union - the union that represents Border Force staff - earlier told the BBC that conditions at the building which houses migrants at Dover docks were not good.
Lucy Moreton said at one point this week, more than 490 migrants had spent more than 24 hours in the centre - which has only two portable toilets - and migrants sleep on a concrete floor.
Under the government's proposed changes to immigration, which are being considered by MPs, people seeking protection as refugees would have their asylum claim partly assessed on how they arrived in the UK.
People arriving by what the government calls illegal means would no longer have the same entitlement to claim asylum.
But the Refugee Council has said people fleeing war and terror are forced to take extraordinary measures and do not have a choice about how they seek safety.
It said the government's plan would create a two-tier system in which some refugees would be unfairly punished for the way they are able to reach the UK.
Other charities are calling on the government to change its approach to migrants, with the British Red Cross saying: "Nobody puts their life at risk unless they are absolutely desperate and feel they have no other options."
And Amnesty International said people are making such journeys "largely because there are no safe and legal routes open to them".
The people who cross the Channel come to the UK from the poorest and most chaotic parts of the world - including Yemen, Eritrea, Chad, Egypt, Sudan and Iraq.
Under international law, people have the right to seek asylum in whichever country they arrive, and there is nothing to say you must seek asylum in the first safe country. It is very hard to apply to the UK for asylum unless you are already in the country.
How many migrants are granted refugee status?
Most migrants arriving into the UK in small boats can expect to be granted refugee status by the Home Office, according to analysis of official figures.
In the 17 months to May this year, 70% of the 12,000 people arriving in small boats came from five countries: Iran, Iraq, Sudan, Syria and Vietnam, according to data obtained by the Refugee Council under Freedom of Information legislation.
Full details of the data will be in a report to be published next week.
Official figures show that most asylum seekers from all those countries, except for Iraq, are granted refugee status at their first hearing.
Among the top five nationalities arriving by boat, 60% can expect to be accepted as refugees at their initial assessment.
Some of those initially refused asylum will go on to get refugee status on appeal. For example, 59% of appeals by Iranians are successful, 69% by Sudanese asylum seekers and 73% by Syrians.
The figures suggest only about a third of those arriving are not deemed to be refugees.
In 2019, there were 35,737 asylum applications, which fell to 29,815 in 2020. Figures for the first half of 2021 showed 14,670 applications.
The UK is also paying £54m to France to increase Channel patrols, but John Vine, former independent chief inspector of borders and migration, told BBC Newsnight he did not think the measures would be effective.
He said it was possible to patrol the 200km of French coast for "a long, long period of time" without ever coming across migrant boats or criminal gangs.
"There needs to be much more focus I think on organised crime, where the money is going," he said.
Are you in the area? Have you been affected by any of the issues covered in this story? Email haveyoursay@bbc.co.uk.
Please include a contact number if you are willing to speak to a BBC journalist. You can also get in touch in the following ways:
If you are reading this page and can't see the form you will need to visit the mobile version of the BBC website to submit your question or comment or you can email us at HaveYourSay@bbc.co.uk. Please include your name, age and location with any submission.