Covid: UK alert level raised to four due to Omicron spread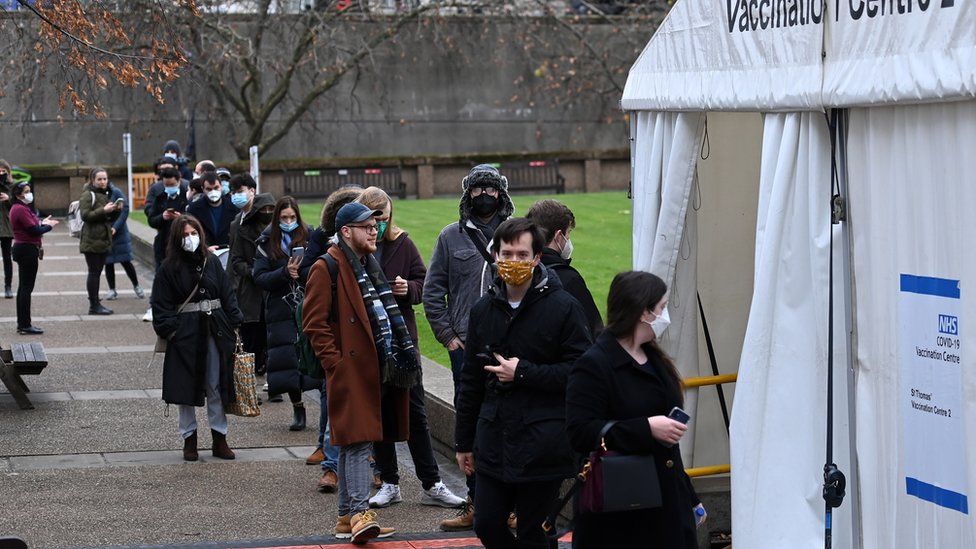 The UK's coronavirus alert level has been raised from three to four due to the spread of Omicron, the UK's chief medical officers have said.
The last time the UK was at level four was in May.
Prime Minister Boris Johnson will give a pre-recorded statement on Covid on BBC One at 20:00 GMT on Sunday.
He is expected to provide an update on the booster programme. The BBC has been told there will not be any more new rules announced.
On Sunday evening, the chief medical officers for England, Scotland, Wales and Northern Ireland said they were recommending the alert level is raised from three to four - signifying that Covid is spreading fast.
Risks are measured by a five-level, colour-coded system - level four means a high or rising level of transmission.
That system is separate and independent from any government decisions on tightening rules.
In their statement, the chief medical officers said early evidence shows the Omicron variant is spreading much faster than Delta - and that vaccine protection against symptomatic disease from Omicron is reduced.
"Data on severity will become clearer over the coming weeks but hospitalisations from Omicron are already occurring and these are likely to increase rapidly.
"The NHS is currently under pressure mainly driven by non-Covid pressures. With a variant spreading with increased transmissibility and reduced vaccine effectiveness, we are likely to see this pressure rise soon."
The UK was last at level four from late February to May this year, and has been at level three since then.
The chief medical officers urged everyone to get vaccinated as well as a booster jab - and said people should keep rooms ventilated, wear masks, take regular tests and self-isolate when symptomatic.
Early data suggests that getting a third booster dose gives an individual around 70% to 75% protection against symptomatic infection from Omicron.
Over-30s in England and Scotland will be able to book their booster jabs from Monday - and in Scotland those aged 18 to 29 from later in the week. Wales, like England and Scotland, is aiming to give booster jabs to all adults by the end of January, while Northern Ireland is giving boosters to over-30s in walk-in centres.
More than half a million booster jabs and third doses were given in the UK on Saturday - the second day that has happened since the booster rollout began.
The rules on self-isolation have also been updated again in England. From Tuesday, fully-vaccinated people who come into contact with a Covid will not need to automatically self-isolate - but instead take daily lateral flow tests for seven days.
It is the latest rule change, after the UK government brought in new Plan B measures - including Covid passports for some crowded events and asking people to work from home. Both Wales and Scotland have said new rules could come in the next few weeks.
Earlier, Education Secretary Nadhim Zahawi said people are now in hospital with Omicron - and the variant accounts for a third of cases in London.
Asked whether he could guarantee that all schools would be open in January, Mr Zahawi said he would do "everything in my power" but stopped short of giving a guarantee.
Scientists have said that without more restrictions, the UK is facing a substantial wave of Omicron in January - and the number of deaths from the variant by April could range from 25,000 to 75,000 depending on how well vaccines perform.