Queen cancels pre-Christmas family lunch as Omicron surges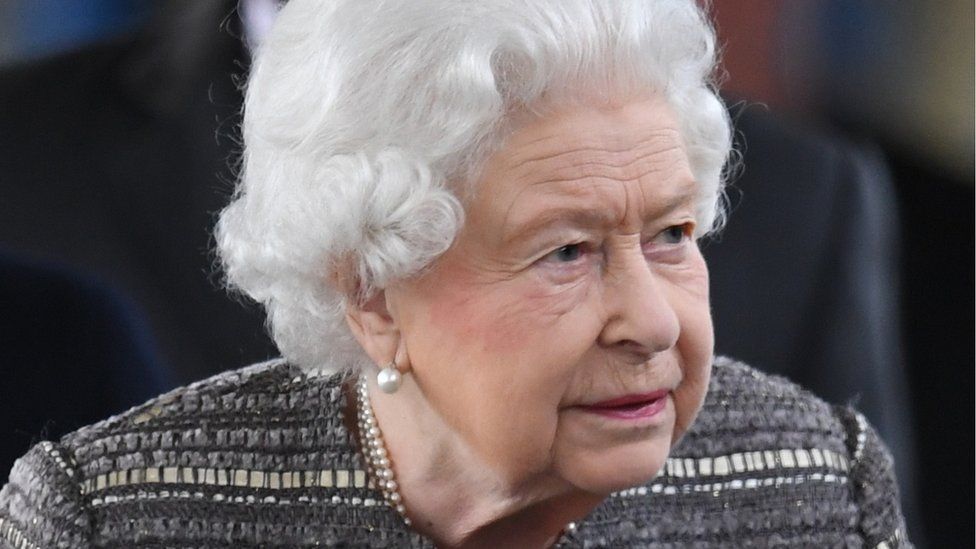 The Queen has cancelled her traditional pre-Christmas lunch for extended family as a precautionary measure following the UK's surge in Omicron cases.
A source said it was felt the annual event could put too many people's Christmas plans at risk.
It follows England chief medical officer Prof Chris Whitty's advice to prioritise events "that really matter" to avoid the risk of infection.
The event had been due to take place early next week at Windsor Castle.
The Queen's decision comes as families across the UK consider their Christmas plans in the light of the country's biggest Covid surge yet, with 78,610 cases reported on Wednesday.
The 95-year-old monarch usually hosts the lunch each year for her wider family before she departs for her Christmas stay at Sandringham in Norfolk.
The pre-Christmas celebration gives the head of state a chance to catch up with relatives who are unable to travel to her country retreat for Christmas Day.
Along with her children, grandchildren and great-grandchildren, guests usually include the Queen's cousins - the Duke of Gloucester, the Duke of Kent and Prince Michael of Kent.
Last year's gathering was also cancelled because of Covid.
This Christmas will be the Queen's first since the death of the Duke of Edinburgh, her husband of 73 years.
'A public statement and a private family decision'
This shows that the Queen, like everyone else, is trying to navigate another Covid Christmas.
Despite claims she would carry on as normal, the Queen has decided to cancel a big traditional date in the diary.
It's also a public statement as well as a private family decision. A public figure leading by example, as families make their own choices about meeting at Christmas.
The pre-Christmas family lunch at Windsor Castle early next week, before the Queen usually goes to Sandringham, could have brought together more than 50 people.
Calling it off this year was "the right thing to do for all concerned", said a Buckingham Palace source.
With Omicron rapidly on the march, it would "put too many people's Christmas arrangements at risk if it went ahead".
Even people in castles don't want to spend Christmas in isolation.
In October and November, the Queen cancelled several engagements after receiving doctor's advice to rest, and then later spraining her back.
Speaking to MPs on Thursday, Prof Whitty urged people to "prioritise what matters to them and cut down on other things" as they made plans for the festive period while Covid cases were at a record high.
"People want to protect the time that is most important to them," he said, adding this might mean cutting down their contacts with other people to reduce the risk of getting Covid or passing it on.
He told the health and social care committee that the upswing in infections due to Omicron would be "incredibly fast", but people's cautious actions would help to slow it down.
Downing Street said family visits over Christmas would be down to "individual circumstances and judgement".
The prime minister's official spokesman said people wanted to do everything possible, including getting vaccinated and taking tests, to protect their loved ones.
"But it will be down to individuals to decide what is right for them," he said.