Russia-Ukraine tensions: UK warns of plot to install pro-Moscow ally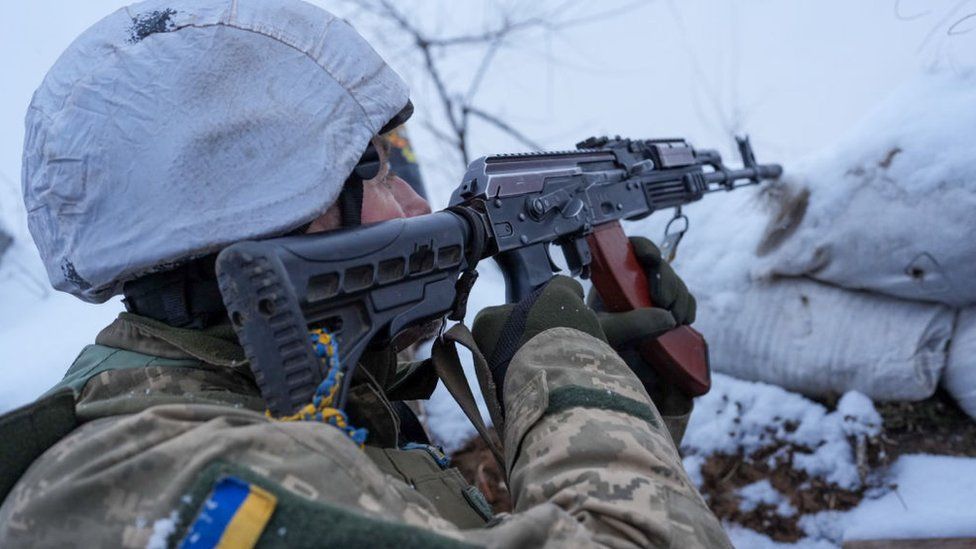 The UK has accused President Putin of plotting to install a pro-Moscow figure to lead Ukraine's government.
The Foreign Office took the unusual step of naming former Ukrainian MP Yevhen Murayev as a potential Kremlin candidate.
Russia has moved 100,000 troops near to its border with Ukraine but denies it is planning an invasion.
UK ministers have warned that the Russian government will face serious consequences if there is an incursion.
In a statement, Foreign Secretary Liz Truss said: "The information being released today shines a light on the extent of Russian activity designed to subvert Ukraine, and is an insight into Kremlin thinking.
"Russia must de-escalate, end its campaigns of aggression and disinformation, and pursue a path of diplomacy."
The Russian Ministry of Foreign Affairs tweeted that the Foreign Office was "circulating disinformation" and urged it to "cease these provocative activities" and "stop spreading nonsense".
Deputy Prime Minister Dominic Raab said there was "a very serious risk" of invasion but there would be "severe economic consequences", including sanctions, if Russia took that step.
However, he told the BBC's Sunday Morning programme it was "extremely unlikely" British troops would be sent to defend Ukraine, adding that the country was not a Nato ally.
Asked if the threat of sanctions would be enough to deter Russia from invading, Mr Raab said Vladimir Putin would also be worried about getting "bogged down in Ukraine" and ending up "with another Chechnya", where there was several years of conflict in the 1990s.
He added that Russia "needs to live up to the basic tenets of international law and invading another country is not one of those".
Russia has denied it is planning any attack but Mr Putin has issued demands to the West, including that Ukraine be prevented from joining the Nato military alliance.
He also wants Nato to abandon military exercises and stop sending weapons to eastern Europe, seeing this as a direct threat to Russia's security.
Russia has seized Ukrainian territory before, when it annexed Crimea in 2014, after the country overthrew their pro-Moscow president.
Ever since, Ukraine's military has been locked in a war with Russian-backed rebels in areas of the east near Russia's borders. An estimated 14,000 people have been killed in the Donbas region.
Mr Murayev, a media owner, lost his seat in the Ukrainian parliament when his party failed to secure 5% of the vote in the 2019 elections.
Responding to the claim that he was a potential Kremlin candidate to lead Ukraine, he told the Observer newspaper that the Foreign Office "seems confused".
"It isn't very logical. I'm banned from Russia. Not only that but money from my father's firm there has been confiscated," Mr Murayev said.
"Ukraine needs new politicians whose policy will be based solely on the principles of the national interests of Ukraine and the Ukrainian people," he said.
But Ukraine's ambassador to the UK, Vadym Prystaiko, said he believed Russia was trying to install a pro-Moscow leader.
"It's not the first time they're trying to do so," he told Sky News's Trevor Phillips On Sunday programme.
by Paul Adams, BBC diplomatic correspondent
Stung, perhaps, by suggestions that while a crisis was boiling in Europe, the foreign and defence secretaries were both in Australia, the UK government does seem to be trying to show that it's getting a grip.
But its method - a pair of statements aimed very much at the Sunday papers - has raised eyebrows. The Foreign Office, in a press release remarkably short on detail, said it had evidence of a Russian plot to install a puppet government in the wake of an invasion.
The man it named as a possible pro-Russian candidate for president, former Ukrainian MP Yevhen Murayev, seems to have dismissed the allegation, but this morning said the country needed new leaders.
Of the four other Ukrainian politicians named, at least three fled to Moscow eight years ago.
The Russian Foreign Ministry said Britain should stop spreading nonsense, but the British allegations do echo similar warnings made by the American government on Thursday. In Kyiv, some Ukrainian government officials appear to be taking them seriously.
The Foreign Office also named four other Ukrainian politicians who it said maintained links with the Russian intelligence services.
It said some of the individuals had been in contact with Russian intelligence officers working on an invasion plan.
They include Mykola Azarov, who served as prime minister under the pro-Russian President Viktor Yanukovych, who was overthrown in 2014.
Mr Azarov then fled to Russia where he established what was widely seen as a puppet government-in-exile.
He has been the subject of international sanctions and an Interpol "red notice" issued at the request of the Ukrainian government, for charges including embezzlement and misappropriation.
Also named is Volodymyr Sivkovych, the former deputy head of the Ukrainian National Security and Defence Council, who was this week made the subject of US sanctions for allegedly working with Russian intelligence.
The others are Serhiy Arbuzov and Andriy Kluyev, who both served as deputy prime minister under Mr Yanukovych.
Mr Prystaiko said the question was not whether Russia would invade Ukraine but whether it would be a "full-scale invasion" or something smaller, adding that Russia had already been in Crimea for almost eight years.
The Ukrainian ambassador to the UK said his country was "prepared to fight" but that it was "not that well equipped" for a prolonged conflict with Russia.
Dozens of British troops have been in Ukraine since 2015 to help train their armed forces, and the UK has also made a commitment to help rebuild Ukraine's navy following Russia's invasion of Crimea in 2014.