Julian Assange can ask Supreme Court to consider extradition case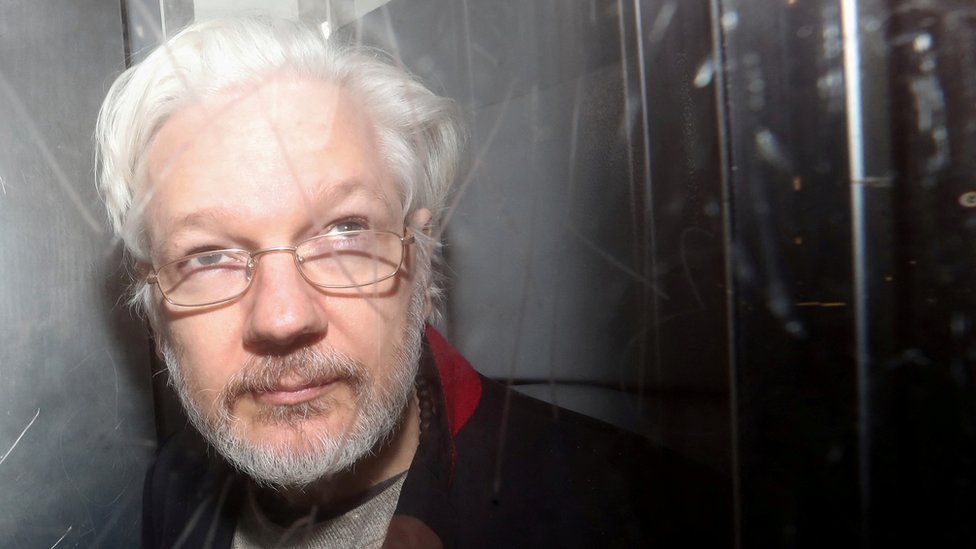 Wikileaks founder Julian Assange has won the right to ask the Supreme Court to block his extradition to the US.
The High Court ruled on Monday he had an arguable point of law that Supreme Court justices may want to consider.
The ruling means Mr Assange can petition the UK's highest court for a hearing, stalling any extradition from the UK for now.
He is wanted in the US over the publication of thousands of classified documents in 2010 and 2011.
Lord Burnett, the Lord Chief Justice, said Mr Assange's case had raised a legal question over the circumstances in which judges received and considered assurances from the US about how he would be treated in prison.
But Mr Assange has no guarantee of a hearing despite being able to petition the Supreme Court. In practice this means his case may take many more months to come to a conclusion.
Stella Moris, Mr Assange's fiancee and mother of his two young sons, claimed the High Court ruling as a victory but said "we are far from achieving justice in this case".
Speaking outside the court, she said: "Let's not forget that every time we win, as long as this case isn't dropped, as long as Julian isn't freed, Julian continues to suffer.
"For almost three years he has been in Belmarsh prison and he is suffering profoundly."
She added: "Our fight goes on and we will fight this until Julian is free."
Massimo Moratti, from Amnesty International, said while the organisation welcomed the High Court's decision on the matter of US assurances, it was "concerned" the court had "dodged its responsibility" on ensuring issues of public importance were fully considered by the judiciary.
He added: "The courts must ensure that people are not at risk of torture or other ill-treatment. This was at the heart of the two other issues the High Court has now effectively vetoed."
Mr Moratti added that the Supreme Court should have had the chance to consider and rule on all the points of law raised by Mr Assange, adding: "If the question of torture and other ill-treatment is not of general public importance, what is?
The Wikileaks documents revealed how the US military had killed hundreds of civilians in unreported incidents during the war in Afghanistan, while leaked Iraq war files showed 66,000 civilians had been killed and prisoners tortured by Iraqi forces.
The US says the leaks broke the law and endangered lives, but Mr Assange says the case is politically motivated.
In January last year, a lower judge who deals with extradition requests ruled that while the US had a case to prosecute Mr Assange for alleged offences relating to the mass hacking of government systems, he could not be sent from the UK to stand trial - because there was no guarantee that American authorities could safely care for him.
Amid fears that he would be subject to extremely harsh solitary confinement conditions, lawyers for Mr Assange argued his fragile mental health meant the US would find it impossible to stop him taking his own life.
But in a short ruling on Monday morning, Lord Burnett said there was now a legal question over how those assurances had been provided as part of the appeal, but not beforehand.
"Assurances [over treatment] are at the heart of many extradition proceedings," said Lord Burnett's statement. He said the High Court refused permission to appeal - but whether or not the issue needs to be heard in the Supreme Court "is a matter appropriately for its decision".
Mr Assange's lawyers now have 14 days to make the application to the Supreme Court.
The Committee to Protect Journalists cautiously welcomed the High Court ruling and said if Mr Assange were to be prosecuted in the US it "would set a deeply harmful legal precedent".
Michelle Stanistreet, general secretary of the National Union of Journalists said although the ruling was "welcome" the case was "damaging media freedom" every day that it dragged on.
She added: "The US is seeking Assange on charges that relate to the very business of gathering and processing news.
"For so long as this is treated as a potentially indictable offence, reporters, doing important work, will be looking over their shoulders."
Additional reporting by Lauren Turner