Journalist wins 'kleptocrat' book High Court libel case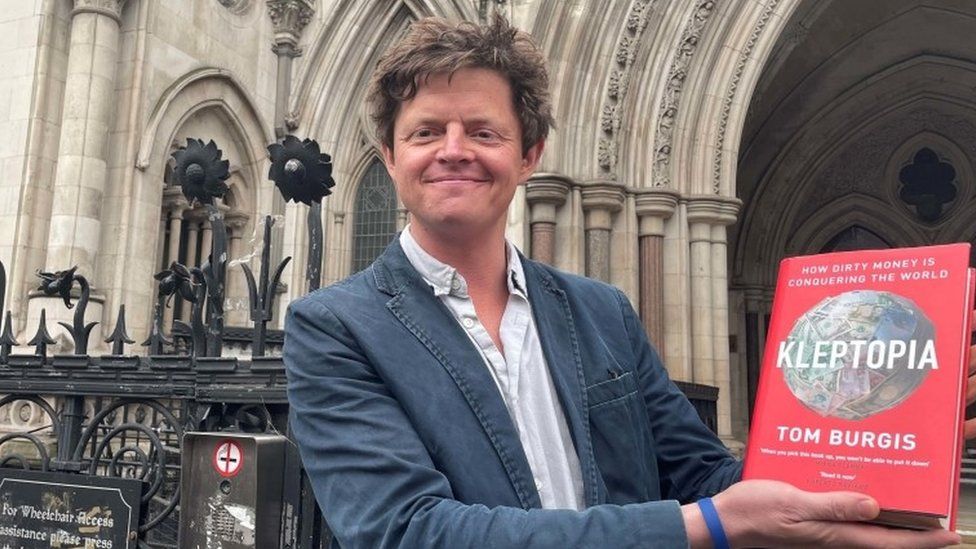 A libel claim brought by a post-Soviet mining giant against a journalist's book about dirty money and corruption has been dismissed by a High Court.
Tom Burgis faced potentially huge damages over his book, Kleptopia.
But judge Mr Justice Nicklin stopped the case after finding the claim against the author to be wholly flawed.
Mr Burgis' publisher said the case had been an attempt to use legal and financial firepower to silence public interest journalism.
In the book, Mr Burgis - a Financial Times journalist - charts how he says dirty money is linked to corruption and is now "flooding the global economy, emboldening dictators [and] poisoning democracies".
Among its stories, the book features Kazakhstan-based Eurasian Natural Resources Corporation (ENRC), a mining company with interests around the world.
Lawyers for ENRC claimed in court that Mr Burgis has defamed the corporation because the real meaning of part of his book was that the company had three men murdered to protect its business interests.
Andrew Caldecott QC, for Mr Burgis and HarperCollins publishers, told the court: "This is not a Private Eye nudge-nudge book.
"It is not a book that pulls its punches at all. The theme is about thieves and their money - masters and their secrecy - and it shows how the thieves are uniting and the terrible human cost."
In a ruling stopping the case, Mr Justice Nicklin said he had read the book for himself before considering the case papers, so he could form a view like any other ordinary reader.
He said that ENRC's claim was not sustainable because every reader would know that only individuals can commit murder, rather than corporations.
That early ruling meant the case could not proceed to a full libel trial - and the judge awarded £50,000 in costs against ENRC, while also refusing it permission to appeal.
Speaking outside court, Mr Burgis said: "I wrote a book about what I believe is the greatest threat to freedom today: the rise of kleptocracy. I'm delighted that this attempt to censor Kleptopia has failed."
He however still faces a second libel action over an article published in the Financial Times relating to his investigation.
A spokesman for HarperCollins described the case as "lawfare" - legal action that poses such massive financial risks to a defendant it has the effect of silencing them or making them withdraw.
"HarperCollins is committed to publishing high quality investigative non-fiction and to defending our authors in the face of legal attacks from those who would seek to use the UK courts to silence them.
"It is grossly unfair that yet again HarperCollins and our author have had to risk substantial legal costs and personal liability defending public interest journalism."
But a spokesman for ENRC said the case had been fairly brought and insisted there had been enormous damage to its reputation because of the book.
"The independence of the British judiciary remains the UK's greatest defence of our democracy and our shared liberal values," said the spokesman.
"It is regretful to have witnessed a growing attempt to mischaracterise our reasonable and proportionate steps to defend our reputation through the courts.
"We have maintained throughout that we fully support the media's right to report fairly and objectively on matters, including on our own business."