Ukraine: Small and big ways in which people in the UK are helping out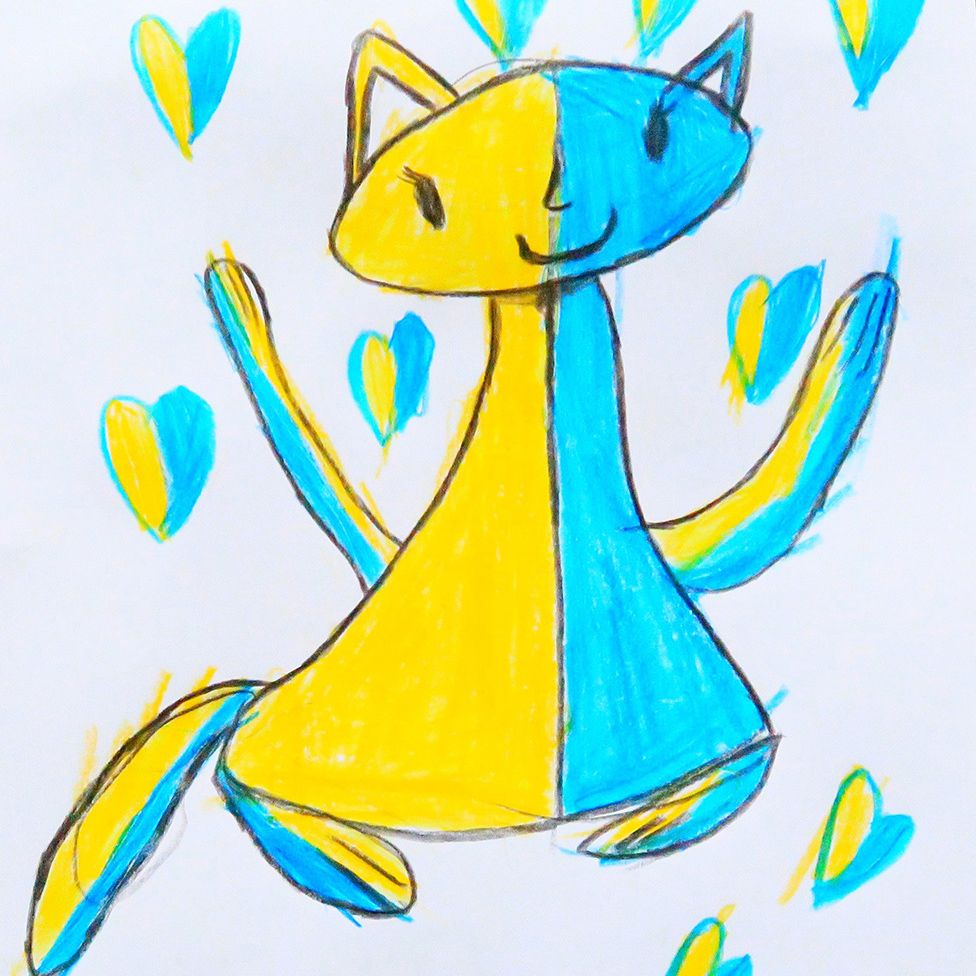 When Airbnb announced last week that it was waiving its fees in Ukraine, thousands of people booked stays there without any intention of going - more than 61,000 nights have been booked so far, the company says.
It's just one of the ways people having been finding to help Ukrainians in their time of need. Here are some other small and big acts of kindness being carried out in the UK.
Felicity Hansen from the Isle of Mull had been looking for a way to give money directly to those caught up in the war. Following a suggestion on social media, she decided to support Ukrainian artists selling their work on Etsy, an online marketplace.
First she bought a painting of a poppy from an artist called Anna in the western part of Ukraine, she told Today on BBC Radio 4. After that she began searching "Ukraine sellers digital downloads" and came across a child's drawings of cats in the blue and yellow colours of the Ukrainian flag. "They were such joyful and happy pictures," she says.
She has now bought several pieces from the child from Kyiv, at about £5 each. "It's a little tiny way that I could help. If it gave that little girl even one moment of happiness, it was well worth it."
The family posted updates on their Etsy page, and Felicity says they have made it out of Kyiv to western Ukraine. Although they've had to leave everything behind, the money from the drawings is going into a PayPal account which they should be able to access wherever they go.
Many artists and makers in the UK are also selling their work online to raise funds. Dan Jones, who lives in a coastal village in Pembrokeshire, raised £150 by putting his most recent seascape up for auction on Twitter. He'll give it all to a refugee charity.
Baby boxes, batteries and ambulances
A number of people have been inspired to pack aid into the back of a van and deliver it directly to refugees.
Dorota Darnell from the Norfolk Polonia CIC, an organisation that helps immigrants from EU countries living in the east of England, is working with local companies to collect survival items like batteries, torches and medication. Volunteers are packing them into two lorries heading for Ukraine.
Meanwhile, in the Highlands, Sarah Perrins and others from her local breastfeeding support group have been donating their old and unused baby boxes to the local Poland association. (All newborns in Scotland are given free packages of essentials, known as a baby box, which includes clothes, thermometers, a changing mat and bedding.)
But one man is going even further, and donating the vehicles themselves.
Khaled El Mayet from Cheltenham is campaigning to buy second-hand ambulances and drive them, packed with donated goods, to Poland's border with Ukraine. There his team of volunteers will offload the donations and hand over the ambulances so they can be driven over the border into Ukraine to be used in emergencies.
Most countries only have just enough ambulances for peacetime, Khaled told BBC Radio Gloucestershire. "When a situation like this kicks off, they just don't have enough ambulances to be able to help the civilian population."
It is something he knows can work, because he has done it before - in 2011, in response to the Arab Spring, he drove ambulances to North Africa.
Khaled has already raised enough for two second-hand ambulances. "They are good quality, they're not going to break down whilst trying to save people - and that's really important," he says.
The BBC is not responsible for the content of external sites.
Buying goods you never expect to get
Iain McGlinchey is a retired photographer from Helensburgh, near Glasgow, who has long had a fascination with cameras from Ukraine. Twenty years ago a family friend, who had escaped Nazi Germany and had connections all over Europe, gave him a Russian camera from Kyiv - a cheaper version of a Leica.
For photographers, Ukraine is "a bit of a mecca", explains Iain, because of two big Russian camera factories, the FED factory in Kharkov and the Zavod Arsenal factory in Kyiv.
"I thought, maybe now's the time to buy a camera that I don't actually need," says Iain, a self-confessed camera nerd. So he found a small family business in Kyiv and bought a camera from them on eBay - who are waiving seller fees in Ukraine, as well as protecting sellers from penalties and negative feedback.
Iain says his motivation is to "offer a little bit of money and a little bit of moral support". He sent the seller a message saying: 'I'm not really expecting you to send this, but take the money.'"
The seller responded: "Thank you so much, it's very important that people know the truth. I am not afraid anymore. I'm afraid only for my children."
"It's not often an eBay purchase can produce such emotion," says Iain.