Ukraine war: Investigation finds hundreds of fake charity websites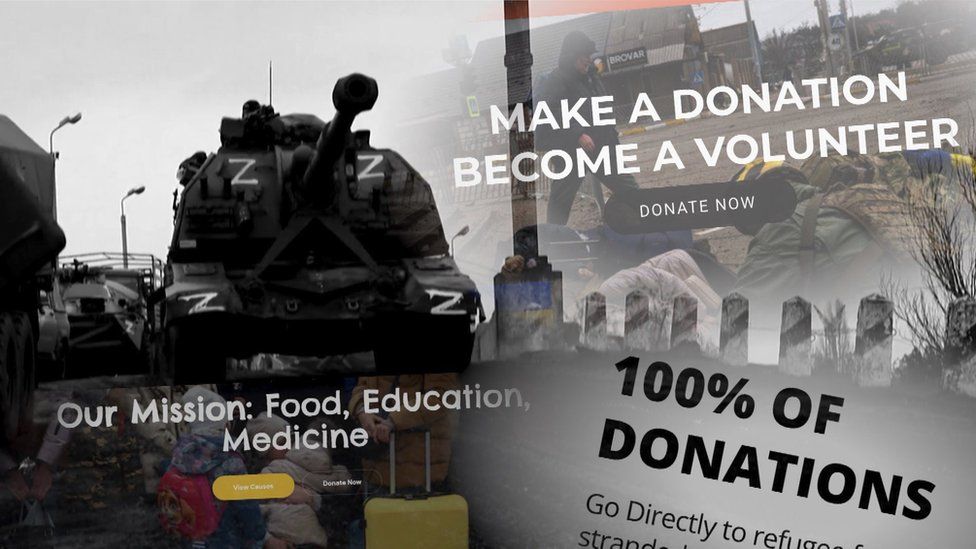 Online scammers have been using hundreds of fake charity websites to trick people wanting to donate to Ukraine, a BBC investigation has found.
Fake sites have used the branding of charities such as Save the Children. Some scammers have even pretended to be getting equipment to soldiers on the front line.
One charity boss called the practice "awful" and said it was taking money from children in need around the world.
The investigation identified a bogus site, calling itself Save Life Direct - which claimed to have raised $100,000 (£80,000) - was registered to a man based in Abuja, in Nigeria.
When he was traced and contacted by the BBC, he initially claimed he was sending donations to a "friend" in western Ukraine.
Later, he admitted he hadn't raised $100,000 at all. He said he would provide proof the site was real but he did not - and the following day, the website was taken down.
Equipment to the front line
Many of the scams use emotionally-charged language, including pretending to be real people in Ukraine in need of help.
One bogus site had stolen the details of a real organisation raising cash for the Ukrainian military - putting up an alternative address, controlled by the scammers, to which money could be sent.
It even used the real Facebook profiles of genuine Ukrainian fundraisers, including one belonging to Tanya Tarasevich - whose job is to get supplies to fighters on the front line.
She said she was appalled by their actions: "It's the worst thing you can do to a person, when in your country little children are dying and your country is all on fire. It's a crime."
Jack Whittaker, an expert in online scams who is completing a PhD at the University of Surrey, said there were hundreds of these websites, showing a "high degree of success".
His research shows scammers are always looking for a new opportunity.
"They simply have the TV on and they look for the next big thing that they can attach themselves to, in this case the perfect opportunity was the Ukrainian crisis".
The BBC's investigation also found the logos and branding of the charity Save the Children had been stolen and used to create a fake website.
Chris Saul, from Save the Children, said the "generosity of the British public is being taken advantage of".
"There's also the children, who we work with around the world, who are not going to get the support they need," he added.