Which other countries send asylum seekers overseas?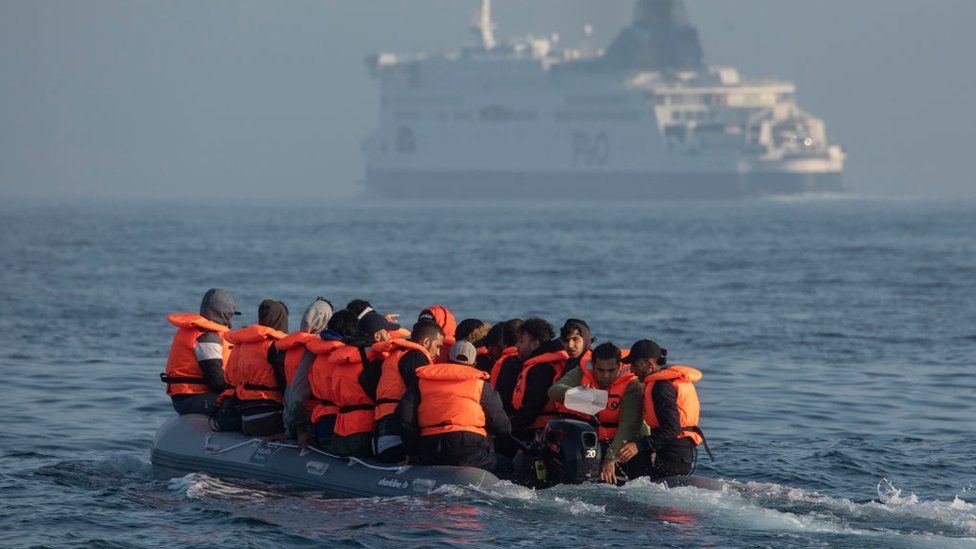 A plan to tackle the number of asylum seekers crossing the Channel in small boats will see some given a one-way ticket to Rwanda, the government has announced.
The UK is not the first to explore sending individuals overseas. What has been the impact of other countries' policies?
Australia first began using offshore detention centres in 2001.
And in 2013, it hardened its immigration law to deny resettlement visas to asylum seekers arriving by boat.
Thousands of asylum seekers have been transferred out of Australia during this time. Its Border Force has said more than 4,000 were relocated between 2012 and 2019.
Some 112 refugees and asylum seekers currently remain on the nation island of Nauru, but a similar scheme on Manus Island in Papua New Guinea - where 120 people were detained - ended last year.
Rights groups and the UN have frequently criticised Australia's centres for substandard conditions.
In total, 13 people sent to Nauru and Papua New Guinea have died from violence, medical inattention or suicide.
Iranian Kurd refugee and author Behrouz Boochani told the BBC in 2019 that detention on Manus Island was like a prison, and said the system felt like it was designed to "humiliate us and destroy us".
He said people were taken "from the water" and sent to Manus Island without being asked questions, and experienced a "violation of human rights".
Australia argues its offshoring policy is justified because it prevents deaths at sea. By its own projections it will spend $811.8m (£460m) on offshore processing in 2021-22.
In March, a three-year deal was announced for up to 450 refugees from Australia's regional processing centres to be resettled in New Zealand.
Faced with a growing influx of asylum seekers and other illegal immigrants, mainly from Sudan and Eritrea, Israel took action to resolve the problem by striking deals with third country "safe havens" to take an undisclosed number of people.
The two countries were not officially identified but media reports said they were Uganda and Rwanda.
When the scheme began in 2015, those rejected for asylum and other illegal immigrants were given the choice of returning to their country of origin, or accepting a payment of $3,500 and a plane ticket to one of the third countries, or being put in jail if they stayed in Israel.
By 2018, Israel said some 20,000 of about 65,000 who had arrived in the country illegally had left under one scheme or another.
However, human rights activists criticised the "voluntary deportation" programme as giving false promises to those who chose to accept it, putting them at risk in the countries that took them where there was no guarantee of their legal status nor protection against further deportation.
A later plan to forcibly deport failed asylum seekers and other illegal immigrants to third countries - reportedly Uganda and Rwanda again - was suspended by Israel's Supreme Court.
The Danish government has not been shy about its goal of "zero" refugees in Denmark.
Last June, legislation was passed that would allow it to move asylum seekers to third countries outside the EU while their cases were processed.
The controversial measure was heavily criticised by the European Commission and human rights groups, while questions were raised about its legality.
A surprise visit to Rwanda last year by Immigration Minister Matthias Tesfaye prompted widespread speculation Denmark intended to open a facility there.
A memorandum of understanding was signed, but there was nothing concrete about a refugee-processing centre.
Just last night, however, the minister met other political parties to spell out his plans.
In a statement, Mr Tesfaye told the BBC: "We are in dialogue with Rwanda, and we have a good cooperation based on a broad partnership, but we do not have an agreement on transfer of asylum seekers.
"I share the view of the Rwandan and British governments that the current asylum system is unsustainable."
Denmark was the first country to join the UN Refugee Convention in 1951. But recently, governments on the left and right have repeatedly tightened immigration laws.
Last year it began controversially revoking the residence permits of hundreds of Syrians from the Damascus area, arguing it was now safe for them to return.
However, Denmark's approach to Ukrainians is markedly different. It plans to host up to 100,000 people and grant work permits.