Gardeners urged to let lawns go wild to boost nature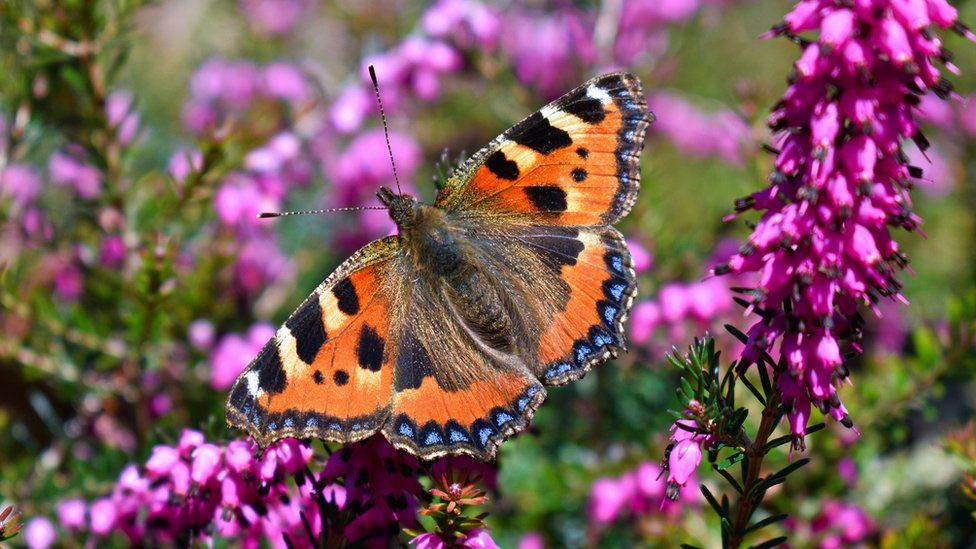 Gardeners are being encouraged to let their lawns grow wild in May as part of a campaign to promote biodiversity.
Conservation charity Plantlife is urging people to leave their lawnmowers in the shed for a month and to let wild flowers grow instead.
It is also asking people to count the flowers that do grow, and record them as part of its No Mow May project.
Leaving the grass uncut will create a habitat that will benefit bees and other insects, the organisation says.
Plantlife says lawns could be biodiversity hotspots if left alone. It says those who participated in its campaign last year reported the growth of more than 250 plant species on their lawns.
Among these were wild strawberry, wild garlic and rarities including adders'-tongue fern. There were also sightings of declining species such as man and green-winged orchids.
One gardener who has been enjoying a more relaxed approach is Tom Jennings, 45, from Buckinghamshire. He says it's a chance to reconnect with the natural world.
"There's an obsession with neat gardens," says Tom. "And a lot of that uses not only obsessive mowing but also chemicals which aren't compatible with nature."
After letting his back garden grow out, Tom witnessed an explosion of dandelions - important for pollinators such as bees.
Tom says he's been stunned at how quickly bugs have returned to his back garden: an encouraging signal given the global decline of insect populations.
"You could walk through the middle of the garden on a sunny day, and it throbbed with that sound of insects," he says. "That used to be commonplace in the British countryside, but sadly isn't these days."
Sarah Shuttleworth, 39, a botanist who works for Plantlife, has also noticed the chirping of crickets getting much more noticeable after allowing her lawn in Somerset to grow wild.
"It makes you feel like you're somewhere tropical instead of your own garden," she comments.
According to Colette Webb, 42, who lives in West Sussex, there are added perks to letting nature gradually take its course in the garden.
"It saves you a bit of time and arguments with the husband about getting the lawnmower out - something my husband hates doing," she says.
"There's a part of me that thinks the garden is really messy, but when you sit there for just ten minutes a day and look at what's it's supporting, you realise it's for the benefit of nature."
The charity is also urging people to take part in its Every Flower Counts survey at the end of May, to build a picture of what's been growing in the UK's lawns.
Respondents last year counted over 465,000 flowers including almost a quarter of a million daisies, it says.
Longer term, the charity recommends a "layered approach", with shorter grass and longer grass living side by side.
But some gardeners are already taking a relaxed approach for much of the year. David Fielding, 54, has been cultivating a little patch of wilderness in south-east London for several years.
Previously, he'd attempted to make his garden resemble a bowling green, he says, before recognising that this attitude created something of a "biodiversity desert".
The likes of woodpeckers, stag beetles, and dragonflies have made repeat appearances after he adopted a laissez-faire approach to his garden as a whole.
But not everyone is on board with the idea, says David.
One of his neighbours is pursuing their own re-wilding project in their own garden - but the other is yet to be convinced.
"And my mother, who's 81, still moans at me and says it looks untidy," he laughs.