Boris Becker: How a tennis superstar crashed to earth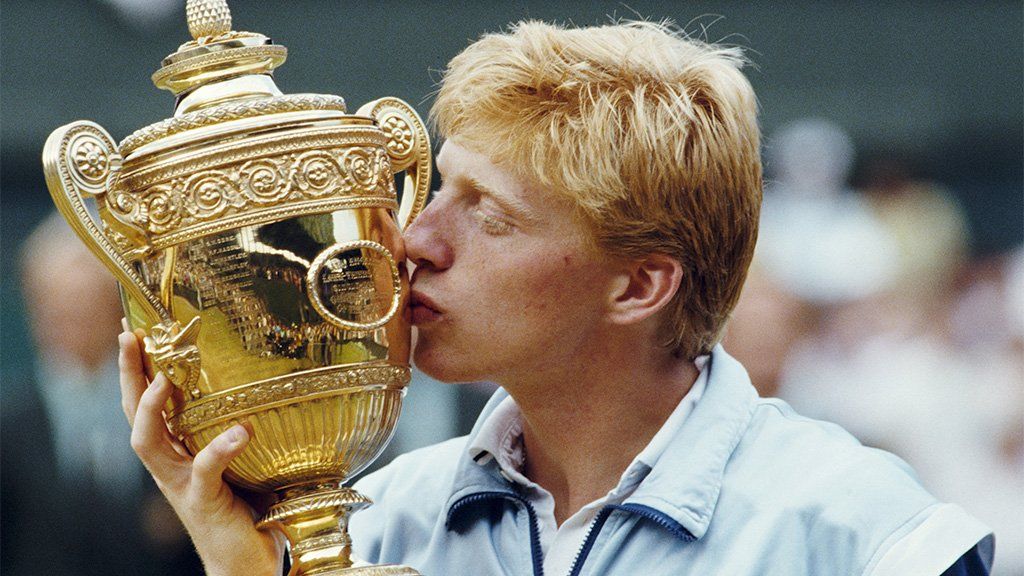 Boris Becker has been jailed for hiding assets to avoid paying debts. How did the former golden boy of tennis come to this?
One bright July day in 1985, a strawberry-blond 17-year-old stood before an awestruck crowd and kissed the golden Wimbledon trophy. Boris Becker was the youngest ever men's champion at the competition and the first to win it unseeded.
His remarkable achievement invited every spectator to wonder what someone so young might go on to achieve.
On an overcast afternoon almost 37 years later, Becker was jailed for two and a half years at Southwark Crown Court. He had been found guilty of breaking UK insolvency laws after he was declared bankrupt in 2017, owing creditors almost £50m.
The former world number one had been accused of hiding millions of pounds worth of assets to avoid paying his debts. He was acquitted on a further 20 charges.
It was an ignominious fate for the six-time Grand Slam champion, who in his heyday was nicknamed "Boom Boom" for his domineering serve. As a player, Becker never failed to captivate spectators - especially in the UK, where he has lived since 2012.
"Whenever I talked to him, I always got the impression that deep down, Boris always felt: 'Somehow, I'll be OK,'" says author and tennis historian Chris Bowers, who ghost-wrote the book Boris Becker's Wimbledon for the star.
"And finally, that attitude has caught up with him."
Becker's success in tennis was overshadowed by a turbulent private life and repeated financial difficulties. During the trial, Becker said he had earned a "vast amount" during his career, but his income had "reduced dramatically" after he retired in 1999.
And after years spent in legal battles, Becker's downfall was as protracted as his ascent was rapid.
"Winning so young at Wimbledon - and in such style, with his booming serve and diving volleys - turned Becker into an instant celebrity," says BBC tennis correspondent Russell Fuller.
"Fame can of course be a double-edged sword and living with that stature from the age of 17 has had a significant impact on his adult life."
Certainly, Becker's sudden rise from the south-west German town of Leimen to that 1985 victory stunned the tennis world - including Becker himself, who said he had fully intended to go to university and prepare for a respectable career.
"The last thing on everyone's mind was me becoming a tennis professional," he told a student newspaper in 2012.
But a string of triumphs were to follow - two more Wimbledon titles, two Australian Open titles and one US Open. There were also 13 Masters Series titles and an Olympic doubles gold medal. He was the first man to appear in seven Wimbledon finals.
Crowds loved his swashbuckling style. "He was a charismatic tennis player and for a few years, on his day, he was the best in the world," says Bowers. Becker was even nicknamed "Britain's favourite German".
But by his own admission, Becker struggled to find a role for himself after his retirement from playing in 1999. "It affects your confidence and self-belief," he later said. "I didn't know what to write on my passport as a profession. Ex-tennis player?"
Soon after he stopped playing, his private life came under intense scrutiny in the tabloids. His marriage to Barbara Feltus collapsed amid claims of infidelity, including a notorious liaison in the broom cupboard of a London restaurant with a Russian model who later gave birth to their daughter.
In 2009 he announced his engagement to Dutch model Sharlely "Lilly" Kerssenberg. They announced they were separating nine years later.
But in spite of all the headlines his personal life generated, Becker's easy charm and wit made him a popular pundit on TV channels around the world. He served as a commentator for the BBC at Wimbledon and captained a team on the quiz They Think It's All Over.
"His life has often seemed chaotic since his retirement from tennis, but he has retained that aura and presence, which still shines through brightly whenever he is in a TV studio or commentary box," says Fuller.
He published his autobiography, competed in professional poker tournaments and served for a time as head of men's tennis at the German Tennis Association. Perhaps most notably, for three years he coached Novak Djokovic, during which time the Serbian player won six Grand Slam titles.
But his finances had already come under legal scrutiny. In 2002, a Munich court fined Becker €300,000 (£250,000) and handed him a two-year suspended prison sentence for tax evasion of €1.7m.
On 21 June 2017 he was declared bankrupt in London over an unpaid loan on his estate in Mallorca, Spain. Becker was described by his advocate as "not a sophisticated individual when it comes to finances" and the court's registrar said of the German: "One has the impression of a man with his head in the sand."
A year later, in a bizarre twist, Becker declared diplomatic immunity against further attempts to pursue him over the debt.
His lawyers said he was a sport and culture attache of the Central African Republic (CAR) - and while the CAR embassy in Belgium confirmed it had issued him with a diplomatic passport, an official in the CAR foreign ministry told a news agency this was fake. Becker later dropped the claim to diplomatic immunity.
Pressed about how much he owed in 2018, Becker told the BBC's Andrew Marr: "When you mention the name Boris Becker, people lose their reality or their sense of facts and they start imagining things that are absolutely not true."
But the facts caught up with Becker eventually. In March 2022 his trial at Southwark Crown Court began. And after about two weeks of evidence, jurors found Becker guilty of removal of property, two counts of failing to disclose estate and concealing debt.
In mitigation, Becker's defence team drew attention to his dramatic change in fortune.
"His fall is not simply a fall from grace but amounts to the most public humiliation for this man," Becker's barrister Jonathan Laidlaw QC told the court.
"Boris Becker has literally nothing and there is also nothing to show for what was the most glittering of sporting careers, and that is correctly termed as nothing short of a tragedy."
Nonetheless, Judge Deborah Taylor said Becker had shown no remorse or acceptance of guilt: "While I accept your humiliation as part of the proceedings, there has been no humility," she told him.
Despite this, Bowers suspects that when Becker's obituary comes to be written, the focus will be on the greatness of his sporting achievements rather than his legal disgrace.
"The day he drops dead, people will still be devoting four-fifths of it to his tennis career," Bowers says.