High-risk monkeypox contacts advised to isolate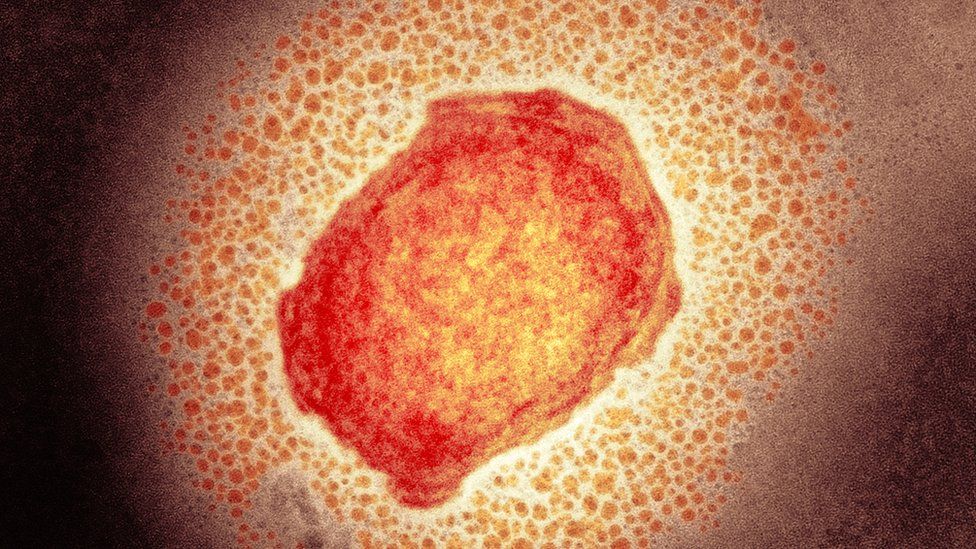 Anyone at the highest risk of having caught monkeypox should isolate for 21 days, official guidance says.
Contacts are advised to provide their details for contact tracing, forgo travel, and avoid contact with immunosuppressed people, pregnant women, and children under 12.
Prime Minister Boris Johnson said: "As things stand the judgement is that it's rare. I think we're looking very carefully at the circumstances of transmission.
"It hasn't yet proved fatal in any case that we know of, certainly not in this country.
"The UK Health Security Agency - a new body - is obviously following it very closely."
Monkeypox is a rare viral infection most common in remote parts of central and west Africa. The disease, first found in monkeys, does not tend to spread easily between people but can be transmitted through close physical contact, including sexual intercourse.
Symptoms, which include a high temperature, aches, and a rash of raised spots that later turn into blisters, are typically mild and for most people clear up within two to four weeks.
A person is considered at high risk of having caught the infection if they have had household or sexual contact with, or have changed the bedding of an infected person without wearing personal protective equipment (PPE).
Other people who may have come into contact with a case do not need to stay at home and isolate, but should watch out for symptoms such as fever and a rash.
Initial symptoms include fever, headaches, swellings, back pain and aching muscles.
Once the fever breaks a rash can develop, often beginning on the face, then spreading to other parts of the body, most commonly the palms of the hands and soles of the feet.
The rash, which can be extremely itchy or painful, changes and goes through different stages before finally forming a scab, which later falls off. The lesions can cause scarring.
The infection usually clears up on its own and lasts between 14 and 21 days.
Although there has been a small number of deaths attributed to the virus in west and central Africa since December, particularly in the Democratic Republic of Congo, none have been reported by the World Health Organisation in other countries where cases have been found.
Speaking to the BBC, Dr Susan Hopkins, chief medical adviser for the UK Health Security Agency (UKHSA), said community transmission was occurring in the UK.
"We are finding cases that have no identified contact with an individual from west Africa, which is what we've seen previously in this country," she said.
The UKHSA has said a notable proportion of early cases has been detected in gay and bisexual men and has urged members of those communities in particular to be alert.
The cases have also been largely concentrated in urban areas.
"We would recommend to anyone who is having changes in sex partners regularly, or having close contact with individuals that they don't know, to come forward if they develop a rash," said Dr Hopkins.
Dr Hopkins added close contacts of cases were being given an established smallpox vaccine that can help protect against monkeypox.
"We're not using [the vaccine] in the general population," she said. "We're using it in individuals who we believe are at high risk of developing symptoms, and using it early, particularly within four or five days of the case developing symptoms.
"For contacts, [this] reduces your risk of developing disease, so that's how we're focusing our vaccination efforts at this point."
Smallpox vaccines are about 85% effective in preventing monkeypox infection, and several countries have said they have begun stockpiling them.
It is not yet clear why this unexpected outbreak is happening now.
One possibility is the virus has changed in some way, although currently there is little evidence to suggest this is a new variant.
Another explanation could be the virus has found itself in the right place at the right time to thrive.
Director of the Wellcome Trust Sir Jeremy Farrar told the BBC there may have been a "superspreader" event where people gathered and picked up the infection and then took it home with them to different countries.
Monkeypox may also spread more easily than it did in the past, when the smallpox vaccine was widely used.
Prof Tom Solomon, from the University of Liverpool's Pandemic Institute, said scientists were "not too alarmed" by the number of cases, adding he was not aware of there ever being a monkeypox death in the UK.
The public health expert told BBC Breakfast he would not be surprised if infections were to double when new figures were released later on Monday - because they are now being actively looked for.
Prof Solomon said: "This is a very mild disease, if you didn't look for it you probably wouldn't even know that it had been occurring. So the numbers will go up.
"But the important thing is by identifying those cases we can isolate them, and isolate their contacts to stop the spread."
This monkeypox outbreak is undoubtedly unusual as this kind of spread has not been seen before. But that does not mean we are repeating Covid.
Monkeypox is a known virus rather than the completely new coronavirus and we already have tools to help control it.
The big challenge at the moment is we have no idea how many cases are out there.
We know we are only seeing the tip of the iceberg because many of the new cases appear unconnected to each other.
So we should expect the numbers of confirmed cases to continue to rise.
The World Health Organization has said it is "working with the affected countries and others to expand disease surveillance to find and support people who may be affected".
Asked about the outbreak on Sunday, US President Joe Biden said the spread of the virus was "something that everybody should be concerned about" and the US was "working hard" on its response.