Rail strike: Grant Shapps dismisses calls for government involvement as a 'stunt'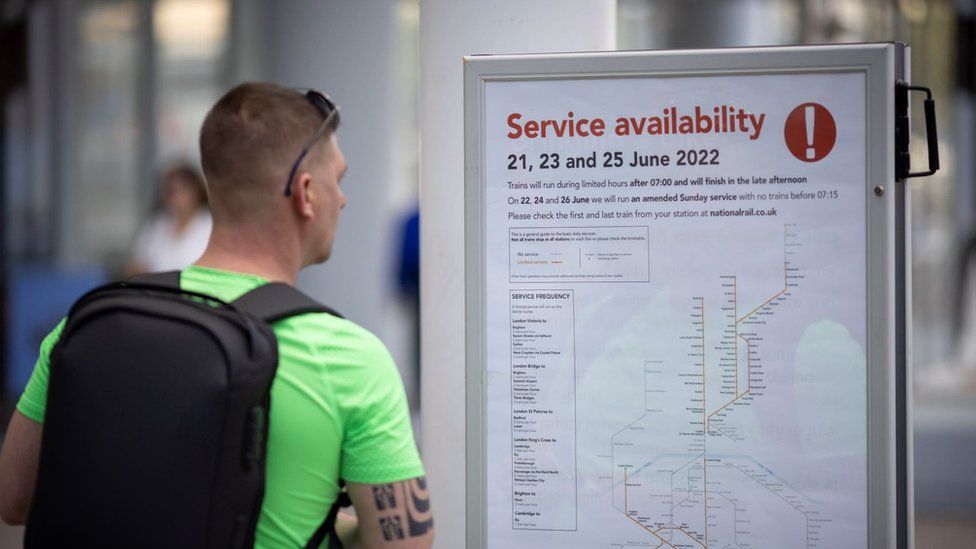 Calls for the government to get involved in rail strike negotiations have been dismissed as a stunt by Transport Secretary Grant Shapps.
Only 20% of trains are understood to be running during strikes as Boris Johnson urged commuters to "stay the course".
Mick Lynch, secretary general of the RMT union, said talks collapsed on Monday after a compulsory redundancy notice was issued.
Millions of passengers in England, Wales and Scotland face disruption.
Passengers are being advised to avoid all but essential travel, after staff at Network Rail and 13 rail operators walked out at midnight. Further strikes are planned for Thursday and Saturday.
Trains that do run will start later and finish much earlier than usual - between 07:30 and 18:30.
The RMT is striking over what it calls "an aggressive agenda" of cuts to jobs, conditions, pay and pensions.
Mr Lynch told the BBC's Today programme: "We're sorry for that [disruption to people's lives], we don't want that to happen."
He added that Network Rail had issued a statutory notice of redundancy on Monday "rather than revise their current proposals."
He added the government, which owns Network Rail, had been actively preventing employers and the union from reaching a settlement, although ministers have denied they played a role in talks.
But Mr Shapps said he does not meet with unions as that was for employers to do, describing calls for him to come to the negotiating table "a stunt" and said there was a "pay offer on the table, the door is open".
He told the BBC Breakfast: "The reality is they're using it as a camouflage for the fact they've walked out of the talks that they should be in with their employers."
The transport secretary added he would change the law in the next two months to permit workers with transferable skills to do a role left vacant by a striking worker.
He said: "It means that if some person is sat in Network Rail's control room and they're sat at a screen, at the moment they may not move to another screen even though they're fully qualified to do so, without union permission for example.
"This makes no sense. It's not the way that any normal business or organisation would operate.
"You're changing what is called agency, but it actually will allow us to have transferrable skills from within Network Rail."
Speaking at a cabinet meeting on Tuesday, Prime Minister Boris Johnson described the strikes as "causing significant disruption and inconvenience"making it more difficult for people to get to work, risking peoples' appointments and making it more difficult for children to sit exams.
"I want to emphasise to everybody this morning why I think those strikes are so wrong and unnecessary."
He added: "We need, I'm afraid, everybody - and I say this to the country as a whole - we need to get ready to stay the course.
"To stay the course, because these reforms, these improvements in the way we run our railways are in the interests of the travelling public, they will help to cut costs for farepayers up and down the country."
The RMT union is asking for a pay rise of at least 7% to offset the rising cost of living, but it says employers have offered a maximum of 3% - on condition they also accept job cuts and changes to working practices.
The Bank of England has forecast that inflation is set to hit 11% in the autumn, with prices rising at the fastest rate for 40 years.
Liberal Democrat Treasury spokesperson, Christine Jardine, told BBC Breakfast: "People have been let down; police, health workers, students and children with exams this morning, teachers thinking how are they going get into schools. It's not good enough."
CEO of Network Rail, Andrew Haines, said the government "has not been the constraining factor in negotiations" and, for the right deal "we could go above" the 3% pay rise.
I'm typing this heading east, when I need to head west.
Like millions of others, my journey today is a bit of a long winded bodge job.
But I'm lucky, at least it looks possible.
You've probably read, heard or seen the language from the RMT union and the language from the government. For now, at least, neither side want to budge.
And plenty at Westminster expect plenty more strikes, and not just on the railways.
What we are seeing are the symptoms of a collision between the economics and politics of the last decade or so, dating back to the financial crisis, and the reality of now: this post Covid, war in Europe world.
In other words, workers in much of the private and particularly the public sector were already feeling squeezed before this crunch.
Sluggish wage growth at best, and for many real terms cuts.
The government then spent big time during the pandemic. Next, Covid and the war in Ukraine led to accelerating prices.
Now ministers fear big public sector pay deals would not only be vastly expensive, but could make the big problem with price rises — inflation — worse.
Mr Lynch said industrial action would run "as long as it needs to", saying the strikes could last months if a deal was not reached.
Labour's shadow transport secretary Louise Haigh earlier accused Mr Shapps of not giving train operating companies "any mandate to negotiate", saying the talks were a "sham".
Although ScotRail and Transport for Wales are not part of the dispute, services in Scotland and Wales are also affected because they rely on Network Rail staff. ScotRail said 90% of trains will be cancelled during the three days of industrial action.